US Youth Soccer National League 2018-19 Season: 15U Girls Preview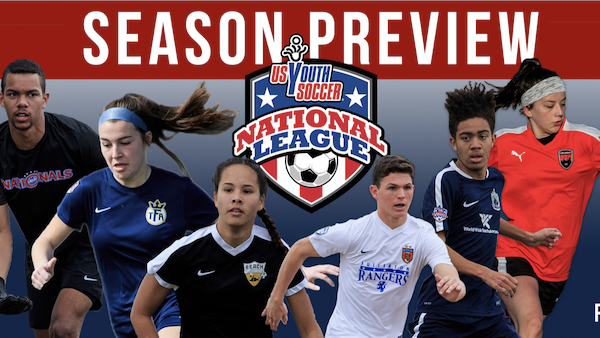 (Via US Youth Soccer) – With the 2018-2019 US Youth Soccer National League season quickly approaching, take a look at the entire 15U Girls age group, which features four competitive divisions with some of the nation's top clubs represented.
The 15U Girls Black Division includes a pair of teams that competed at the 2018 US Youth Soccer National Championships. FC Dallas 04 Blue (TX-N) advanced to Nationals by winning the US Youth Soccer Southern Regional Championship and continued its solid performance by making a run to the semifinals at the National Championships. The North Texas side did not concede more than a goal in any of its games at Nationals, as it proved it can stick with the top teams in the country.
+READ: US Youth Soccer National League 2018-19 Season | 14U Girls Preview
Like FC Dallas, Libertyville FC 1974 Elite (IL) punched a ticket to Nationals by winning its regional title. At the US Youth Soccer Midwest Regional Championships, the Illinois side won four straight games decided by a single goal to win the title. While it came up short at Nationals, Libertyville's experience in tightly-contested matches will be important as it fights for the Blue Division title.
LA Fire Jrs Red (LA) will also be a team to watch after it won its Southern Regional Premier League division with an unbeaten record. It will need a similar effort to make a run at the Black Division title, but having that experience in a league format should help LA Fire.
Not only does CDA Premier 04 (OH-S) have a season of National League experience, but it produced a 7-0-0 record last year while winning its division. With that type of success at this level, CDA will be a team to beat in this season's 15U Girls Blue Division. The Ohio South side also advanced to the semifinals at the National Championships before bowing out in a dramatic overtime match that concluded with a shootout — leaving CDA with extra motivation to return to Nationals.
+READ: Nominees set for U.S Young Male, Young Female Player of the Year
The Southern Regional Championships finalist, Sunrise Sting 2004 X1 (FL), will be another team to watch in the group. Sunrise, which also won its Regional League division, did not concede a goal until the Southern Regional final. That type of defensive effort will allow it to hang with any opponent in the Blue Division.
BC United Premier 04 (NW-Y) is coming off a run to the semifinals at the Eastern Regional Championships, where it tied Regional League division winner NJ Stallions 04 Sting (NJ) in the group stage. That mix of experience could help both teams this season. Meanwhile, LVSA 04 Red (NV) and PacNW 04 Maroon (WA) each have enjoyed success in a league format after winning their respective Far West Regional League divisions.
Despite making its first appearance in the National League, Philadelphia SC Coppa Swarm 04 (PA-E) is a team to keep an eye on in the 15U Girls Red Division. Behind a dominant defense, the Eastern Pennsylvania side advanced all the way to the final match at the National Championships. Coppa did so by allowing no goals in its first four games in Frisco, Texas. That same formula helped it win the Eastern Regional Championship, where it did not concede a single goal before its 2-1 win in the final. If Philadelphia can transfer that stout defense to the National League, it will be no surprise if it appears near the top of the standings at the end of the season.
All teams in the group will be trying to knock off Nationals Union 04 Black (MI), which won the Red Division title last season. The Michigan side did not drop a game during the 2017-18 National League season, as it produced six wins and a draw in its title campaign. It is hard for any team to repeat a title, but Nationals Union has some valuable experience that could go a long way in its hunt for another Red Division crown.
Rebels IE 04 – Brown (CA-S) is another team with players who have experience on the regional and national stage. Several members of the Cal South side were part of the team that won the 2018 US Youth Soccer Far West Regional Championship and competed at Nationals. That experience could help the Rebels make some noise in the Red Division.
With the title of defending National Champion, Michigan Jaguars 04 Green (MI) will be the team to beat in the 15U Girls White Division. The Jaguars qualified for Nationals by finishing second in its National League division last season, and it took advantage of its opportunity in Frisco, Texas. Michigan has clearly shown it can play with any team in the country, and its mix of tournament and league experience should make it a difficult matchup of White Division foes.
PDA Shore Sting (NJ) leads a list of Regional Championship semifinalist who should provide for a fun season in the White Division. The New Jersey side recorded three shutouts at the Eastern Regional Championships before coming up a goal short in the semis against the eventual National finalists.
Three more White Division teams — SC Waukesha 04 Blue (WI), D'Feeters 04 Voutier (TX-N) and Beach FC 04 DPL (CA-S) — each advanced to the semifinals of their respective Regional Championships. All three teams also enjoyed success in Regional League action, as each won its division. That combination of success and experience will add to the intrigue as all White Division sides compete for title and the accompanying berth to the National Championships.
Emily Fisher (Libertyville FC 1974) – Golden Ball, Best XI at the National Championships
Olivia Myers (Philadelphia SC Coppa Swarm 04) – Best XI at the National Championships
Ainsley Loyd (Arsenal FC) – Best XI at the National Championships
Madison Crozier (Philadelphia SC Coppa Swarm 04) – Best XI and tied for leading scorer (two goals) at the National Championships
Mary Trudeau (Philadelphia SC Coppa Swarm 04) – Best XI at the National Championships
Hudgins Kylie (CDA Premier 04) – Tied for leading scorer (two goals) at the National Championships
Meghan Mrowicki (Libertyville FC 1974) – Tied for leading scorer at the Midwest Regional Championships with five goals
Kamara Bradley (FC Dallas Blue) – Tied for leading scorer at the Southern Regional Championships with five goals
Emily Thompson (Sunrise Sting) – Tied for leading scorer at the Southern Regional Championships with five goals
Emma Frausto (Rebels IE) – Tied for leading scorer at the Far West Regional Championships with four goals
2018 US Youth Soccer ODP Girls Thanksgiving Interregional – 2004 Roster
East Region – Hailey Longwell (Beadling South Red), Maya Naimoli (Philadelphia SC Coppa Swarm 04)
Midwest Region – Emily Fisher (Libertyville FC 1974), Maaike Modene (Eclipse Select MN)
South Region – Jordynn Dudley (GA Rush), Kelsey Major (LA Fire Jrs.)
West Region – Amber Mallas (LVSA), Sierra Singleton (Utah Celtic FC)