US Youth Soccer National League 2018-19 Season: 14U Boys Preview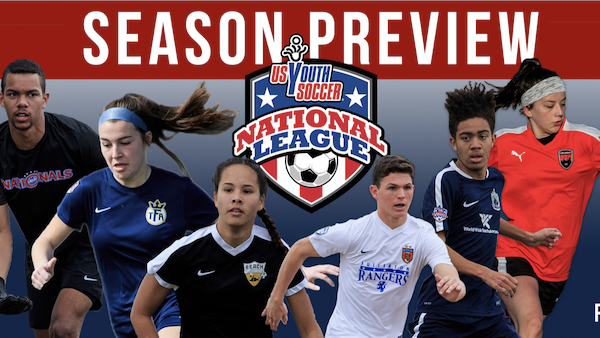 (Via US Youth Soccer) – With the 2018-2019 US Youth Soccer National League season quickly approaching, take a look at the entire 14U Boys age group, which features four competitive divisions with some of the nation's top clubs represented.
The 14U Boys Black Division, teams with a mix of success in league and tournament play will fight for the berth to the National Championships. LVSA 05 Red (NV) came the closest to advancing to Nationals of anyone in the group, as it made a run to the final of the US Youth Soccer Far West Regional Championships. The Nevada side will aim to take the next step after picking up results in several tight games before falling in the Regional final.
Raiders FC 2005 (IL) and Dallas Kicks 05 Selecao (TX-N) each produced some bright moments in their respective Regional Championships in 2018. Raiders went 3-0-0 in its group at the US Youth Soccer Midwest Regional Championships before coming up just short in the semifinals. Meanwhile, the Kicks advanced to the semifinals at the US Youth Soccer Southern Regional Championships with a 3-0 win in the quarterfinals to go along with seven points in group play.
In the East Region, Baltimore Celtic Elite (MD) and AFFC 05 Storm (PA-W) each finished first in their respective division of the Eastern Regional League. That experience and past success in league play should help both sides this season as they compete for the Black Division title.
A pair of Regional Championship finalists are among the teams challenging for the 14U Boys Blue Division this season. SDor 05 Elite (VA) twice came within a few minutes of the US Youth Soccer Eastern Regional Championship but eventually fell in penalties in the final. Prior to that, the Virginia side won each of its four games to show it has what it takes to be a contender in the Blue Division.
At the Midwest Regionals, Pennine United 05 (OH-N) advanced to the final without conceding a goal in its first four games of the tournament. The Ohio North side came up a bit short in the championship game, but it should be ready to go in December as it looks to earn a berth to Nationals through the National League.
Real Jersey FC (NJ) could be another team to watch after it went 7-0-0 to finish first in its Eastern Regional League division. Real Jersey also won its group at Regionals before dropping a close semifinal game to the eventual champion.
Midwest United FC 05 Royal (MI) and United USC 05 Premier (AL) each finished on top in their respective Regional League divisions. That ability to string together results in a league format should make them a tough matchup for Blue Division foes.
The 14U Boys Red Division features one team with National Championships experience in Rise 05 Elite I (TX-S). The South Texas side won all six matches in Greensboro, N.C., to win the Southern Regional Championship. Rise held its own at Nationals, but narrowly missed out on advancing to the final despite a 1-1-1 record and positive goal differential in group play.
Nationals Union 05 Black (MI) comes from a club with plenty of past National League experience, and it could be a challenger for the Red Division title. The Michigan side won its division of the Midwest Regional League and combined that with a run to the semifinals at the Midwest Regional Championships — where it came up just short, losing to the eventual champion in penalties.
A team with a similar resume to Nationals Union is USA Premier 05 Angeletti (UT). USA went 8-0-1 to win its division of the Far West Regional League and enjoyed its share of success at Regionals in Hawaii. The Utah side also came up just short in the semifinals against the eventual champion, but its run in Hawaii will give it some positives to build on when the Red Division competition kicks off in December.
After already gaining some valuable experience at the national level, Ukrainian Nationals 2005 Black (PA-E) looks to be a prime candidate to compete for the 14U Boys White Division title this season. The Eastern PA side played in a tightly-contested group this past summer at Nationals and earned a draw against the eventual National Champions.  Prior to that, Ukrainian Nationals won the Eastern Regional Championship thanks to several close results, which should prove to be valuable experience this National League season.
Meanwhile, OEFC 05 (OK) will look to continue its clubs recent success in the National League when it contends for the White Division crown. OEFC earned a semifinal berth at the Southern Regionals thanks to some gritty performances in Greensboro. Similar performances will put it in the hunt in the White Division.
Another team to watch is Santa Clara Sporting 05 Green (CA-N), which finished first in its division of the Far West Regional League. Knowing the consistency it takes to navigate a league schedule is a valuable characteristic that Santa Clara can carry over to its National League campaign.
Manuel Romero (Sporting KC Academy) – Best XI at the National Championships
Jake Freedman (Ukrainian National) – Best XI at the National Championships
Yael Gonzalez (Rise 05 Elite) – Best XI at the National Championships
Joseph Turano (Ukrainian National) – Best XI at the National Championships
Frank Fuentes (Sporting KC Academy) – Best XI at the National Championships
Dominic Dubon (Baltimore Celtic) – Leading scorer at the Eastern Regional Championships with eight goals
Edgar Munoz (Dallas Kicks) – Tied for leading scorer at the Southern Regional Championships with six goals
Trevor Walk (USA Premier 05) – Tied for leading scorer at the Far West Regional Championships with five goals
2018 US Youth Soccer ODP Boys Interregional – 2005 Roster
East Region – Benjamin Christian, Joel Torbic, Joshua Veychek (AFFC Storm); Robert Myrick (Ukrainian Nationals); Leland Wexler (Pipeline)
Midwest Region – Javier Zaragoza (Sporting KC Academy), Leonardo Arana (Michigan Jaguars), Braxton Arpachinda, Mateo Ventura (Nationals Union), Jake Eby (Barca Academy), Victor Nembhard (Midwest United)
South Region – Jack Hastings (OK Energy FC), Emmanuel Monserrat (Germantown Legends)
West Region – Atticus Jones (Players SC), Trevor Walk (USA Premier 05)