US Youth Soccer Eastern Regional Championships Semifinals Recap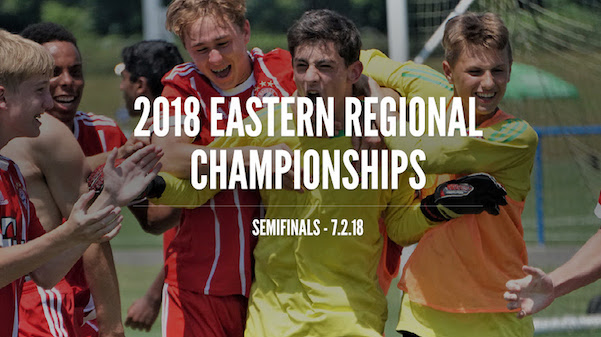 Official Website | Schedule, Standings and Scores | Photo Gallery
Twitter | Facebook | Instagram | #ROADtoTX
SPOTSYLVANIA, Va. (Via US Youth Soccer) — The remaining 32 teams are just one win away from history, as the semifinal round wrapped up Monday at the 2018 US Youth Soccer Eastern Regional Championships in Spotsylvania, Va.
Winners of Tuesday's 13U through 19U final matches at the Publix Virginia Soccer Training Center will earn a berth to the 2018 US Youth Soccer National Championships, which will be played July 23-29 at the Toyota Soccer Center in Frisco, Texas.
Maryland and New Jersey lead the way with seven teams each in the finals, while New York West has five. Eastern Pennsylvania and host Virginia have four finalists each, while Pennsylvania West has three. Massachusetts and West Virginia each have one team playing for titles.
+READ: Semifinals set at 2018 US Youth Soccer Eastern Regional Championships
Of the nine defending Eastern Regional Champions who entered the tournament, five have advanced to Wednesday's finals for a chance to defend their titles.
One team that has twice come close to a Regional Championship is 16U Girls North United Rush (PA-W), which will be competing in its third regional title game on Tuesday. After coming up short in the previous two, North United is excited for another chance to finish on top.
"This weekend, we've played extremely well. Through group play, we didn't concede goal, which was huge for us to have shutouts three games in a row," North United coach Jodi Chmielewski said. "This is our third time at Regionals, and this is our third time in the finals. Last year, we weren't here, so we were hungry to get back.
"We know how difficult it is just to get through group play, and we had to get through two fantastic PA West teams that are very familiar with one another. It was a challenge today, and it's a huge accomplishment for our kids to get through to the finals."
+READ: US Youth Soccer Eastern Regional Championships Day 2 Recap
The US Youth Soccer National Championships will consist of US Youth Soccer Regional Champions in the 13U through 19U Boys and Girls age groups, as well as the US Youth Soccer National League qualifiers in the 14U through 18U Boys and Girls age groups to complete the field of 96 teams.
See how the teams advanced to the Eastern Regional Championships finals:
12U Boys
It will be a rematch of the final game from Group C action, as NJ Elite Litmanen (NJ) and FCUSA (MD) meet in the final. The New Jersey side won big in its semifinal against Group A winner SCS United 06 Elite (PA-W), and it will look to carry that momentum into its rematch with FCUSA. It will be needed after the Maryland side won the initial meeting between the two by a 5-2 score line. FCUSA recorded its third shutout of the weekend in its semifinal match, as its defense has helped propel it to the final.
12U Girls
A pair of first-half goals from Ava Incorvaia helped Cedar Stars Bergen 06 Black (NJ) advance past Northern Steel Blue (PA-W) with a 2-1 win in the semifinals. The goals helped extend Incorvaia's lead among the top goal scorers in the division. The other semifinal was just as tight, as MRM Academy Coyotes Blue 06 (MD) edged Arlington 2006 Red (VA), 3-2.
13U Boys
After narrowly winning a tight race in Group A, Ukrainian National 2005 Black (PA-E) earned a place in the championship game with a 2-1 semifinal victory against Real Jersey FC (NJ). The Eastern PA side has scored 14 goals while allowing just two through four games. SDor Barca 05 Elite (VA) has been equally impressive and also earned a 2-1 win in its semifinal against McLean 05 Green (VA). Barca has conceded just two goals, as well, while scoring 12 of its own.
13U Girls
A pair of closely played semifinals resulted in Fury 2005 (WV) and Pipeline SC Pre-Academy (MD) advancing to the final. Neither Fury nor DEFC 05 (DE) could break through in their matchup, and the games went to penalties — where Fury out-converted DEFC, 5-4. Meanwhile, Pipeline edged FCVAS Academy (VA), 1-0, to advance. The Maryland side has yet to concede a goal through four games, and should prove to be a big test for Fury to break down in the final.
14U Boys
A defense that has yet to be broken has helped Real Jersey FC (NJ) advance to the 14U Boys final. The side outscored opponents, 7-0, in group play and earned a 3-0 victory against CT Rush Elite 04 (CT) in the semifinals. Arlington SA Red 04 (VA) will be tasked with taking on Real Jersey in the final, after the Virginia side won, 1-0, on Monday behind a Jonathan Zarate goal. Arlington has been equally stingy on defense, having allowed just one goal in four games.
14U Girls
After scoring just three goals in group play, SJEB Rush 04 Academy (NJ) erupted for a 5-1 win on Monday against BC United Premier 04 (NY-W). The New Jersey side's defense helped it escape Group A, where it conceded just one goal to help win a three-way tiebreaker atop the standings. In the final, it will meet Philadelphia SC Coppa Swarm 04 (PA-E), which has been impressive on both ends of the field — scoring 12 goals and allowing none on its way to the championship game.
15U Boys
For the second straight day, GPS NY Regional Team (NY-W) emerged victorious from a penalty kick shootout to advance, as it beat STA MUSC 2003 (NJ) in Monday's semifinal round. The New York West side has shown it can take an opponent's best effort and find a way to come out on top. It will need to do so again against Beadling Elite 2003 (PA-W) in the final. Beadling has been dominant throughout the tournament, and heads into Tuesday's final after a 3-0 win in the semifinals.
15U Girls
GPS NY Regional Team (NY-W) received early goals from Chanel Alexander and Amy Cannan that allowed it to hold off DEFC 03 (DE) for a 2-1 semifinal win. Alexander's six goals is tied for the lead in the division. GPS's opponent in the final will be Keystone FC Premier 03 (PA-E), which earned a 1-0 win against Beadling Elite 2003 (PA-W) on Monday. Keystone has seen three of its four games decided by a goal or less, and has shown it can find ways to get the necessary results.
16U Boys
Arlington SA 2002 Red (VA) scored early in its semifinal against YMS United 02 (PA-E) and built up an insurmountable lead in a 4-1 victory. The Virginia side has compiled four comfortable wins — each by a three-goal margin. BC United 2002 Select (NY-W) will look to change that in the final after it overcame an early deficit on Monday to defeat NEFC West Elite (MA), 3-1. After falling behind, Jack Coleman quickly equalized for BC United and Noah Sperduto added two second-half goals — bring his total to 10 for the tournament — to seal the victory.
16U Girls
It took overtime for North United Rush (PA-W) to outlast in-state foe Northern Steel Storm (PA-W) and advance to the final. Prior to that tight match, North United outscored its Group D opponents, 10-0, to advance out of the preliminary round. Meanwhile, Meghan Guarente's 15th-minute goal propelled SJEB Rush 02 Academy Blue (NJ) to a 1-0 win over FC Stars 2002 (MA) to earn a place in the final. SJEB has received goals from seven different players en route to advancing to Tuesday's championship game.
17U Boys
It was the tale of two semifinals in the 17U Boys age group, where Wall Elite Cosmos (NJ) and OBGC Rangers Blue 2001 (MD) each advanced to the championship game. The New Jersey side needed overtime and penalties to outlast YMS Premier Celtic 01 (PA-E), as Wall Elite has shown an ability to win tighter and tighter games as the week has progressed. Meanwhile, OBGC came away with a 6-1 semifinal win and has won big in its last two games after having a couple of close ones to begin the tournament.
17U Girls
After sneaking out of group play as the wildcard, FC Stars 01 (MA) took advantage of its opportunity and won its semifinal, 2-0, against Premier Navy 2001 (MD). After a scoreless 90 minutes, FC Stars received goals from Sophea James and Patricia Pallotta in overtime to book a spot in the final. The Massachusetts side will face BC United 01 (NY-W), which beat 1776 United FC 01 Xtreme (PA-E) on a Victoria McKnight goal in the final minute of regulation. BC United has outscored opponents, 10-1, on its way to the final.
18U Boys
It will be a Charm City showdown in the 18U Boys final, as Baltimore Celtic SC 00 (MD) and Baltimore Bays 00 (MD) compete for the regional crown. Neither side conceded a goal through group play, and the Bays continued that streak in the semifinals, where they beat Washington United Arsenal (NJ) on an 84th-minute Tajhon Willis strike. Celtic needed penalties against Lehigh Valley United 2000 Black (PA-E) but prevailed in the shootout to move on to the final.
18U Girls
A pair of National League sides met in the 18U Girls semifinals, as Princeton SA (NJ) came away with a 1-0 win against LMSC Storm (PA-E). That marked the stiffest challenge of the week for Princeton, as it put together three dominant performances in Group C action. Century V Gold (PA-W) will be waiting for Princeton in the final, as the PA West side earned a 4-2 win in its semifinal matchup with NVSC Jr. Majestics 00 (VA). The final will feature the division's top two scorers in Princeton's Leanna Rebimbas and Century V's Sarah Sinnott.
19U Boys
Defending Eastern Regional Champion Baltimore Celtic SC Christos (MD) will meet former National Champion Loudoun Red (VA) in the 19U Boys final to determine who gets a chance to compete for the James P. McGuire Cup in Frisco. Loudoun has yet to concede a goal through three games, while looking strong through three games. Meanwhile, Baltimore won a penalty kick shootout as part of a four-way tiebreaker to advance out of Group B, and a win on Monday against FC Montco Die Mannschaft (PA-E) put Celtic into the final.
19U Girls
Alyssa Poarch netted her fifth goal of the week in the 13th minute to jumpstart a 4-0 win for FC Pennsylvania Strikers (PA-E) in its semifinal against Beadling 99 (PA-W). The Eastern PA side is averaging more than five goals per game and has yet to allow one. It will face Syracuse Development Academy (NY-W), which pulled away for a 4-1 win against FC Stars 99/00 (MA). Darby D'Angelo scored twice in the win, while Olivia Price and Emily Purtell added the goals that gave Syracuse control in the second half of the semifinal match.