US Youth Soccer Eastern Presidents Cup set to kickoff on June 16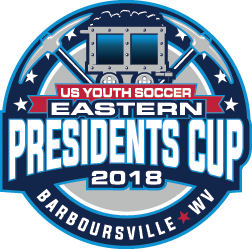 Schedule, Scores and Standings | Team Information
Twitter | Facebook | Instagram
FRISCO, Texas (Via US Youth Soccer) — The schedule is now available for the 2018 US Youth Soccer Eastern Presidents Cup, which kicks off June 16 in Barboursville, W.Va. Games will take place at the Barboursville Soccer Complex and Huntington YMCA – Scott Orthopedic Soccer Complex.
The tournament will feature more than 110 US Youth Soccer boys and girls teams in the 12U through 18U age groups. Teams are competing for a regional title and a chance to advance to the 2018 US Youth Soccer National Presidents Cup, July 11-15 in Westfield, Ind.
Preliminary games in Barboursville will take place Saturday, June 16 and Sunday, June 17. Semifinals will take place on Sunday, June 17, and Eastern Presidents Cup champions will be crowned following final matches on Monday, June 18.
+READ: Maryland State Cup champions crowned, Regionals berths clinched
"West Virginia Soccer Association is excited to welcome players from all across the region to Barboursville for the 2018 Eastern Presidents Cup," WVSA President Len Rogers said. "Members of our association and volunteers from the area are working hard to make this a memorable event for all of the visiting teams, and we hope everyone enjoys their experience at the Eastern Presidents Cup here in West Virginia."
The event will feature teams from nine East Region State Associations, including host West Virginia. The other state associations represented include Connecticut, Delaware, Eastern Pennsylvania, Maryland, New Hampshire, New Jersey, Pennsylvania West and Virginia.
The US Youth Soccer Presidents Cup offers teams the challenge of experiencing different types of play by competing from state to regional to national levels. The Presidents Cup provides teams with a progressive, competitive experience that highlights competition, camaraderie and community.
For complete tournament results and to view all participating teams, click here.