US Club Soccer to host National Cup XVII Finals in Aurora, Colo.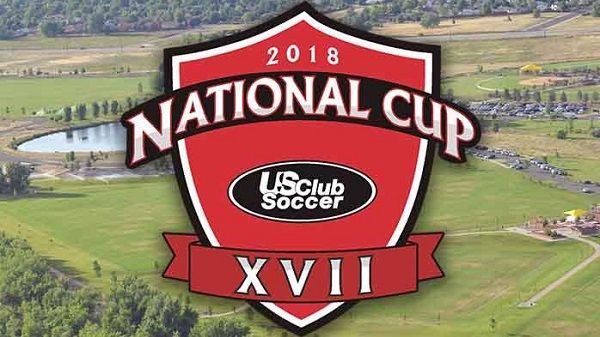 AURORA, Colo. (Via US Club Soccer) – US Club Soccer will host the National Cup XVII Finals at Aurora Sports Park in Aurora, Colo., July 20-24, 2018. The National Cup XVII Finals represent the culminating event of US Club Soccer's cup-based national championship series that includes National Cup XVII Regionals around the country.
Qualifying 13-U through 18/19-U teams from National Cup XVII Regionals and qualifying state cups advance to the National Cup XVII Finals. Regional dates and locations will be announced soon. National Cup XVII Regionals will be open to 12-U through 18/19-U boys and girls age groups in the Mid-Atlantic and West Regionals, while the other Regionals – Midwest, Northwest, South Central and Southeast – will feature 13-U through 18/19-U divisions.
+RECAP: National Cup XVI Finals in Westfield, Ind.
New in 2018, the National Premier Leagues (NPL) will infuse its regular season champions among 13-U and 14-U boys age groups into the National Cup XVII Finals tournament field. Those age groups will come from the non-ENPL qualifying NPLs: Central States NPL, Great Lakes Alliance, Gulf States Premier League, Red River NPL, Southern California NPL and Washington NPL.
"The National Cup Finals is a great event to see teams from all over the country in a high-energy, high-stakes environment," said US Club Soccer CEO Kevin Payne. "Since we started this cup-based tournament in 2002, we've awarded numerous, deserving champions. We look forward to the next group of National Cup champions."
US Club Soccer last hosted national tournaments in Colorado two summers ago for the 2016 NPL Finals and National Cup XV Finals. Aurora Sports Park is a 220-acre complex that features 27 soccer fields and an additional 12 baseball/softball fields. The city of Aurora is located just 10 miles east of Denver.