US Club Soccer to host first National PDP Competition in August 2018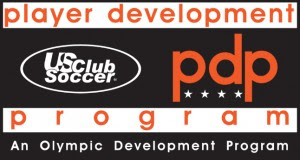 CHARLESTON, S.C. (Via US Club Soccer) – US Club Soccer will host its inaugural National Player Development Program (PDP) Competition, Aug. 10-12 in Westampton, N.J., featuring four leagues' top collections of PDP standouts.
Per current id² and U.S. Soccer scouting priorities, the competition targets top boys born in 2005 and girls born in 2004-05. There will be four boys teams and four girls teams, representing the New England Premiership (NEP), New York Club Soccer League (NYCSL), NorCal Premier and Virginia NPL.
PDPs are identification and development programs conducted within the id² Program umbrella. Often times, PDPs are focused around the NPL, and the National PDP Competition is no different. The NEP, NorCal Premier, NYCSL and Virginia NPL are among the strongest NPLs in the country – on and off the field.
"The National PDP Competition brings together different playing styles and abilities from around the country in one location for identification and development," said Gerry McKeown, id² Boys Program Director. "This will be valuable for not only US Club Soccer and U.S. Soccer, but most importantly, it allows each player to participate in games that have consequence."
McKeown will be one of several scouts on-site at Westampton Sports Complex. Tricia Taliaferro, id² Girls Program Director, will be keeping tabs on girls participants for potential invitations to id² Training Camps. College coaches and U.S. Soccer Federation scouts are also expected to take advantage of the scouting opportunity.
"US Club Soccer has created a unique opportunity for players to perform under pressure against the best in the country," added Taliaferro. "Players that thrive under this environment will gain experience to use on the national scene in the id² camps. We look forward to scouting all participants and learning about each individual personality, and how it can contribute to a team atmosphere."
Consistent with US Club Soccer's philosophy that identification and development should be free to players, there is no cost to players. PDPs are approved as an Olympic Development Program by the United States Olympic Committee and U.S. Soccer Federation.