US Club Soccer Players First: United Soccer Coaches Convention guide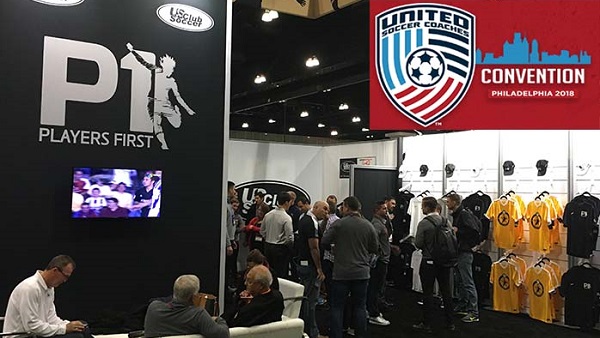 PHILADELPHIA, Pa. (Via US Club Soccer) – The 2018 United Soccer Coaches Convention is about a month away, but it's not too early to start planning your schedule for the largest annual gathering of soccer coaches in the world.
As has been the case for the past two conventions, US Club Soccer will be hosting classroom and field sessions with LaLiga:
Thursday, Jan. 18; 1-2 p.m.: Classroom session – "Player Formation and Planning Development for the Long Term" with LaLiga Formation Methodology experts Gari Fullaondo and Hugo Blanco (Convention Center Room 113B)
Friday, Jan. 19; 1-2 p.m.: Field session – "Translating Tactical Training to the Game" with Fullaondo and Blanco (Kwik Goal Demo Field 1; Exhibit Hall C)
The two long-term partners are also collaborating on an additional classroom session with a TBD LaLiga ambassador. Last year, US Club Soccer presented Raúl Gonzalez Blanco, who was LaLiga's Country Manager in the U.S. at the time, during its sessions and a special autograph signing. More details on this session will be made available soon.
Beyond these sessions, US Club Soccer encourages attendees to attend sessions led by its Players First partners – a collection of best-in-class resources advancing the pillars of Club Development, Coaching Development, Player Development, Parent Engagement & Education and Player Health & Safety.
Here's a day-by-day breakdown of Players First partner sessions.
Wednesday, Jan. 17:
The 2018 United Soccer Coaches Convention technically opens Wednesday, although the Exhibit Hall grand opening is Thursday night. On Wednesday, World Football Academy will host "Football Braining" with renowned periodization expert Raymond Verheijen from 8 a.m. – 5 p.m. in Convention Center Room 304.
A shorter, digital introduction to the topic is available via webinar. Access to this webinar, titled: "The Principles of Football Braining," can be purchased here.
Thursday, Jan. 18:
Before the Exhibit Hall opens its doors at 6 p.m., numerous sessions will take place. ECNL President Christian Lavers leads a classroom session titled "Trends, Strengths and Weaknesses in American Youth Female Soccer" in Room 108B from 11 a.m. – 12 p.m.
An hour later, US Club Soccer/LaLiga host a classroom session: "Player Formation and Planning Development for the Long Term" in Room 113B.
Beast Mode Soccer's David Copeland-Smith will present a field session from 4-5 p.m.: "The Separation Touch: How to Train it and Why it is Vital to Your Players" on Kwik Goal Field 1 alongside Rachel Daly and Katie Nimitz.
Friday, Jan. 19:
Before US Club Soccer/LaLiga's field session at 1 p.m. ("Translating Tactical Training to the Game"), Raymond Verheijen is back at it with another session. The World Football Academy champion begins a two-part session called: "Football Technique: The Execution of Decisions. How Isolated Training Kills Creative Players" from 11:30 a.m. – 12:30 p.m. in Room 201ABC. This classroom session precedes a field session titled the same subject, which will be held from 2:30-3:30 p.m. on Kwik Goal Field 2.
Positive Coaching Alliance extends its strong booth presence inside the Exhibit Hall to a workshop in Room 202A: "Leading Your Organization: Developing a Positive Coaching Culture." Led by lead trainer Kelly Kratz, this session simulates a PCA workshop, of which hundreds are held every year throughout the country.
Before grabbing dinner, consider attending a 4-5 p.m. session in Room 103C titled: "Fostering Grit: Empowering Youth Players to Plan and Own Their Development On and Off the Field," featuring Soccer Parenting Association founder Skye Eddy Bruce. She will be joined on that panel by Jordan Angeli, Yael Averbuch and Adelaide Gray.
Saturday, Jan. 20:
Positive Coaching Alliance is back at it with a post-breakfast panel discussion from 9:30-10:30 a.m.: "Better Athletes, Better People: How Soccer Coaches Can Develop Winners On and Off the Pitch" in Room 103C. This panel is packed with influential figures, including Erin Chastain, Marcia McDermott, Jason Sacks, Charlie Slagleand Jim Thompson.
World Football Academy's Verheijen finishes up a personally busy Convention with a one-on-one session from 2:30-3:30 p.m. in Room 203AB that will follow an interview format.
A few Players First partners will have booths during the Convention. US Club Soccer's Players First-themed booth can be found in the Exhibit Hall by locating #549. US Club Soccer and LaLiga have also co-branded a coffee bar (#559) behind the US Club Soccer booth.
Fit for 90: #453
Player's Health: #959 & #1058
Positive Coaching Alliance: #1152
Soccer Parenting Association (alongside Beast Mode Soccer & AstroTurf): #113/211
SportSessionPlanner: #838
Join the conversation on social media by using the Players First hashtag #P1soccer.