US Club Soccer National Cup XVII Southeast Regional concludes in N.C.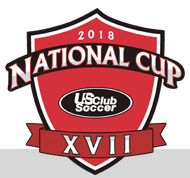 WINSTON-SALEM, N.C. (Via US Club Soccer) – A total of 92 teams representing 39 clubs from Alabama, Pennsylvania, Mississippi, Georgia, North Carolina, South Carolina, Virginia, Maryland, Ohio and Florida competed at the National Cup XVII Southeast Regional, June 23-26 at BB&T Sports Complex.
In the end, 21 Regional champions were awarded for coming out on top of their respective brackets, which included 13-U through 19-U boys and girls divisions. Competition was divided into Super Groups (most competitive) and Premier Groups.
All 21 winning teams have now earned advancement to the National Cup XVII Finals, to be held July 20-24 at Aurora Sports Park in Aurora, Colo., where they'll join other 13-U through 19-U boys and girls National Cup XVII Regionals champions and qualifying state cup winners.
A handful of clubs delivered multiple championships: GPS (five divisions), Alabama FC (two), Riverhounds Academy (two) and Wake FC (two). Although eight states were represented on the champions podium, the home state of North Carolina fared the best with 11 combined titles.
"Wake FC is really excited to have a couple of teams make it to Colorado and the National Cup XVII Finals," said David Allred, Wake FC Executive Director. "We are really proud of the teams. It was a great four days of competition, the venue was excellent and the staff had everything set up, so it was all about what the kids were doing on the field. That's all you can ask for in a Regional."
This year's Southeast Regional marked the second consecutive year BB&T Sports Complex has hosted the event.
The National Cup XVII continues next weekend: