US Club Soccer National Cup XV Midwest Regional concludes in Illinois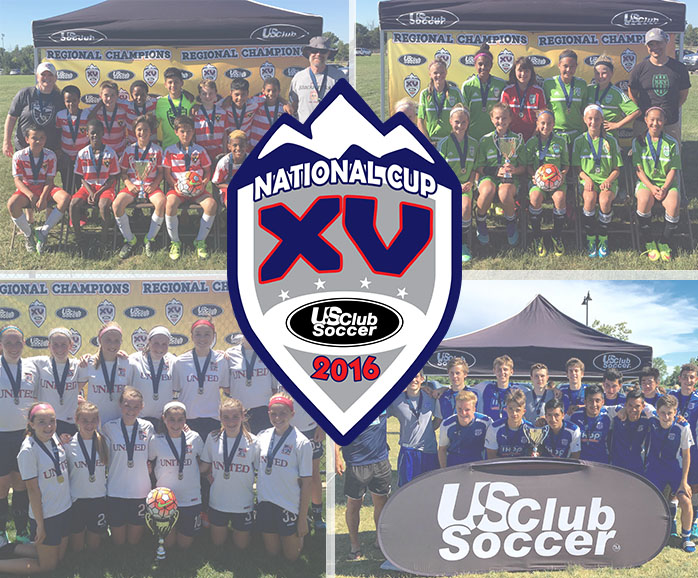 (Via US Club Soccer) – The National Cup XV Midwest Regional, held June 24-27 in Waukegan, Ill., concluded with 20 teams qualifying to the National Cup XV Finals. This was the fifth Regional among US Club Soccer's cup-based national championship series. One more Regional remains, as the Mid-Atlantic Regional began Monday and finishes Thursday afternoon.
Ultimately, U-13 through U-17 boys and girls qualifiers will compete for national titles at the National Cup XV Finals, July 22-25 in Aurora, Colo.
A total of 237 teams from 14 different states participated in the Midwest Regional, and more than 50 college coaches were at Waukegan Sports Park and Libertyville Township Soccer Complex to scout for potential program additions.
Chicago Rush Executive Director Michael Cockroft, whose club won the U-11 Girls Super Group, called the Midwest Regional an "unbelievable experience." The bracket as a whole was competitive, as only two games were decided by more than one goal.
"Chicago Rush is in its inaugural year and to go to a Regional competition of this caliber and win is a great start to our club," Cockroft said.
Some familiar faces returned to the winners' stage, as well. Libertyville FC 1974, winners of last year's U-12 Girls Super Group and U-16 Girls Super Group, repeated as champions again this year in both brackets. Cleveland United clinched the U-15 Girls Super Group after winning last year's U-14 Girls Premier Group.
As a club, Chicago Inferno claimed four brackets (U-13 Boys Super Group, U-13 Girls Super Group, U-14 Boys Super Group and U-18/19 Boys Super Group. Sockers FC Chicago won three divisions (U-14 Boys Premier Group, U-16 Girls Premier Group and U-17 Girls Premier Group). In addition to Libertyville FC 1974, Campton United, Dakota Rev SC and St. Croix Academy each won a pair of brackets.
"Great competition, first-class facilities and high-quality referees created a positive experience for the players, coaches and families," added Billy Thompson, Boys Assistant Director of Coaching for Ohio Premier SC, which placed seven teams into the event.
| BOYS: | GIRLS: |
| --- | --- |
| U-11 Boys Super Group: St. Paul Blackhawks (Minn.) | U-11 Girls Super Group: Chicago Rush (Ill.) |
| U-11 Boys Premier Group: Campton United Navy (Ill.) | U-11 Girls Premier Group: Dakota Rev SC (Minn.) |
| U-12 Boys Super Group: San Antonio FC (Ill.) | U-12 Girls Super Group: Libertyville FC 1974 (Ill.) |
| U-12 Boys Premier Group: South Suburban SA (Ill.) | U-12 Girls Premier Group: Dakota Rev SC (Minn.) |
| U-13 Boys Super Group: Chicago Inferno (Ill.) | U-13 Girls Super Group: Chicago Inferno (Ill.) |
| U-13 Boys Premier Group: Campton United SC '03 (Ill.) | U-13 Girls Premier Group: Cleveland United (Ohio) |
| U-14 Boys Super Group: Chicago Inferno (Ill.) | U-14 Girls Super Group: Woodbury SC (Minn.) |
| U-14 Boys Premier Group: Sockers FC Chicago (Ill.) | U-14 Girls Premier Group: Fusion SC (Minn.) |
| U-15 Boys Super Group: Minnesota Twinstars Academy (Minn.) | U-15 Girls Super Group: Cleveland United (Ohio) |
| U-15 Boys Premier Group: Fargo SC (N.D.) | U-15 Girls Premier Group: St. Croix Academy Sporting (Minn.) |
| U-16 Boys Super Group: Cleveland SA (Ohio) | U-16 Girls Super Group: Libertyville FC 1974 (Ill.) |
| U-16 Boys Premier Group: Chicago Fire Juniors City (Ill.) | U-16 Girls Premier Group: Sockers FC Chicago NPL (Ill.) |
| U-17 Boys Super Group: St. Croix Academy Sporting (Minn.) | U-17 Girls Super Group: Minnesota Thunder Academy (Minn.) |
| U-17 Boys Premier Group: Shadow Premier FC (Ill.) | U-17 Girls Premier Group: Sockers FC Chicago (Ill.) |
| U-18/19 Boys Super Group: Chicago Inferno (Ill.) | U-18/19 Girls Super Group: Cleveland Whitecaps Premier (Ohio) |
| U-18/19 Boys Premier Group: Schwaben AC (Ill.) | U-18/19 Girls Premier Group: — |