US Club Soccer id2 National Selection International Tour concludes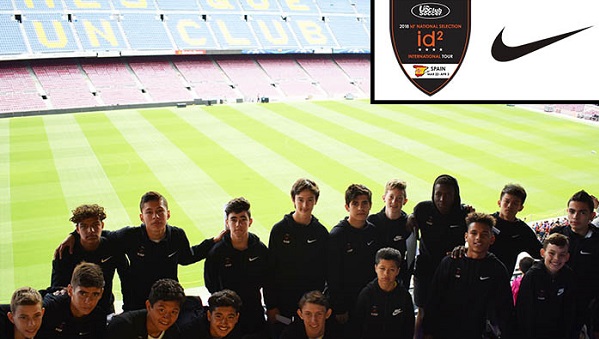 BARCELONA, Spain (Via US Club Soccer) – The fourth and final video journal from the 2018 id2 National Selection International Tour is now available, featuring highlights from the final days in Barcelona and commentary from players and coaches about the 13-day trip.
The 2018 id2 National Selection boys team was made up of 18 players, representing 16 clubs and 11 states. This was the final programming element for the age group cycle targeting boys born in 2004.
The trip began on March 22 with a brief domestic camp in New Jersey, where the players quickly became acquainted with each other on and off the field. That portion of the tour included training sessions at PDA Soccer Complex and a scrimmage against the host club.
A few days later, the delegation traveled to Girona, Spain, where it scrimmaged Girona FC Infantil A, drawing a 2-2 result. "The friendly before we played the group stages (at the Mediterranean International Cup) was fantastic against a tough team in Girona (FC)," said id2 Boys Program Director Gerry McKeown. "That's a level we seek when we're traveling like this."
Those group stage games were held March 28-29. The id2 National Selection team scored early and often in this phase of the tournament, outscoring its three opponents from Trinidad & Tobago, the Canary Islands and Spain by a combined score of 16-0.
On March 30, the knockout rounds began. The id2 squad again blanked another MIC opponent, beating CE Europa (Spain), 3-0, in the first round of the playoffs. That marked 10 consecutive shutouts dating back to last year's id2 National Selection team's quarterfinal run at the MIC.
The streak ended there, though, as the boys drew a round of 16 match against RCD Espanyol Infantil A, in which they lost 3-0. Espanyol went on to win the tournament, defeating FC Barcelona Infantil A, 1-0, in the final.
"Overall, I was really happy with the way the kids performed," added McKeown. "They were a treat on and off the field. They were in to it. They were completely committed to each other."
After its tournament-ending loss, the id2 National Selection team shifted its focus to immersing itself in Catalan culture throughout the Costa Brava region and Barcelona, where it spent the final two days of the trip. The boys enjoyed soccer on the shores of the Mediterranean Sea, ate local cuisine, toured Camp Nou and walked to a couple local parks.
On the final night in Spain, the coaching staff performed individual player evaluations to give advice and guidance to these 18 standouts on their futures. New to this year's trip was the addition of Beyond Pulse, a sports technology company that provided Smart Belts to all the players to track heart rate, speed, exertion rate, active participation and distance covered. In the coming days, US Club Soccer will announce a partnership with Beyond Pulse to offer the same benefits these id2 athletes and coaching staff experienced to all US Club Soccer members. During the player evaluations in Barcelona, id2 coaches McKeown, Ian Mork and Tyler Stakiwicz used valuable data derived from these Smart Belts to include in their discussions.
U.S. Soccer sent scout and U-14 boys national team coach Clint Peay on the trip to evaluate potential invitations to future youth national team programming. "From an individual standpoint, the players get to reflect a little bit and that's always a good thing. They can take back what they learned, where they're deficient, possibly where they showed well and continue to work on their game," said Peay. "Anytime they get the opportunity to come abroad and test themselves out against opponents from especially strong countries like Spain, it's a win-win. id2 has done a good job at identifying a good group of players… For me, as a national team coach, it was valuable to see these kids tested in an environment that normally I would not see at home."
Numerous id2 National Selection alumni have advanced to the highest levels of the sport, including Christian Pulisic (2012), Jonathan Gonzalez (2013), Tyler Adams (2013), Corey Baird (2010), Danny Barbir (2012), Collin Fernandez (2010), Matthew Olosunde (2012), Tommy Redding (2011), Ben Swanson (2010) and Timothy Weah (2013). Just prior to the 2018 id² National Selection International Tour, US Club Soccer released an "id2 where are they now" web series detailing each year's National Selection boys alumni.
In addition to Nike's resounding support of the tour and the id2 Program in general, LaLiga is offering its resources to enhance the trip. Premier International Tours is also assisting with travel logistics, and, like previous years, is serving as on-site liaison.