US Club Soccer id2 National Selection concludes Spain tour [Video]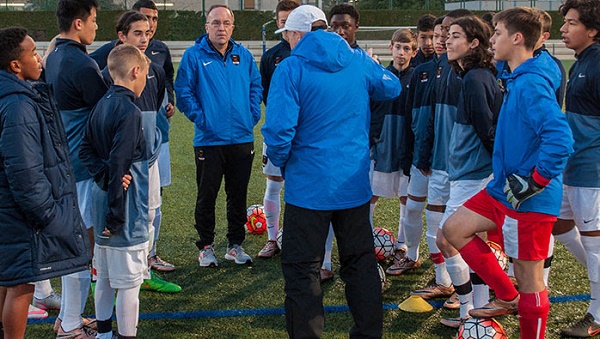 CHARLESTON, S.C. (Via US Club Soccer) – The third video journal of the 2016 id2 National Selection International Tour to Spain highlights the team's games against RCD Espanyol and FC Barcelona academies. It also gives a behind-the-scenes glimpse into sight-seeing excursions and the delegation's attendance at the Feb. 28 LaLiga game between FC Barcelona and Sevilla FC.
Late last week, the id2 National Selection team – consisting of 16 boys born in 2002 and two born in 2003 – bid farewell to Spain. It was a 12-day journey for the group, which included two days in New Jersey and five days apiece in Valencia and Barcelona.
Having played against four of the top LaLiga academies (Infantil A – 2002s), the players take unrivaled experiences and a renewed commitment to improve back to the States.
On Feb. 29, the id2 National Selection team played RCD Espanyol Infantil A at Unificación de Llefia in its third match of the international tour. After surrendering goals within the first five minutes to both its opponents the previous two games (Valencia CF and Villarreal CF), the id2National Selection team was the first to strike against RCD Espanyol.
+US Club Soccer id2 National Selection team travels to Spain [Video]
Cameron Dunbar (Albion SC) scored on a breakaway assisted by Kawika Kelii (Maui United SC) in the fifth minute. But, Espanyol went on to score three unanswered goals to take a 3-1 lead late into the second half.
But, the id2 National Selection team showed resolve when Alfredo Moran Loera (Surf SC) scored with a shot underneath the diving Espanyol goalkeeper that cut the deficit to one goal. Eric Centeno (Earthquakes – East Valley FC), Max Goeggel (Ballistic United SC) and Andrew Tong (GPS Massachusetts) all had shots after intermission, but the 3-2 score held up as final.
"Our guys really, really competed well. I thought we were exceptionally dangerous on the break," Gerry McKeown, id2 National Selection head coach and id2 Boys Program Director, said. "I think this is the first time on this trip that they genuinely performed the way they were capable of. A lot of progress was made in the past couple days."
+US Club Soccer id2 National Selection continues Spain trip [Video]
The following night, the group was tested on short rest against FC Barcelona Infantil A (2002s) at Ciutat Deportiva Joan Gamper. Despite two goals from Goeggel, the id2 National Selection team was defeated 3-2.
"They looked like the first team," McKeown said afterward of FC Barcelona Infantil A. "It was a really good learning experience, and give credit to our guys. They've grown so much."