US Club Soccer id² Training Camp concludes in Connecticut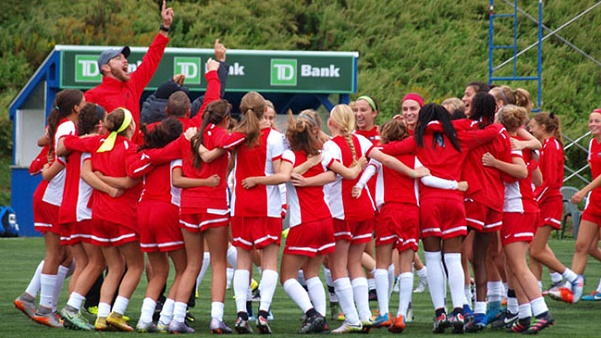 Rosters – Boys / Girls
Photos | Daily log
PORTLAND, Conn. (Via US Club Soccer) – A talented group of 112 players representing 66 clubs and 19 states competed during the id² Training Camp at TD Bank Oakwood Soccer Park in Portland, Conn., Sept. 29-Oct. 2. This camp is the first of two in the fall, as the cycle targeting boys born in 2003 and girls born in 2002-03 comes to a close.
Players participated in several training sessions, scrimmages and off-the-field presentations, which provided a challenging, multi-faceted environment.
id² Program directors Gerry McKeown (boys) and Rory Dames (girls) coordinated activities for the id² Training Camp. NPL General Manager Leo Garcia was in attendance to oversee the event, and US Club Soccer Board of Directors members Jason Dewhurst and George Fotopoulos served as staff coaches.
Some of the best club coaches in the country implemented the directors' curriculum. Coaching the boys were: David Allred (Wake FC), Ray Selvadurai (Manhattan SC), Carlos Parra (Weston FC), Ewen MacDonald (Mercer FC) and Michael Dickey (Kentucky Fire Juniors). On the girls' side were: Chris King (Ohio Premier), Dewhurst (FC Stars), Fotopoulos (Tampa Bay United), Celia Mosier (Richmond Strikers) and Trae Manny (Eclipse SC).
U.S. Soccer technical advisors Cris Da Silva (boys) and Dave Clarke (girls) were on-hand to scout for potential invitations to future youth national team programming.
US Club Soccer's id2 Program provides an opportunity for the country's elite youth players to be identified and developed, and scouted for inclusion in U.S. Soccer's national team programs. A comprehensive national scouting and recommendation program is used to form a pool from which top players are invited to attend an id2 Training Camp.
There is no cost to players to be identified for or participate in the id2 Program, an Olympic Development Program open to all players regardless of U.S. Soccer affiliation. For id2 Training Camps, all lodging, meals and training gear are provided at no cost by US Club Soccer and Nike.
Programming for this age group cycle continues to the final training camp, which will be held Dec. 8-11 at the acclaimed Grande Sports World in Casa Grande, Ariz. Top performers from all four camps during this age group cycle will be invited to id² National Selection programming in 2017.