US Club Soccer hosts 120 players at id² Training Camp in Raleigh, N.C.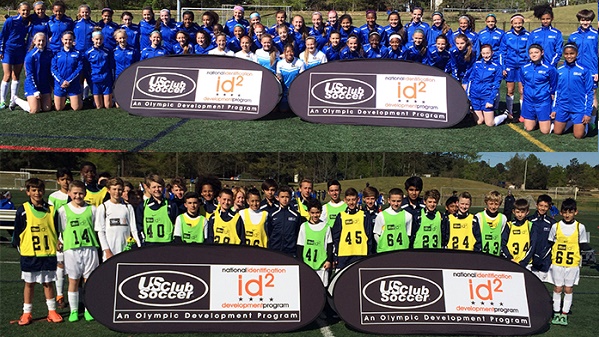 Rosters – Boys / Girls | Photos 
(Via US Club Soccer) – A group of 120 players representing 71 clubs and 20 states participated in the id² Training Camp at WRAL Soccer Center in Raleigh, N.C., April 7-10. This camp was the second programming element of the current age group cycle, which targets boys born in 2003 and girls born in 2002.
Similar to the previous camp in Glendale, Calif., players were challenged over the extended weekend with training sessions, scrimmages and off-the-field presentations.
+Read: US Club Soccer announces new Arizona NPL
id² Program directors Gerry McKeown (boys) and Rory Dames (girls) coordinated activities for the id² Training Camp. Tricia Taliaferro, former U.S. Soccer scout and id² Girls Program Associate Director, also led activities for the girls players. NPL General Manager Leo Garcia was in attendance to oversee the event, and US Club Soccer Board of Directors members Mike Cullina and George Fotopoulos served as staff coaches.
Assisting the id² directors were a collection of the best coaches in the country. Coaching the boys were: David Allred (Wake FC), Matt Bernard (Sacramento Republic FC), Cullina (Prince William Courage), Kelly Finley (NC State University), Matt Lawrey (Richmond Strikers) and Carlos Parra (Weston FC). On the girls' side were: Tom Amick (Heat FC), Fotopoulos (Tampa Bay United), Taliaferro (Weston FC), Rade Tanaskovic (University of Louisville), Kacey White-Burke (CASL) and Nicholas Zimmerman (Columbus State University).
+Read: US Club Soccer id2 National Selection concludes Spain tour [Video]
U.S. Soccer technical advisor Clint Peay was on-hand to scout for potential invitations to future youth national team programming.
US Club Soccer's id2 Program provides an opportunity for the country's elite youth players to be identified and developed, and scouted for inclusion in U.S. Soccer's national team programs. A comprehensive national scouting and recommendation program is used to form a pool from which top players are invited to attend an id2 Training Camp.
There is no cost to players to be identified for or participate in the id2 Program, an Olympic Development Program open to all players regardless of U.S. Soccer affiliation. For id2 Training Camps, all lodging, meals and training gear are provided at no cost by US Club Soccer and Nike.
+Read: US Club Soccer Board of Directors election results announced
Programming for this age group cycle now takes a summer hiatus before a pair of id² Training Camps in the fall. The dates and locations of those camps will be announced soon. Top performers from all four camps will be invited to id² National Selection programming in 2017.
The National Selection element of the previous age group cycle – for boys born in 2002 – took place in late February/early March with a 10-day trip through Spain. The 2016 Nike National Training Camp, powered by ECNL and id², will be held this summer and target girls born in 2001.