Jacksonville FC rebranded as Jacksonville Armada FC Youth Academy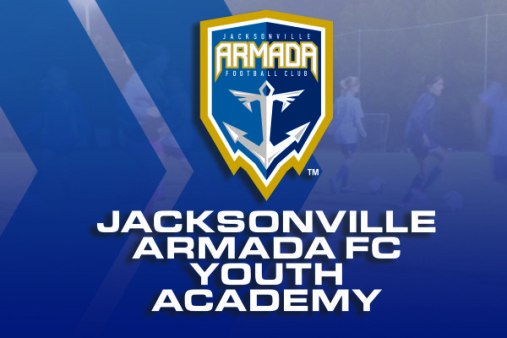 JACKSONVILLE, Fla. (Via Armada FC)  – The Jacksonville Armada FC and youth partner Jacksonville FC announced on Wednesday that JFC will rebrand as Jacksonville Armada Football Club Youth Academy.
In addition, the club will officially be known as Jacksonville Armada FC and Jacksonville Armada WFC. The move establishes a full club development pyramid and a youth to professional path for local talent, something no other club in Northeast Florida has.
Since the establishment of the Armada FC, it has been owner Mark Frisch's goal to create an academy. The club also formed a developmental U-23 National Premier Soccer League team, Armada U-23, in March.
"With this partnership, we are now deeply rooted in youth soccer, both boys and girls," Frisch said. "This will go a long way in developing young talent so that one day Jacksonville will see its homegrown stars in the FIFA World Cup. I'd like to thank the JFC board for their belief in the Armada and what we will bring to the region collectively for years to come."
"JFC is excited to join the fleet and become one with the Armada," said David Proehl, JFC Board President. "It is a partnership founded on trust, core values and focused towards continuous developmental opportunities for youth players of all ages and ambitions. Many people, both past and present, have laid the foundation for this historic step and I am personally grateful for their vision. One thing is for sure – change is constant and while remaining grounded in "kids and club," JFC is very proud to join the fleet and experience the Armada's impact on our membership, strategic youth club partners and the entire soccer community."
Current JFC executive director and Armada FC director of player development Eric Dade will continue to work closely with Armada FC head coach and technical director Tony Meola in establishing a youth development model for all of the academy's teams.
"We are extremely excited to add the academy under the umbrella of the Armada FC," Meola said. "Our goal as a technical staff is to one day have a young player come through our youth system and play on the first team."
"We are excited about our rebranding and becoming one with the Armada," Dade said. "Our goals have always aligned with their vision of the sport in our community and with this club evolution, the players will benefit the most. JFC is extremely honored to join the fleet."
The Armada FC initially teamed up with JFC in February 2015 to establish a strategic youth partnership and have already been collaborating on feeding into the Armada FC's current development structure and its elite male teams were known as JFC Armada. JFC is currently the fourth-largest youth soccer club in Florida and has had a 38-year history of on-field success with developing young talent.