US Club Soccer announces creation of Central States NPL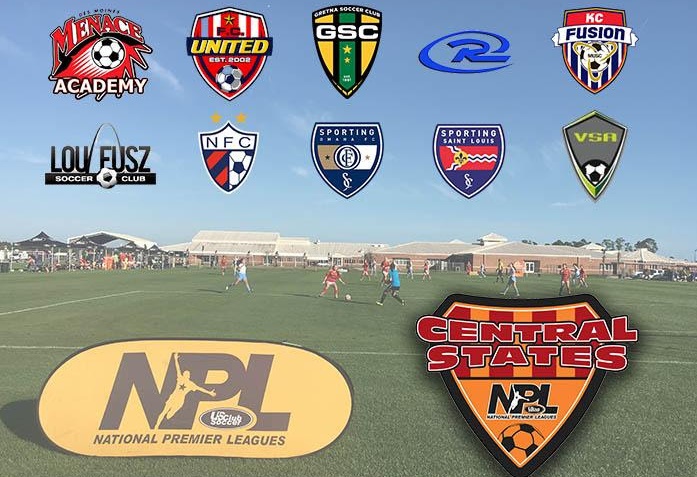 CHARLESTON, S.C. (Via US Club Soccer) – The National Premier Leagues is expanding its geographical impact through the creation of the Central States NPL ahead of the 2017-18 season.
Top 13-U through 18/19-U boys and girls clubs in Iowa, Kansas, Missouri and Nebraska make up the league. Participating clubs are:
Sporting Omaha FC (Neb.)
Nebraska FC (Neb.)
Gretna SC (Neb.)
Lou Fusz SC (Mo.)
Sporting St. Louis (Mo.)
KC Fusion (Kan.)
Kansas Rush (Kan.)
Vision Soccer Academy (Iowa)
Des Moines Menace Academy (Iowa)
FC United (Iowa)
League winners will advance to the 2018 NPL Finals, where they will join the rest of the country's NPLs in pursuit of national championships.
"The way these clubs have worked together to form the Central States NPL is a necessary predecessor to long-term success within the National Premier Leagues platform," said Leo Garcia, NPL General Manager. "We're confident the Central States NPL will be a great NPL member and will take advantage of US Club Soccer's many offerings, including Players First and Player Development Programs."
As with other NPLs, the league will be evaluated for potential ENPL inclusion as a qualifying competition.
Quotes from participating clubs:
Jason Pendleton, KC Fusion Director of Coaching: "KC Fusion is very excited to join nine other like-minded clubs in participating in what we believe is the most progressive, player focused and nationally competitive club based youth soccer league in the United States. We're also very pleased to be able to help deliver such a high-quality sustainable league for male and female players in a historically underserved part of the country. Our players and coaches look forward to competing, and as a club, we look forward to delivering a great gameday environment."
Daniel Gargan, Lou Fusz Athletic General Manager: "Lou Fusz Soccer Club is proud to be involved in the Central States NPL. Offering another competitive outlet for our teams to take part in, against some of the best clubs in the middle of the country, will challenge and push us to continually be better. This is something we strive to teach our kids every day, and putting ourselves in the arena is the best place to showcase our work."
Chris McGill, Vision Soccer Technical Director: "This new league is a great opportunity for our club, and we are very excited to be a part of it. Developmentally, we know this environment will be a great benefit to our players and teams."
Tim Bennett, Sporting Omaha FC Executive Director: "Sporting Omaha FC is excited about being a part of the Central States NPL. We are looking forward to the high level of competition the league will provide our players through its club- and player-focused platform."
Tommy Howe, Sporting St. Louis Director of Coaching: "We are pleased and excited to be a part of this new enterprise that US Club is providing. We believe it's a fantastic opportunity for our families and players, as well as Sporting St. Louis. Our experience with US Club has always been first-rate; playing on the best fields; good, consistent competition; and a professional staff always willing to assist with any requests or needs."
Digger Hawkins, Gretna Soccer Club Director of Coaching: "Gretna Soccer Club is extremely excited and privileged to be a part of one of the fastest growing national leagues in the nation. This league will provide our club a platform to compete against nationally ranked competition on a more regular basis. We are thrilled to be a part of a league with other clubs who have the same common goal of being player-focused, and this league will only benefit our players even more. Everyone at GSC is looking forward to being a part of the NPL."
Dave Amdor, Nebraska FC Executive Director: "Nebraska FC is excited to be a part of the new Central States NPL offered by US Club Soccer. This newly formed, multi-state league provides its well-established member clubs the flexibility to schedule competitive games throughout the year, while limiting travel in a youth sports world where costs are ever expanding. The additional competitive opportunities offered by this league and through US Club Soccer's competition format will greatly benefit our members."
Daouda Kante, Kansas Rush Soccer Club Technical Director: "We are very pleased to be able to offer our elite players and teams the opportunity to play in a competitive environment where the best interest of the game and the players are the primary focus. The league and the participating clubs have the common goal of providing quality meaningful games to maximize the development of the players participating. We anticipate a fantastic season, and we are looking forward to our participation."
Tomas Boltnar, Des Moines Menace Academy Director of Coaching: "We are very excited to be a part of this league and for the opportunity to compete against well-established clubs on a regular basis. We believe that this is a very positive step and will greatly benefit our players as they strive to play at the next level."
Bill Ajram, FC United Executive Director: "FC United is excited to be a part of the NPL and joining several well-respected organizations in the Midwest. Our club is committed to long-term player development and focused on instilling a passion to compete and play at our respective players' highest levels. We look forward to being a part of this initiative and joining other successful organizations with common goals."