University of Missouri – Kansas City hires Jessica Smith as head women's soccer coach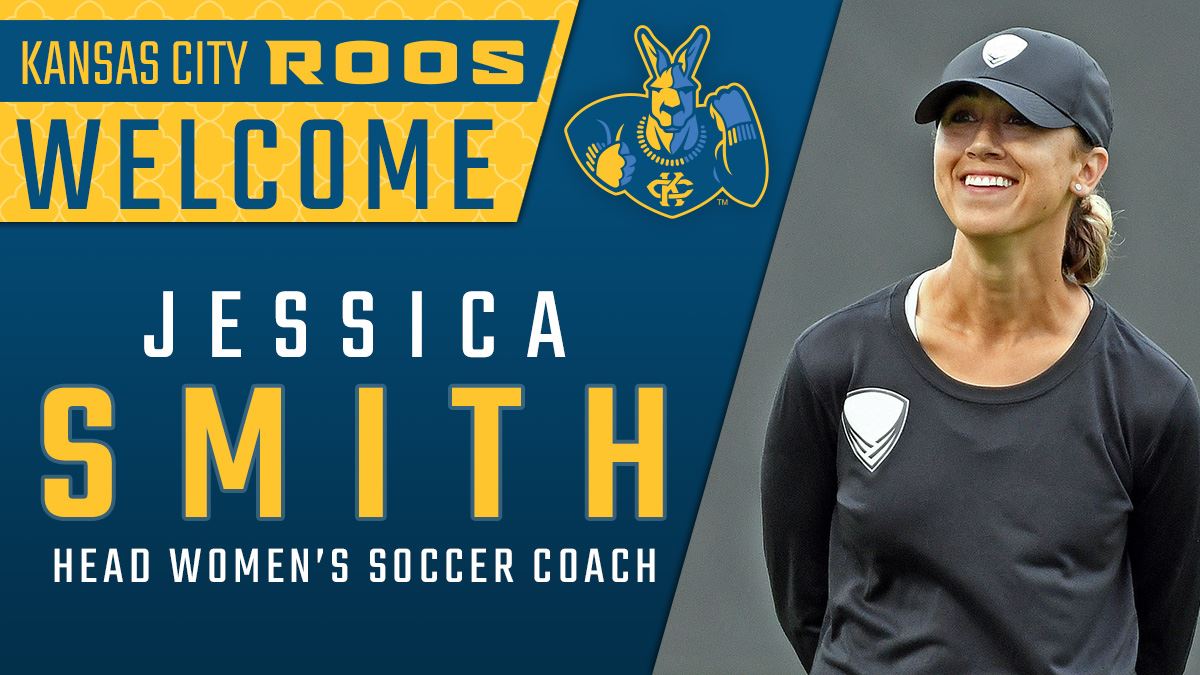 KANSAS CITY, Mo. – University of Missouri – Kansas City Director of Athletics Dr. Brandon Martin announced today the hiring of Jessica Smith as the new Roos head women's soccer coach.
The former University of Kansas player recently was on the K-State coaching staff for three seasons.
"We are thrilled to have Jessica Smith join our KC Athletics family. As a former student-athlete and coach, she has demonstrated an unwavering commitment to comprehensive excellence. Jessica has been a dynamic recruiter of prospects in this region, which is critically important for the continued elevation of our women's soccer program," said University of Missouri-Kansas City Director of Athletics Dr. Martin. "Her passion, enthusiasm, and vision for this opportunity was clearly conveyed at every step of the interview process. Jessica will not only be a great mentor and coach for our student-athletes, but will also be a respected leader in the athletics department and campus community."
Jessica was part of the inaugural K-State women's soccer program beginning in 2016. She started as an Assistant Coach and was elevated to the Associate Head Coach position in 2018. Her primary responsibilities included practice preparation and development for the team's offense, university and community engagement and recruiting evaluation.
"I'd like to thank Dr. Brandon Martin and the hiring committee for the great privilege of being the next leader of Kansas City Women's Soccer," said Smith. "I am excited and grateful for the opportunity to build upon the program's history of success. With our great resources and support, we will work tirelessly to elevate every aspect of the program and drive towards our goal of becoming a consistent NCAA Tournament team. Our successes will begin with the relationships we have within our team and I can't wait to start connecting with our players on and off the field."
Smith served as an assistant coach at the University of Kansas from 2011 until 2015. During her time on the sidelines with Kansas, she helped guide the program to a pair of NCAA Tournament appearances in 2011 and 2014 and a trip to the Big 12 Conference tournament final in 2015.
In 2013, Smith was selected as one of 15 women by the National Soccer Coaches Association of America (NSCAA) for their inaugural 30-Under-30 Coaching Program for rising coaches.
Before she joined the KU coaching staff, Smith coached at various levels in the Kansas City metro area, including as a varsity assistant coach for both the boys' and girls' teams at Olathe Northwest High School.  In addition, Smith served as a coach with the Kansas State Olympic Development Program (ODP) girls' program and with TOPSoccer, a U.S. Youth Soccer outreach program for children with special needs.
As a student-athlete from 2002-05 with Kansas, Smith played in 83 career games scoring 16 goals and dishing out 10 assists. She graduated from KU in 2006 with a degree in sports and fitness management.
Starting in July 2019, Smith worked at the KC Fusion Soccer Club as the Director of Girls. Some of her duties there focused on coach education, player training and overall soccer program management.
Coaching Career
KC Fusion Soccer Club Director of Girls | 2019-20 (1 year)
Kansas State University Associate Head Coach | 2018-19 (1 year)
Kansas State University Assistant Coach | 2016-17 (2 years)
University of Kansas Assistant Coach | 2011-15 (5 years)
Playing Career/Honors:
Wichita Sports Hall of Fame | 2018
University of Kansas | 2002-05
Team Captain | 2004-05
Big 12 Championship Team | 2004
NCAA Sweet Sixteen | 2003
What others are saying about Head Coach Jessica Smith…
Mark Francis, University of Kansas Head Coach: "Jess was an outstanding player for us and I also had the privilege of getting to work with her on our staff at KU, first as a volunteer assistant and then as a full time assistant. Jess does a great job on the field as a coach and is able to get her points across to the players in a positive and encouraging way, while at the same time still demanding excellence from them. Jess is a great recruiter and really connects with the potential student athletes as well as their parents. Jess is a great hire and I look forward to competing against Kansas City in the years to come."
Antal Vergeer, US Soccer Coaching Education: "I met Jess through the A Senior Course in 2018 and since that moment, I have gotten to know her as a coach that constantly wants to grow to become the best version of herself. Caring for people, dedication, being open-minded and always looking for opportunities to improve, are values she will bring to the program to further improve it."
Gene Taylor, Kansas State University Director of Athletics: "Jess is a highly regarded coach who cares deeply for her student-athletes and molds them into, not only great soccer players, but also model citizens. She has deep roots in the Kansas City soccer community and will be able to attract some of the best student-athletes in the area to play for her at Kansas City. This is a terrific hire and great days are ahead for the Roos program."