U.S. Youth Futsal names teams for international trips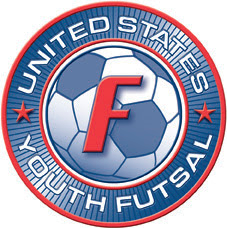 OVERLAND PARK, KAN. (Via U.S. Youth Futsal) – U.S. Youth Futsal has announced the rosters for its teams that will travel to Costa Rica later this month for a series of international friendlies
After a year-long identification process 72 players were selected to represent the United States in Costa Rica, where the U.S. Youth Futsal U18, U16 and U14 boys and girls teams will compete from July 30 to Aug. 1. Later this year a contingent of 48 youth futsal players in the U13 and U12 age groups will visit Canada.
Participants were selected after attending Regional I.D. Camps throughout the nation last fall and winter followed by the National I.D. Camp earlier this month.
"I am very excited and proud to be part of this historic event of taking our youth teams to Costa Rica," said U.S. Youth Futsal Technical Director Keith Tozer, who is preparing for his fifth visit to the Central American country. "With the coaching staff and level of players we now have I think we are very much prepared to take on this challenge."
Costa Rican opponents include Colegio Alajuela, Colegio Ezcazu, Colegio Santa Ana, Colegio Santo Domingo and CTP Lindora.
Teams will stay in San Jose, the host nation's capital, and train and play at the official training center of the Costa Rican National Futsal Teams. The visit will include one day of training and one day of team-building adventure activities prior to the three match days.
The coaching staff is helmed by Tozer, Director of Goalkeeping Mark Litton and Director of Futsal I.D. Soorena Farboodmanesh. It includes Craig Canavan, Jason Miller, Otto Orf & Ty Stauffer.
U.S. Youth Futsal 1997-98 (Under-18) Boys
GOALKEEPERS (2): Tanner Bengtzen (South Jordan, Utah), Selvin Hernandez (Naples, Fla.)
OUTFIELD PLAYERS (10): Hunter Baird (Owensboro, Ky.), Carlos Bravo (Smyrna, Tenn.), Elias Humel (Henderson, Ky.), Igor Ibrahimkadic (Louisville, Ky.), Alex Kaddah (Blue Springs, Mo.), John Leisman (Kansas City, Mo.), Alexis Mendez (Grand Rapids, Mich.), Cesar Rivera (Naples, Fla.), James Scott (San Francisco), Paul Whitener (Kansas City, Mo.)
U.S. Youth Futsal 1997-98 (Under-18) Girls
GOALKEEPERS (2): Nicole Cerulli (Boston), Lisette Virella (Sicklerville, N.J.)
OUTFIELD PLAYERS (10): Nadya Boualany (Rittman, Ohio), Naya Boualany (Rittman, Ohio), Ashley Johnson (Temecula, Calif.), Tziarra King (Sicklerville, N.J.), Raleigh Loughman (Campbell, Calif.), Amber McCorkle (San Diego), Madallyn Peveler (Owensboro, Ky.), Emily Rollender (Concord, Mass.), Annie Stauffer (Owensboro, Ky.), Elysa Virella (Sicklerville, N.J.)
U.S. Youth Futsal 1999-00 (Under-16) Boys
GOALKEEPERS (2): Nick Chiappa (MIlwaukee), David Merola (Overland Park, Kan.)
OUTFIELD PLAYERS (10): Alec Bakkeby (San Diego), Pablo Blanco (Holland, Mich.), Ilias Boujlil (West Chester, Ohio), Eric Valentine Calvillo (Manassas, Va.), Jovanni Garcia (Kentwood, Mich.), Roman Knox (Shawnee, Kan.), Edmond Max Rugova (Overland Park, Kan.), Cole Russell (Brighton, Mich.), Mason Visconti (Lee's Summit, Mo.), Alexander Vivar (San Diego)
U.S. Youth Futsal 1999-00 (Under-16) Girls
GOALKEEPERS (2): Victoria Cruz (Duncanville, Texas), Alexa Gardner (Atco, N.J.)
OUTFIELD PLAYERS (10): Suniva Dunagan (St. Paul, Minn.), Cara Easter (Weare, N.H.), Jordan Hindmarsh (Clinton, Ohio), Nikhita Jacob (Ann Arbor, Mich.), Mikayla Kappes (San Diego), Lauryn Oishi (Honolulu), Emma Ramagnano (Long Grove, Ill.), Brooke Shatney (Weare, N.H.), Emilie Torres (McKinney, Texas), Shelly Vargas (Grand Rapids, Mich.)
U.S. Youth Futsal 2001-02 (Under-14) Boys
GOALKEEPERS (2): Connor Bryant (Lewisville, Texas), Raul Aguilar Lizarraga (San Diego)
OUTFIELD PLAYERS (10): Mohammad Abualnadi (Leawood, Kan.), Nicholas Barzacchini (Avon, Ohio), Trevor Gee (Charlotte, N.C.), Johan Gomez (Keller, Texas), Takumi Ikeda (Madison, Wis.), Jotaro Koga (Overland Park, Kan.), Oliver Larraz (Denver), Jonathan Ortega (Grand Prairie, Texas), Michael Scavuzzo (San Diego), Yang Scofano II (Charleston, S.C.)
U.S. Youth Futsal 2001-02 (Under-14) Girls
GOALKEEPERS (2): Shelby Helton (Owensboro, Ky.), Lorelei Logan (Albuequerque, N.M.)
OUTFIELD PLAYERS (10): Ainsley Ahmadian (Naperville, Ill.), Isabella Andrade (Cambridge, Mass.), Hannah Bebar (Naperville, Ill.), Tiffany Bernot (Old Westbury, N.Y.), Lauren Deckert (Fort Thomas, Ky.), Ariana Garcia (Kentwood, Mich.), Felicia Knox (Shawnee, Kan.), Emily Sanders (Coram, N.Y.), Rachel Schleicher (Charlotte, N.C.), Liliana Silva (North Grafton, Mass.)
U.S. Youth Futsal 2002 (Under-13) Boys
GOALKEEPERS (2): Spencer Eilers (Hebron, Ky.), Derek Liguori (McMurray, Pa.)
OUTFIELD PLAYERS (10): Brayden Barney (Lee's Summit, Mo.), Charlie Flammia (Manakin-Sabot, Va.), Christopher Hegardt (San Diego), Colby Kraynak (Geneva, Ill.), Samuel Latona (Manchester, N.H.), David Medeiros (Attleboro, Mass.), Dalio Pekovic (Denver), Luke Thomas (Cornelius, N.C.), Daniel Vrablic (Avon, Ohio), Nathan Vrablic (Avon, Ohio)
U.S. Youth Futsal 2002 (Under-13) Girls
GOALKEEPERS (2): Lorelei Logan (Albuequerque, N.M.), Isabelle Vitale (Lloyd Harbor, N.Y.)
OUTFIELD PLAYERS (10): Nyla Allen (Elmont, N.Y.), Michaela Baker (San Marcos, Calif.), Cayla Coleman (Independence, Ky.), Lauren Deckert (Fort Thomas, Ky.), Zhanna Dunagan (St. Paul, Minn.), Brianna Hernandez (Arcadia, Calif.), Alyssa Huynh (San Diego), Allie Lyons (Lantana, Texas), Elizabeth Marshall (Carrollton, Texas), Sydney Sanchez (San Diego)
U.S. Youth Futsal 2003-04 (Under-12) Boys
GOALKEEPERS (2): Landon Borum (Moseley, Va.), Jeffrey Dewsnup (Herriman, Utah)
OUTFIELD PLAYERS (10): Kaïlé Auvray (Overland Park, Kan.), Will Bencic (West Chester, Ohio), Ian Drake (O'Fallon, Mo.), Andrew Durkin (Glen Allen, Va.), Jonathan Gomez (Keller, Texas), Christian Nydegger (Highland, Utah), Arquimides Ordonez (Cincinnati), Michael John Petry (Mt. Pleasant, S.C.), Blake Pope (Waxhaw, N.C.), Evan Rotundo (La Mesa, Calif.)
U.S. Youth Futsal 2003-04 (Under-12) Girls
GOALKEEPERS (2): Vivian Heredia (Florence, Ky.), Emmy Tawah (St. Paul, Minn.)
OUTFIELD PLAYERS (10): Korbin Albert (Park City, Ill.), Summer Denigan (Union, Ky.), Jill Flammia (Manakin-Sabot, Va.), Abby Hansen (Overland Park, Kan.), Riana Kitchen (San Marcos, Calif.), Ashton Lang (Overland Park, Kan.), Isabella Piete (Alpine, Calif.), Savanna Riggs (Lewisville, Texas), Kendra Rust (Rosemount, Minn.), Bella Sember (Centerport, N.Y.)