U.S. WNT facing Spain in Women's World Cup Round of 16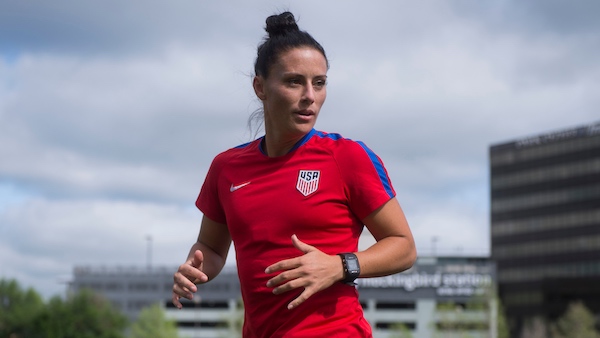 USA vs. Spain
2019 FIFA Women's World Cup France – Round of 16
June 24, 2019
Stade Auguste Delaune; Reims, France
USA FACES SPAIN IN ROUND OF 16 AS KNOCKOUT STAGES BEGIN: After putting together an historic performance in Group F play, the U.S. Women's National Team will return to Reims, site of its first match of the 2019 FIFA Women's World Cup, to face Spain in the Round of 16 (Noon ET on FOX Sports 1 and Telemundo).
It will be just the second meeting between the two countries in women's soccer. The first came in January, 1-0 U.S. victory in Alicante. Over its three first round games, the USA set a record for most goals scored in group play with 18 and greatest goal difference while shutting out all three opponents. The USA needed just a draw against Sweden in the final group match on June 20, but put in an excellent performance en route to the 2-0 win, scoring the earliest goal of the tournament (Lindsey Horan's 3rdminute tally off a corner kick) and added an early goal in the second half (50th minute) that was initially given to Tobin Heath before being changed to an own goal. The match against Sweden was the 123rd on the bench for U.S. head coach Jill Ellis. The match against Spain will tie her for most games coached in U.S. history with April Heinrichs (124). The USA, which finished group play on June 20, will be playing on three days less rest than Spain, which finished group play on June 17.
USA vs. Spain – Round of 16 – How They Got Here
USA – 1st in Group F
Date Opponent Score Goal Scorers
June 11 Thailand 13-0 W Morgan (5), Lavelle (2), Horan, Mewis (2), Rapinoe, Pugh, Lloyd
June 16 Chile 3-0 W Lloyd (2), Ertz
June 20 Sweden 2-0 W Horan, Gwn Goal
Spain – 2nd in Group B
Date Opponent Score Goal Scorers
June 8 South Africa 3-1 W Hermoso (2), Garcia
June 12 Germany 0-1 L —
June 17 China PR 0-0 T —
USA VS. SPAIN
This meeting will be just the second between the teams at the senior level.
The first match took place on January 22 of this year, a 1-0 U.S. victory that featured a 54th minute goal from Christen Press in what was the USA's first-ever match in Spain.
On a chilly night in Alicante, the USA out-shot Spain 9-4 in front of a partisan crowd of 9,182 fans.
Spain's World Cup roster is very similar to the one that faced the USA last January as 22 of the 25 players that roster made the World Cup squad, including all 15 who played against the USA in Alicante.
Of the 17 U.S. players who featured against Spain earlier this year, 16 made the World Cup roster.
2019 U.S. WORLD CUP ROSTER (CAPS/GOALS)
GOALKEEPERS (3): Adrianna Franch (Portland Thorns FC; 1/0), Ashlyn Harris (Orlando Pride; 21/0), Alyssa Naeher (Chicago Red Stars; 49/0)
DEFENDERS (7): Abby Dahlkemper (NC Courage; 43/0), Tierna Davidson (Chicago Red Stars; 21/1); Crystal Dunn (NC Courage; 87/24), Ali Krieger(Orlando Pride; 101/1), Kelley O'Hara (Utah Royals FC; 120/2), Becky Sauerbrunn (Utah Royals FC; 160/0), Emily Sonnett (Portland Thorns FC; 34/0)
MIDFIELDERS (6): Morgan Brian (Chicago Red Stars; 83/6), Julie Ertz(Chicago Red Stars; 84/19),Lindsey Horan (Portland Thorns FC; 71/10), Rose Lavelle (Washington Spirit; 29/9), Allie Long(Reign FC; 46/6), Samantha Mewis (NC Courage; 52/14)
FORWARDS (7): Tobin Heath (Portland Thorns FC; 152/30); Carli Lloyd(Sky Blue FC; 277/113),Jessica McDonald (NC Courage; 8/2), Alex Morgan(Orlando Pride; 165/106), Christen Press (Utah Royals FC; 119/48), Mallory Pugh (Washington Spirit; 56/17), Megan Rapinoe (Seattle Reign FC; 155/45)
U.S. WOMEN'S WORLD CUP TEAM FACTS
World Cup Rosters: Lloyd (4); Krieger (3), O'Hara (3), Sauerbrunn (3), Heath (3), Morgan (3), Rapinoe (3); Harris (2), Naeher (2), Brian (2), Ertz (2), Press (2); Franch (1), Dahlkemper (1), Davidson (1), Dunn (1), Sonnett (1), Horan (1), Lavelle (1), Long (1), Mewis (1), McDonald (1), Pugh (1).
Of the 23 players named to the roster, Lloyd has the most experience, having played in 21 matches while scoring 10 goals, one in 2011, six at the 2015 tournament and three so far in 2019. Lloyd is the oldest player on the roster at 36 and against Chile became the oldest player to score at least twice in a Women's World Cup match.
Five players own double-figure World Cup caps: Lloyd (21) Krieger (14), Morgan (14), Rapinoe (14) Heath (12) and Sauerbrunn (10).
Sixteen players on the roster have represented the USA in a FIFA WWC at the U-17 level, U-20 level or both.
Davidson is the youngest player on the roster at age 20. Pugh turned 21 on April 29. Brian was the youngest player on the 2015 World Cup Team at 22. Just under half the roster (11 players) are in their 30s and 12 are in their 20s.
Allie Long and Jessica McDonald made their first World Cup roster at age 31. Long was a member of the 2016 Olympic Team, and McDonald is the top American scorer in the history of the NWSL. McDonald is also the only mother on the World Cup Team. She has a seven-year-old son.
The average age of the U.S. roster is just under 29 years old, about the same as the USA's 2015 Women's World Cup Team.
Six players had previously scored in a Women's World Cup tournament that are on the roster. Four of the seven goal scorers against Thailand made their World Cup scoring debuts. Current all-time World Cup goal scorers on the roster are: Lloyd (10), Morgan (8), Rapinoe (4), Horan (2), Lavelle (2), Mewis (2), Ertz (1), Pugh (1), Heath (1), O'Hara (1), Press (1) and Own Goal (1).
The roster features players from 13 different states. Five players on the roster are from California, three are from Georgia, while two each are from New York, New Jersey, Arizona and Colorado.
The roster includes 11 first-time participants, three more than the team that won the World Cup four years ago. This roster is also tied for the third-most rookies among U.S. teams since the Women's World Cup began in 1991.
Number of times a team has won all three group stage matches in WWC history:

Brazil (Three times – 2007, 2011, 2015)
China (Once – 1999)
England (Once – 2019)
France (Once – 2019)
Germany (Four times – 1991, 2003, 2011, 2019)
Japan (Once – 2015)
Norway (Twice – 1995, 1999)
Sweden (Once – 2011)
USA (Four times – 1991, 1999, 2003, 2019*)
ONE NATION. ONE TEAM. 23 STORIES: As the U.S. team readies for the final group game of the 2019 FIFA Women's World Cup, get to know each player through U.S. Soccer's "One Nation. One Team. 23 Stories." series, presented by Volkswagen. Sprinkled with humor, fun and a few heartfelt stories, the videos give fans insight into the players' personalities, families, motivations, and some of the challenges they've experienced on the different roads they've traveled to earn the right to represent the United States in the ultimate competition for a soccer player.
IN FOCUS: Spain
FIFA World Ranking: 13
UEFA Ranking: 7
Women's World Cup Appearances: 1 – 2019
Best Women's World Cup finish: N/A
Record vs. USA: 0-1-0
Head Coach: Jorge Vilda
SPAIN WOMEN'S WORLD CUP ROSTER BY POSITION
GOALKEEPERS (3): 1-Dolores Gallardo (Atlético Madrid), 23-Maria Quinones (Real Sociedad), 13-Sandra Panos (FC Barcelona)
DEFENDERS (7): 2-Celia Jimenez (Reign FC, USA), 3-Leila Ouahabi (FC Barcelona), 4-Irene Paredes (Paris Saint-Germain, FRA), 5-Ivana Andres (Levante UD), 7-Marta Corredera (Levante UD), 8-Marta Torrejon (FC Barcelona), 20-Andrea Pereira (FC Barcelona)
MIDFIELDERS (7): 6-Vicky Losada (FC Barcelona), 11-Alexia Putellas (FC Barcelona), 12-Patri Guijarro (FC Barcelona), 14-Virginia Torrecilla (Montpellier HSC, FRA), 15-Silvia Meseguer (Atlético Madrid), 18-Aitana Bonmati (FC Barcelona), 19-Amanda Sampedro (Atlético Madrid)
FORWARDS (6): 9-Mariona Caldentey (FC Barcelona), 10-Jennifer Hermoso (Atlético Madrid), 16-Maria Leon (FC Barcelona), 17-Lucia Garcia (Athletic Bilbao), 21-Andrea Falcon (Atlético Madrid), 22-Nahikari Garcia (Real Sociedad)
SPAIN NOTES:
Spain was drawn into one of the most competitive group at the 2019 FIFA Women's World Cup, facing South Africa, Germany and China PR in Group B.
Spain started with a bang, downing South Africa, 3-1, with all the Spanish goals coming in the second half via two penalty kick conversions from Jennifer Hermoso and a late score from Lucia Garcia after South Africa had gone up 1-0 in the 25th minute.
Spain then fell to Germany, 1-0, in a match that could have gone either way. Spain out-shot Germany 16-15 and had 59% of the possession while piling up seven corner kicks to Germany's two, but Spain only put two shots on goal to Germany's eight. Half of Spain's shot were blocked by defenders.
In its final Group B match, Spain needed a draw to ensure advancement and got just that, tying China 0-0 despite totally dominating the match in all facets, piling up a 24-1 shot margin.
Spain, which is producing some fantastic young players, won the 2018 U-17 Women's World Cup which was held in Uruguay under a female coach in Antonia Is.
While Spain is a growing country for women's football, they have a young yet experienced roster that is full of skillful and savvy players. The oldest player on the team is 30 and the youngest is 20. The average age for Spain's roster is about 25, versus the USA's which is 29. Eight players have passed the 50-cap milestone on Spain's 23-woman team, giving them significant experience in international play.
While Spain is young, they are also experienced. They have seven players with 49 or more caps. The U.S. roster has 11 players that falls into that category.
Spain's coach, Jorge Vilda, was appointed after the 2015 FIFA Women's World Cup and has led a renewal for women's soccer in the country, bringing in new players and new tactics. In 2017, Spain won the Algarve Cup and reached the last eight of the UEFA Women's Euro while in 2018, Spain won the Cyprus Cup and qualified for its second Women's World Cup.
Vilda came from the youth ranks, coaching highly successful teams at the U-17 and U-19 levels for Spain before taking over the senior side.
Spain qualified for France by easily winning UEFA Women's World Cup Qualifying Group 7. Spain won all eight games against Austria, Finland, Serbia and Israel, outscoring its opponents 25-2 over the eight games.
Star Spain striker Jenni Hermoso who plays for Atletico Madrid, scored a team-leading seven goals in World Cup qualifying. Hermoso is known for her ability to be dangerous in the final third and is one of the most experienced players on Spain's roster. She is far and away Spain's top scorer on the roster with 30 career goals and nine assists in 71 caps.
Irene Paredes, who plies her trade in France with PSG, scored for times in qualifying despite playing central defender. Marta Corredera, Patricia Guijarro, Alexia Putellas and Amanda Sampedro each had two goals over the course of qualifying.
U.S. forward Christen Press played with Hermoso (and roomed with her as well) in Sweden with Tyreso, which was coached by current U.S. asst. coach Tony Gustavsson.
One of Spain's top players at the 2018 U-20 Women's World Cup Team, Patricia Guijarro is a member of this World Cup squad. One other player from the U-20 WWC runners-up is on the roster in forward Lucía García.
Spain has one NWSL player in defender/midfielder Celia Jiménez, who signed in mid-December. Jiménez was selected by Seattle in the fourth round of the 2018 NWSL College Draft but stayed at the University of Alabama until June 2018 to complete her degree in aerospace engineering. After graduation, she trained with Reign FC and played for Seattle Sounders Women, where she helped lead the team to the 2018 WPSL Championship, scoring the game-winning goal in the final. Jiménez had three starts at the 2015 FIFA Women's World Cup and four appearances in 2019 UEFA World Cup qualifiers. She has 24 caps for the senior side and has also played extensively for Spain's U-17 and U-19 Women's National Teams, scoring four goals to help lead Spain to a second-place finish in the 2013/14 UEFA U19 Women's Championship.
Spain has players from five Spanish clubs, including a total of 14 from Atletico de Madrid (5) and Barcelona (9).
There are also two players playing in France, Paredes at PSG and midfielder Virginia Torrecilla who plays for Montpellier HSC.