U.S. U-23 WNT opens 2016 with camp at National Training Center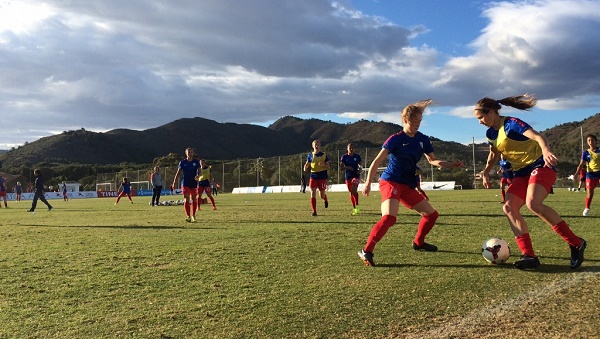 CHICAGO (Via U.S. Soccer) – The U.S. Under-23 Women's National Team will open its 2016 programing with a training camp at the U.S. Soccer National Training Center in Carson, California, from Jan. 18-25. The camp will conclude with a match against the full women's national team from the Republic of Ireland on Jan. 25 at the U.S. Soccer NTC at 11 a.m. PT.
Ireland is playing the full U.S. WNT in San Diego on Saturday, Jan. 23, at Qualcomm Stadium (2 p.m. PT on FS1) and then will travel up to Los Angeles to face the U-23s the following Monday.
The U-23 camp will be run by Janet Rayfield, who along with U.S. U-23 WNT head coach and U.S. WNT assistant Coach Steve Swanson has called up 26 players. Players born on or after January 1, 1993, are age-eligible for this year's U-23 WNT.
Of the 26 players in camp, five completed their rookie seasons last year in the NWSL, including Katelyn Rowland and Shea Groom from league champion FC Kansas City. The remainder of the roster consists of collegiate players, several of whom are also slated to be high picks in the upcoming NWSL Draft.
The roster includes nine players who have represented the USA in a FIFA Women's World Cup at the youth level.
U-23 Women's National Team Roster by Position
GOALKEEPERS (3): Jane Campbell (Stanford; Kennesaw, Ga.), Katelyn Rowland (FC Kansas City; Vacaville, Calif.), Abby Smith (Texas; Dallas, Texas)
DEFENDERS (7): Abby Dahlkemper (Western New York Flash; Menlo Park, Calif.), Caprice Dydasco (Washington Spirit; Honolulu), Kristen McNabb (Virginia; Ashburn, Va.), Kayla Mills (USC; West Covina, Calif.), Gabrielle Seiler (Florida; Peachtree City, Ga.), Erica Skroski (Rutgers; Galloway, N.J.), Christen Westphal (Florida; Brecksville, Ohio)
MIDFIELDERS (10): Marti Corby (Grand Valley State; Ada, Mich.), Mandy Freeman (USC; Royal Palm Beach, Fla.), Christina Gibbons (Duke; Raleigh, N.C.), Shea Groom (FC Kansas City; Liberty, Mo.), Alexis Shaffer (Virginia; Cary, N.C.), Havanna Solaun (Seattle Reign; Gainsville, Fla.), Josee Stiever (Minnesota; Cedarburg, Wisc.), Andi Sullivan (Stanford; Lorton, Va.), Mallory Weber (Penn State; East Lansing, Mich.), Samantha Witteman (California; Redondo Beach, Calif.)
FORWARDS (6): Mackenzy Doniak (Virginia; Chino Hills, Calif.), Tyler Lussi (Princeton; Lutherville, Md.), McKenzie Meehan (Boston College; Glocester, R.I.), Toni Payne (Duke; Birmingham, Ala.), Taylor Smith (UCLA; Fort Worth, Texas), Murielle Tiernan (Virginia Tech; Ashburn Va.)