U.S. U-23 WNT falls 2-1 to Houston Dash at Thorns Spring Invitational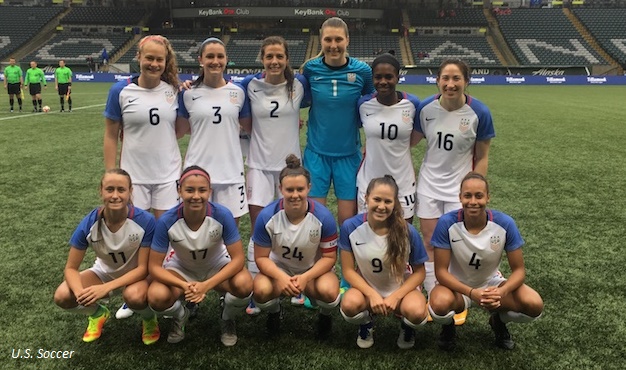 PORTLAND, Oregon (Via U.S. Soccer) – The U.S. Under-23 Women's National Team fell to the Houston Dash, 2-1, in the first of three games at the Thorns Spring Invitational.
The USA took the lead against the NWSL club in the 74th minute on goal from South Carolina forward Savanna McCasKill and seemed to have the victory locked up before the Dash rallied for an equalizer in the 89th minute through Brazilian international Bruna Benites, who scored off a set play when she ran under a chipped service into the U.S. penalty area and re-directed her volley into the lower left corner past U.S. goalkeeper Casey Murphy. The Dash then bagged a game-winner in the 94th minute as former U.S. youth international Amber Brooks scored off a corner kick.
McCaskill's goal came after she capitalized on a rebound inside the six-yard box. Dash goalkeeper Bianca Henninger saved McCaskill's initial shot but the forward pounced on the loose ball with a shot that snuck inside the near post.
In the second game of the doubleheader, the Portland Thorns defeated the Chicago Red Stars 1-0 on a penalty kick from Nadia Nadim.
The tournament continues on Wednesday, March 29, as Chicago takes on Houston at 5 p.m. PT and the USA will face the Thorns at 7:30 p.m. PT. The USA's match against the Thorns will be streamed online at www.thornsfc.com. The USA closes out the tournament against the Red Stars on Saturday, April 1 at 5 p.m. and Portland ends the tournament against Houston at 7:30 p.m. PT.
Following the Thorns Spring Invitational, the U.S. U-23 will hold another training camp from April 2-8 in Orlando, Fla., that will feature a closed-door match against the Orlando Pride on April 7 and a match against the University of Central Florida. Six players from the Portland roster will also participate in the Florida event, including today's goal scorer McCaskill.
As NWSL preseason is well underway, the U.S. rosters for both camps consist entirely of college and youth club players.
-U.S. Under-23 Women's National Team Match Report-
Match: U.S. U-23 WNT vs. Houston Dash
Date: March 26, 2017
Competition: Thorns Spring Invitational
Venue: Providence Park; Portland, Oregon
Weather: 48 degrees; rain
Scoring Summary:   1          2          F    
USA                             0          1          1
HOU                            0          2          2
USA – Savannah McCaskill                            74th minute
HOU – Bruna Benites (Amber Brooks)          89
HOU – Amber Brooks (Stephanie Ochs)       94
Lineups:
USA: 1-Casey Murphy; 17-Tegan McGrady, 2-Taylor Isom (14-Alana Cook, 46), 3-Kaleigh Riehl, 4-Ellie Jean; 6-Jaelie Howell (Gabrielle Seiler, 18), 10-Brianna Pinto, 16-Sandra Yu (19-Sophia Smith, 60); 9-Ashley Sanchez (Michelle Xiao, 46), 11-Mallory Eubanks (5-Taylor Racioppi, 24), 24-Savannah McCaskill (7-Tierna Davidson, 87)
Subs not used: 8-Jordan DiBiasi, 18-Simone Charley, 21-Alexis Warner, 22-Bella Geist, 23-Tziarra King
Head Coach: B.J. Snow
HOU: 1-Bianca Henninger (24-Jane Campbell, 78), 2-Poliana, 4-Bruna Benites, 5-Cari Roccaro (8-Clare Falknor, 71), 44-Janine Van Wyk; 12-Amber Brooks, 13-Denise O'Sullivan, 17-Andressa (Caity Heap, 46), 3-Rachel Daly (14-Nichelle Prince, 60), 16-Janine Beckie (22-Stephanie Ochs, 75), 7-Kealia Ohai (Melissa Henderson, 60)
Subs not used: 18-Lydia Williams, 23-Cami Privett, 30-Megan Crosson, 33-Amber Munerlyn
Head Coach: Randy Waldrum
Stats Summary: USA / HOU
Shots: 19 / 12
Shots on Goal: 11 / 7
Saves: 9 / 3
Corner Kicks: 3 / 2
Fouls: 9 / 9
Offside: 1 / 4
Misconduct Summary:
USA – Jaelin Howell (caution)            31st minute
HOU – Amber Brooks (caution)                     90
Officials:
Referee: Jason Perlewitz (USA)
Assistant Referee 1: Andrew Deuker (USA)
Assistant Referee 2: Andrew Marihart (USA)