U.S. U-23 WNT defeats Slovenia 3-0 in Istria Cup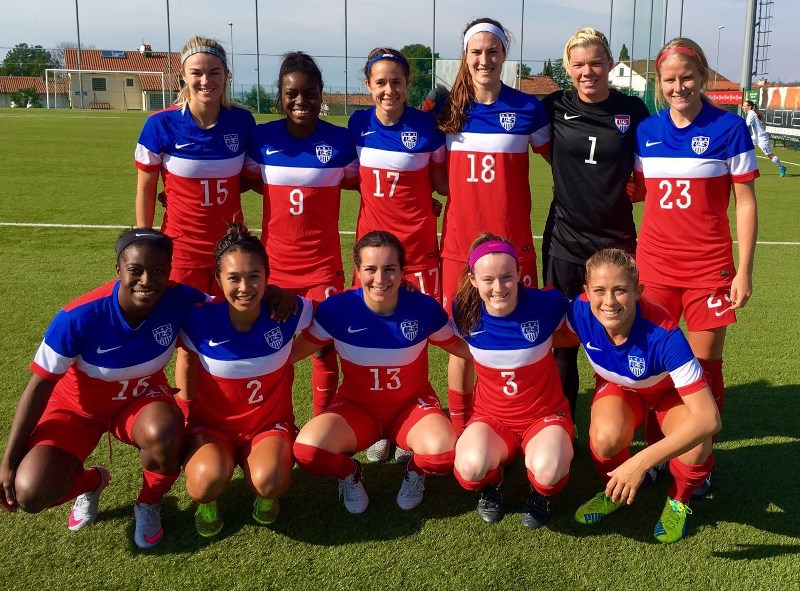 (Via U.S. Soccer) – U.S. head coach Janet Rayfield put out a starting lineup with six NWSL players and it was midfielder Shea Groom of reigning champion FC Kansas City who put the USA ahead just 11 minutes into the game.
Groom intercepted a pass between both Slovenia center-backs just outside penalty and went one-on-one with the goalkeeper before slotting her shot on the ground into the left corner.
U.S. goalkeeper Jane Campbell, who earned the shutout, also picked up the assist on the second goal, sending a long punt into the Slovenia defensive half. Forward Taylor Smith took a brilliant first touch towards goal and blasted a shot from just inside the penalty area into the left corner to make it 2-0.
Midfielder Andi Sullivan put a capper on the game in the 87th minute off a corner kick. Sullivan latched onto a deflection inside the penalty area, took the ball off her chest and drilled a half-volley into the back of the net.
+Read: Rosters announced for CONCACAF Women's U-17 Championship
The USA will face the Poland Under-19 Women's National Team on March 4 and then finish against the France National "B" Team on March 6. France's full Women's National Team is competing in the SheBelieves Cup in the United States.
The other teams in the tournament are the full National Teams of Croatia, Slovakia and Northern Ireland, as well as the Hungary National "B" Team. Those four teams will play games against each other.
Of the 20 players who to traveled to central Europe, 11 are already in the NWSL or preparing for their rookie seasons this spring. Eight are collegiate players while one has finished her college eligibility.
The roster includes nine players who have represented the USA in a FIFA Women's World Cup at the youth level.
+Read: Jefferson Cup 2016 Championship Division Preview | U-18 Women
U.S. U-23 Women's National Team Match Report
Match: U.S. U-23 Women's National Team v. Slovenia Women's National Team
Date: March 2, 2016
Competition: 2016 Istria Cup
Venue: Dajla Stadium; Umag, Croatia
Attendance: 100
Weather: 55 degrees, sunny
Scoring Summary:      1          2          F
USA                              1          2          3
Slovenia                        0          0          0
USA – Shea Groom                             11th minute
USA – Taylor Smith (Jane Campbell)  79
USA – Andi Sullivan                           87
Lineups:
USA: 1-Jane Campbell; 6-Abby Dahlkemper (capt.), 18-Katie Naughton (4-Erica Skroski, 46), 2-Caprice Dydasco, 15-Christen Westphal (10-Kayla Mills, 46), 16-Mandy Freeman (8-Andi Sullivan, 46), 13-Christina Gibbons (20-Samantha Witteman, 84), 9-Toni Payne (11-Taylor Smith, 66), 17-Shea Groom, 3-Rose Lavelle, 23-Makenzy Doniak (21-Tyler Lussi, 66)
Subs Not Used: 7-Michaela Hahn, 12-Katelyn Rowland, 19-Havana Solaun
Head Coach: Janet Rayfield
SLV: 12- Sonja Cevnick; 6-Anisa Rola, 7-Kristina Erman (3-Marusa Sevsek 42), 8-Mateja Zver, 9-Manja Benak (5-Evelina Kos, 32), 10-Dominika Conc (16-Kaja Erzen, 57), 11-Lara Prasnikar, 13-Lara Ivanusa, 15-Barbara Kralj (19-Katja Nezmah, 75), 17-Urska Zganec (14-Spela Kolbl, 66), 18-Tjasa Tibaut,
Subs Not Used: 1- Anisa Rola, 2-Manja Rogan, 4-Lucija Kos, 20-Larissa Soronda
Head Coach: Damir Lob
Stats Summary: USA / SLV
Shots: 17/12
Shots on Goal: 11/7
Saves: 7/7
Corner Kicks: 6/1
Fouls: 11/12
Offside: 6/0
Misconduct Summary:
SLV – Kaja Erzen (caution)                 62nd minute
Officials:
Referee: Martincic Ivana (CRO)
Assistant Referee 1: Katusic Gordana (CRO)
Assistant Referee 2: Neralic Martina (CRO)
4th Official: Jurinic Marija (CRO)