U.S. U-20 WNT heads to Carson, Calif. for training ahead of NTC Invitational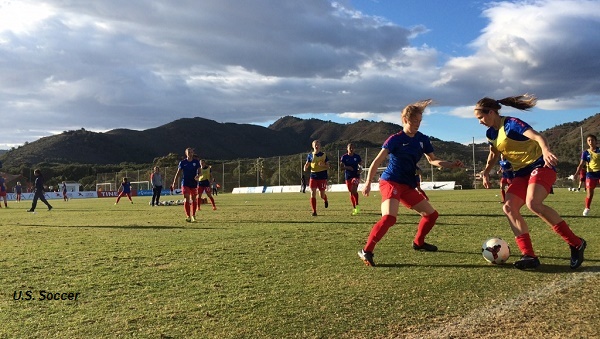 CHICAGO (Via U.S. Soccer) – The U.S. Under-20 Women's National Team will hold a training camp from May 9-18 as 24 players will come to the U.S. Soccer National Training Center in Carson, California.
U.S. head coach Michelle French will use the camp to make her final roster selections for the upcoming 2015 U-20 Women's NTC Invitational, which will be held at the U.S. Soccer NTC from June 2-6. All the matches of the tournament will be broadcast on ussoccer.com.
In addition to the USA, the four-team NTC Invitational will also feature U-20 sides from Japan, Brazil and Mexico, bringing some of the top young players in the world to southern California. More details on the tournament, along with the game schedule, will be released at a later date.
French's roster features 12 current college players, plus several who are finishing up high school and heading to college this summer to prepare for their freshman seasons. Midfielder Ashley Sanchez, who has been playing with the U.S. U-17 Women's National Team, has been called up to the U-20s for this camp; she was born in 1999. Forward Mallory Pugh, who was a starter on the USA's 2014 U-20 Women's World Cup Team, and midfielders Jordan Harr and Savannah DeMelo, were all born in 1998. The rest of the roster is made up of '96- and '97-born players.
This age group is focusing on qualifying for the 2016 FIFA U-20 Women's World Cup, which has an age cut-off of players born on or after Jan. 1, 1996. FIFA recently announced that the tournament will be held in Papau New Guinea and the CONCACAF qualifying tournament is scheduled for Dec. 3-13, 2015 in San Pedro Sula, Honduras.
U.S. U-20 WNT Roster by Position: Detailed Roster
GOALKEEPERS (3): Samantha Leshnak (Ohio Elite; Liberty Township, Ohio), Casey Murphy (Rutgers; Bridgewater, N.J.), Caroline Brockmeier (Florida State; Tallahassee, Fla.)
DEFENDERS (7): Alana Cook (Match Fit FC; Far Hills, N.J.), Maddie Elliston (Penn State; Omaha, Neb.), Sabrina Flores (Notre Dame; Livingston, N.J.), Natalie Jacobs (Slammers FC; Coto de Caza, Calif.), Courtney Petersen (Michigan Hawks; Canton, Mich.), Kaleigh Riehl (Penn State; Fairfax Station, Va.), Jessie Scarpa (UNC; Lakeland, Fla.)
MIDFIELDERS (10): Jorian Baucom (LSU; Phoenix, Az.), Megan Buckingham (UNC; Novi, Mich.), Marley Canales (San Diego Surf; San Diego, Calif.), Savannah DeMelo (Beach FC; Bellflower, Calif.), Jordan Harr (Dallas Sting; Sachse, Texas), Mikaela Harvey (Texas A&M; Liberty Hill, Texas), Gabrielle Matulich (UCLA; Los Gatos, Calif.), Emily Ogle (Penn State; Strongsville, Ohio), Katie Cousins (Tennessee; Forest, Va.), Ashley Sanchez (So Cal Blues; Monrovia, Calif.)
FORWARDS (4): Kelcie Hedge (Washington Premier FC; Post Falls, Idaho), Mallory Pugh (Real Colorado; Highlands Ranch, Colo.), Taylor Racioppi (PDA; Ocean Township, N.J.), Katie Pingel (So Cal Blues; Torrance, Calif.)