U.S. U-20 Men's National Team roster set for Honduras trip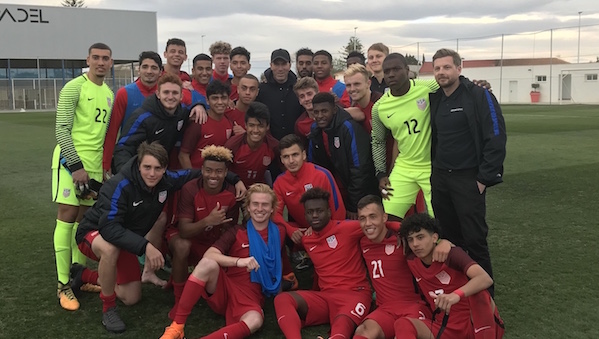 U.S. National Team Roster Pools
U-15 | U-16 | U-17 | U-18 | U-19 | U-20 | MNT
CHICAGO (Via U.S. Soccer) – The U.S. Under-20 Men's National Team will embark on a 12-day training camp that will start in Florida and end with two matches against Honduras in San Pedro Sula.
After six days of training in the Sunshine State, the U-20 MNT will travel south for two matches against Los Catrachos on May 17 and 19. The matchups mark the first time the USA has faced Honduras since the 2017 Concacaf U-20 Championship final, in which the previous U-20 MNT cycle defeated Honduras in penalty kicks to claim the first regional title for the U.S. U-20 program.
"I am encouraged by the start of this group," U-20 Men's National Team head coach Tab Ramos said. "Their effort and confidence displayed during our trip to Spain was impressive, especially considering that our two games against France were very difficult. Some players on this roster going to Honduras have very little or no international experience and with World Cup Qualifying fast approaching, we are looking forward to providing valuable challenges to this U-20 Men's National Team. Honduras was the runner-up in last year's Concacaf U-20 Championship and will again be one of the strongest teams looking to secure a place in next year's FIFA U-20 World Cup in Poland. Playing against them on their home field will allow our players and team to grow on and off the field."
+READ: U.S. U-16 Boys National Team takes 3rd place at Torneo Delle Nazioni
Ramos has called up 21 players for the training camp, 12 born in 1999, seven born in 2000 and two players born in 2001: forward Ulysses Llanez (LA Galaxy) and goalkeeper David Ochoa (Real Salt Lake). Llanez and Ochoa are age-eligible for both the 2019 FIFA U-20 World Cup (birth year cut off of 1999 or later) and the 2021 FIFA U-20 World Cup (birth year cut off of 2001 or later). Two players from the roster played in last year's FIFA U-17 World Cup in India: Andrew Carleton (Atlanta United FC) and Chris Goslin (Atlanta United FC).
The U-20 MNT is midway through the first year of a two-year cycle with the focus on qualifying for the 2019 U-20 Men's World Cup in Poland. The two matches in Honduras add to the USA's preparation schedule that has already included two matches against the France U-21s and a friendly vs. Atletico Madrid's U-21s.
Fifteen players on the roster have participated in either of the U-20 MNT's first two camps of the 2018-19 cycle: the first ever Men's Youth National Team Summit in January or the team's trip to Spain in March. Six of the players called in are making their debuts with the U-20 player pool: goalkeepers David Ochoa (Real Salt Lake) and Seth Stiebel (St. Louis FC), defender Chris Richards (FC Dallas), midfielder Aristotle Zarris (LA Galaxy), and forwards Abdulkadir Haji (Virginia Commonwealth University) and Wilson Harris (Sporting Kansas City). Two players joining the camp currently play for international clubs: Andres Jimenez (Envigado FC, Colombia) and Angel Uribe (Club Tijuana, Mexico).
Development Academy Ties:
19 of 21 players have ties to the U.S. Soccer Development Academy.
Seven players have received Best XI conference selections:

Simon Becher (East, U-15/16, 2016)
Abdulkadir Haji (East, U-17/18, 2016)
Wilson Harris (West: U-15/16, 2016; U-17/18, 2017)
Richie Ledezma (West, U-15/16, 2017)
Glademir Mendoza (West: U-15/16, 2016; U-17/18, 2017)
Justin Rennicks (East, U-15/16, 2016)
Sam Rogers (West, U-17/18, 2017)

Four players on the roster have signed MLS Homegrown contracts with their respective clubs: Andrew Carleton, Chris Goslin, Matt Real and Chris Richards.
Two players won the U.S. Soccer Development Academy Championship in July of 2017: Andrew Carleton with Atlanta United FC's U-15/16 team and Chris Richards at the U-17/18 level with Texans SC Houston.
Roster by Position
GOALKEEPERS (2): David Ochoa (Real Salt Lake; Oxnard, Calif.), Seth Stiebel (Saint Louis FC; O'Fallon, Miss.)
DEFENDERS (6): Glademir Mendoza (Real Salt Lake; Phoenix, Ariz.), Manny Perez (N.C. State University; Garner, N.C.), Matthew Real (Philadelphia Union; Drexel Hill, Pa.), Chris Richards (FC Dallas; Hoover, Ala.), Sam Rogers (Seattle Sounders FC; Seattle, Wash.), Angel Uribe (Club Tijuana; San Diego, Calif.)
MIDFIELDERS (7): Frankie Amaya (Pateadores; Santa Ana, Calif.), Andrew Carleton (Atlanta United FC; Powder Springs, Ga.), Chris Goslin (Atlanta United FC; Atlanta, Ga.), Andres Jimenez (Envigado FC; Miami, Fla.), Richie Ledezma (Real Salt Lake; Casa Grande, Ariz.), Alex Mendez (LA Galaxy; Los Angeles, Calif.), Aristotle Zarris (LA Galaxy; Sarasota, Fla.)
FORWARDS (6): Simon Becher (Oakwood Academy SC; Brooklyn, Conn.), Shaft Brewer Jr. (LAFC; Sacramento, Calif.), Wilson Harris (Sporting Kansas City; Encino, Calif.), Abdulkadir Haji (Manchester, N.H.; Virginia Commonwealth University), Ulysses Llanez Jr. (LA Galaxy; Lynwood, Calif.), Justin Rennicks (Indiana University; Hamilton, Mass.)