U.S. U-20 Men's National Team kicking off FIFA U-20 World Cup against Ecuador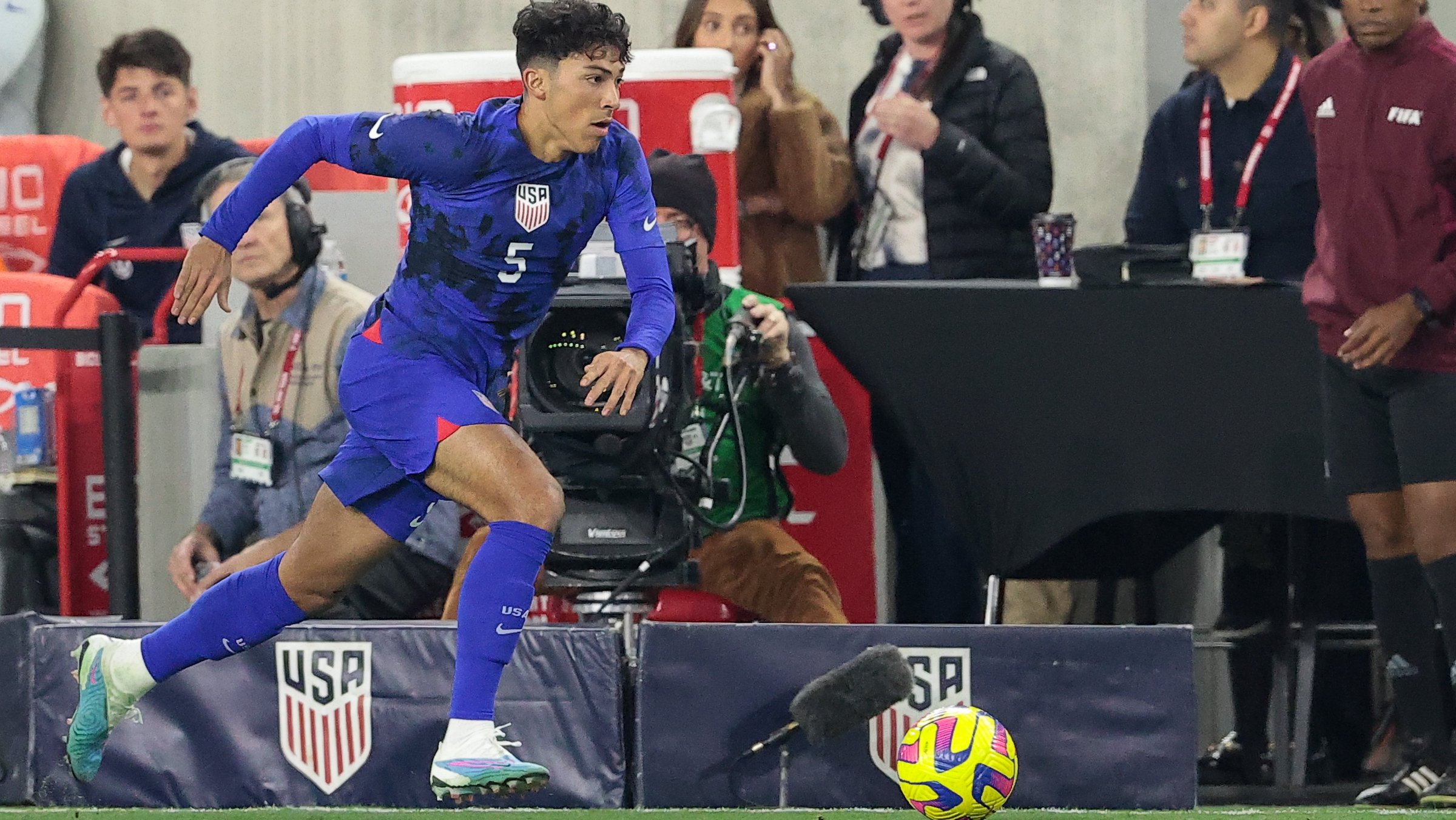 U.S. Under-20 Men's Youth National Team
2023 FIFA U-20 World Cup
Estadio San Juan del Bicentenario; San Juan, Argentina
May 20 – June 11
U-20 MYNT SET FOR GLOBAL STAGE: The U.S. Under-20 Men's Youth National Team will kick off its journey at the 2023 FIFA U-20 World Cup on Saturday, May 20 vs. Ecuador (2 p.m. ET; Fox Soccer Plus, Telemundo). Entering the tournament as champion of Concacaf, the USA is looking to build on a history of success at this competition as the only nation to reach the quarterfinals of the last three U-20 World Cups and one of three countries to qualify for the last five editions.
The tournament opener marks the third-straight meeting between the USA and Ecuador at the U-20 World Cup following a quarterfinal clash at Poland 2019 and a back-and-forth group stage thriller at Korea Republic 2017.
The U.S. continues Group B play against Fiji on Tuesday, May 23 (2 p.m. ET; FS2, Universo) and closes the group stage vs. Slovakia on Friday, May 26 (2 p.m. ET; FS2, Universo). All three matches will be played at Estadio San Juan del Bicentenario in San Juan, located in western Argentina near the foothills of the Andes.
The FIFA U-20 World Cup will be broadcast in English on Fox Sports platforms and on the Fox Sports app with corresponding authentication. Matches will be broadcast in Spanish on Telemundo platforms and the Telemundo app.
2023 FIFA U-20 WORLD CUP – USA GROUP B SCHEDULE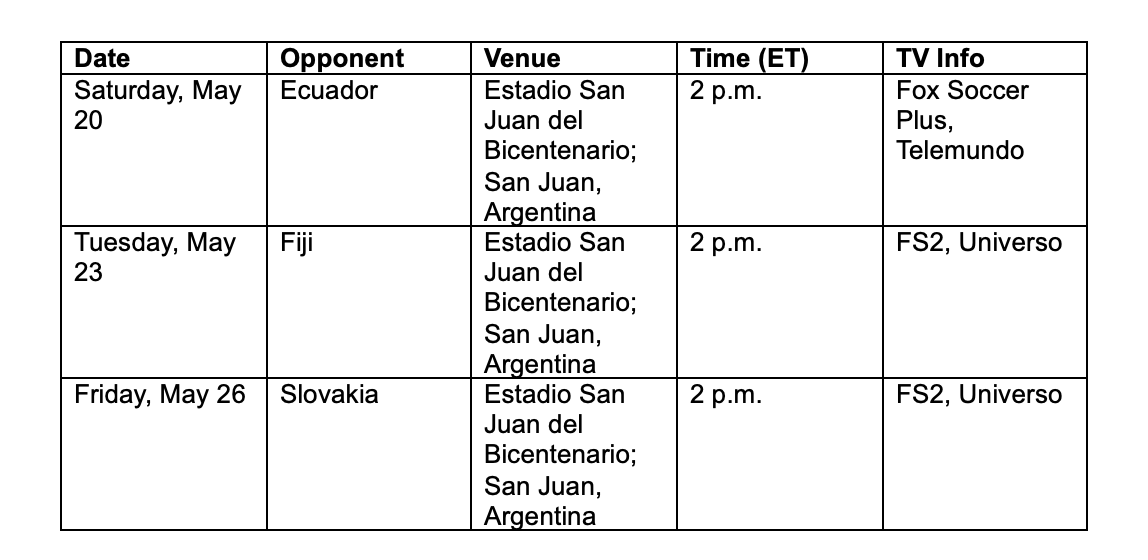 2023 FIFA U-20 WORLD CUP ROSTER BY POSITION (CLUB; HOMETOWN; U-20 CAPS/GOALS)
GOALKEEPERS (3): 21-Alex Borto (Fulham/ENG; South Plainfield, N.J.; 2/0), 12-Antonio Carrera (FC Dallas; Frisco, Texas; 4/0), 1-Gaga Slonina (Chelsea/ENG; Addison, Ill.; 5/0)
DEFENDERS (7): 17-Justin Che (Hoffenheim/GER; Dallas, Texas; 6/0), 5-Brandan Craig (Philadelphia Union; Philadelphia, Pa.; 10/1), 14-Marcus Ferkranus (LA Galaxy; Santa Clarita, Calif.; 11/0), 13-Jonathan Gomez (Real Sociedad/ESP; Keller, Texas; 6/0), 2-Michael Halliday (Orlando City SC; Apopka, Fla.; 8/0), 3-Caleb Wiley (Atlanta United FC; Atlanta, Ga.; 5/0), 4-Joshua Wynder (Louisville City FC; Louisville, Ky.; 2/0)
MIDFIELDERS (7): 6-Daniel Edelman (New York Red Bulls; Warren, N.J.; 10/0), 10-Diego Luna (Real Salt Lake; Sunnyvale, Calif.; 16/4), 8-Jack McGlynn (Philadelphia Union; Middle Village, N.Y.; 16/2), 20-Rokas Pukstas (Hajduk Split/CRO; Stillwater, Okla.; 12/1), 15-Niko Tsakiris (San Jose Earthquakes; Saratoga, Calif.; 5/3), 18-Obed Vargas (Seattle Sounders FC; Anchorage, Alaska; 4/0), 16-Owen Wolff (Austin FC; Austin, Texas; 3/1)
FORWARDS (4): 9-Cade Cowell (San Jose Earthquakes; Ceres, Calif.; 7/2), 11-Kevin Paredes (Wolfsburg/GER; South Riding, Va.; 6/2), 7-Quinn Sullivan (Philadelphia Union; Philadelphia, Pa.; 15/7), 19-Darren Yapi (Colorado Rapids; Denver, Colo.; 3/0)
REPPIN' THE RED, WHITE AND BLUE
Players born on or after Jan. 1, 2003, are age-eligible for the 2023 FIFA U-20 World Cup. Head coach Mikey Varas selected 10 players born in 2003, eight born in 2004 and three born in 2005. The three players born in 2005 — defender Joshua Wynder as well as midfielders Niko Tsakiris and Obed Vargas — are also age-eligible for the 2025 FIFA U-20 World Cup.
The roster features players from 18 clubs, including 11 from Major League Soccer, led by three players from the Philadelphia Union and two from the San Jose Earthquakes. Six players are based abroad: two each in England and Germany and one player each in Croatia and Spain. A total of 13 states are represented on the roster, with four players hailing from both California and Texas. A native of Anchorage, Vargas is a rare World Cup roster selection from Alaska.
SENIOR TEAM EXPERIENCE

Six players have earned call-ups with the full USMNT, including four who have already made their debut with the senior squad. Forward Cade Cowell (three caps) and defender Jonathan Gómez (two caps) lead the charge, while goalkeeper Gaga Slonina made his debut last January against Serbia. More recently, defender Caleb Wiley picked up his first cap as a substitute in April's Allstate Continental Clásico against Mexico. Defenders Justin Che and Joshua Wynder have been called into USMNT camp and are still in search of their full international debut.
KINGS OF CONCACAF
The USA qualified for the 2023 U-20 World Cup as it took home its third straight confederation crown at last summer's Concacaf U-20 Championship in Honduras. The U.S. rolled to seven straight wins at the tournament, including a strong 2-0 quarterfinal victory against Costa Rica to clinch its World Cup berth. A 3-0 win against host Honduras sent the U.S. men to the Olympics for the first time since 2008 while a dominant 6-0 triumph against the Dominican Republic in the tournament final secured the Concacaf crown.
Forward Quinn Sullivan was named to the tournament Best XI after netting six goals in Honduras. Sullivan and goalkeeper Antonio Carrera, defenders Brandan Craig, Marcus Ferkranus and Michael Halliday, midfielders Daniel Edelman, Diego Luna, Jack McGlynn, Rokas Pukstas and Tsakiris and forward Cade Cowell all return from that World Cup qualifying squad.
ROAD TO ARGENTINA
Every player on the roster has been capped at the U-20 level, led by Luna and McGlynn's 16 appearances. Sullivan is the squad's leading scorer with seven international goals, six coming at World Cup qualifying. Four players have appeared in eight of the 10 training camps held since the cycle kicked off in November 2021: Ferkranus, Luna, McGlynn and Sullivan.
TOURNAMENT FORMAT
The 2023 FIFA U-20 World Cup features 24 countries divided into six groups of four teams. The top two finishers in each group, as well as the four best third-place teams advance to the Round of 16. From there, the tournament will feature a knockout bracket to the tournament final.

SPRINGBOARD TO SENIOR USMNT

A who's who of MNT all-timers have played in the U-20 World Cup. In total, 43 players have represented the USA in both a U-20 and senior World Cup tournament. Former U-20 MNT head coach Tab Ramos was a part of the USA's second U-20 World Cup squad in 1983 at just 16 years old. Jeff Agoos, Marcleo Balboa, Tony Meloa and Keller all played the 1987 edition in Chile. In 1999, Carlos Bocanegra, Steve Cherundolo and Tim Howard were part of the USA team in Nigeria, while Landon Donovan, DaMarcus Beasley and Oguchi Onyewu represented the red, white and blue in 2001 in Argentina. Eddie Johnson and Clint Dempsey took the field for the U.S. in Saudi Arabia in 2003.
More recently, nine players that represented the USA at the 2022 FIFA World Cup in Qatar previously featured on the global stage as U-20s: Kellyn Acosta (2015), Tyler Adams (2017), Cameron Carter-Vickers (2015, 2017), Luca de la Torre (2017), Sergiño Dest (2019), Sean Johnson (2009), Shaq Moore (2015), Josh Sargent (2017) and Tim Weah (2019).
U-20 WC HISTORY
The United States has qualified for 17 of 23 all-time U-20 World Cups, tied for second-most all-time with Argentina. The biennial tournament was staged for the first time in 1977 and Tunisia hosted the inaugural event, originally held as the FIFA World Youth Championship before becoming the FIFA U-20 World Cup in 2007. The USA's first qualification came at the 1981 tournament, which was held in Australia.  
The USA has made it out of the group stage 11 times at the competition with the high watermark coming in 1989. Led by future legendary USMNT goalkeeper Kasey Keller, the U.S. finished fourth place in Saudi Arabia that year. Keller took home the Silver Ball at the tournament, while fellow future senior team players Mike Burns, Neil Covone and Chris Henderson also played key roles. While the U-20s advanced from group play with just one win, the USA took down Iraq in the quarterfinals before falling in extra time to Nigeria in the semis.
LAST TIME OUT
At Poland 2019, the USA finished second in Group D behind eventual champion Ukraine and met France in the Round of 16. There, the young Americans put together a thrilling come-from-behind 3-2 win, netting in the 83rd minute to advance to the quarterfinals for a third-straight tournament. The U.S. finished sixth overall after falling to Ecuador 2-1 as forward Sebastian Soto tied for second on the tournament scoring chart and defender Chris Richards was named a player to watch. Eleven of the 21 players in Poland have since featured for the senior USMNT.
USA VS. ECUADOR
Saturday marks the USA's third-straight meeting with Ecuador at the U-20 World Cup. At Poland 2019, La Tri sent the U.S. home with a 2-1 quarterfinal defeat as forward Tim Weah netted the USA's lone goal.
The nations drew 3-3 in a back-and-forth group stage match at the 2017 tournament that saw forward Josh Sargent bag a brace and midfielder Luca de la Torre net an equalizer at the death.
Ecuador is making its fifth overall and third-straight appearance at the U-20 World Cup. After just one qualification in the first 17 editions of the tournament, Ecuador has participated in four of the last six.
La Tri finished third at Poland 2019, falling to Korea Republic in the semifinals before besting Italy 1-0 in overtime to win the Third-Place match.
The USA is 6-9-1 all-time vs. South American nations at the U-20 World Cup.
Sixteen players on Ecuador's 21-man roster are based domestically, with six players each coming from Independiente del Valle and LDU Quito. Five players are based abroad in Belgium (two), France, Mexico and Spain (one each).
Head coach Miguel Bravo also serves as head coach of Independiente del Valle's reserve squad. He kicked off his managerial career in 2020 after more than a decade playing professionally in Ecuador. 
ECUADOR – 2023 FIFA U-20 WORLD CUP ROSTER BY POSITION (CLUB)
GOALKEEPERS (3): 20-Tony Jimenez (Guayaquil City), 1-Cristhian Loor (Independiente del Valle), 12-Gilmar Napa (Emelec)
DEFENDERS (6): 13-Daniel de la Cruz (LDU Quito), 16-Maiky de la Cruz (Reims/FRA), 6-Yeltzin Erique (LDU Quito), 3-Christian Garcia (Leganes/ESP), 4-Joel Ordoñez (Club Brugge/BEL), 2-Stalin Valencia (UNAM Pumas/MEX)
MIDFIELDERS (6): 10-Nilson Angulo (Anderlecht/BEL), 15-Denil Castillo (LDU Quito), 18-Tommy Chamba (Emelec), 8-Sebastian Gonzalez (LDU Quito), 19-Kendry Paez (Independiente del Valle), 5-Oscar Zambrano (LDU Quito)
FORWARDS (6): 9-Justin Cuero (Independiente del Valle), 21-Jose Klinger (Independiente del Valle), 14-Madison Mina (LDU Quito), 7-Alan Minda (Independiente del Valle), 17-Maelo Renteria (Independiente del Valle), 11-Cristhoper Zambrano (Aucas)
HOW THEY GOT HERE:
Ecuador earned South America's fourth and final berth to the U-20 World Cup at this winter's 2023 CONMEBOL U-20 Championship. La Tri recorded a 1-2-1 record in the first group stage, finishing third to narrowly advance to the six-team final group stage. There, Ecuador earned a 1-1 draw at the death with Venezuela and topped Paraguay 2-1 on the final matchday to finish fourth in the final table behind Brazil, Uruguay and Colombia. Forward Justin Cuero led the team in scoring during World Cup qualifying with four goals.
TOURNAMENT NOTES:
Players born on or after Jan. 1, 2003 are age-eligible for this tournament.
Single yellow cards will be absolved after the quarterfinal round.
Two yellow cards received during two different matches will result in suspension for the following match.
If a player is sent off as a result of a direct or indirect red card, he will be suspended for the following match.
Should teams be tied on points at the end of the group stage, the tie-breakers are as follows:

Goal difference in all group matches
Greatest number of goals scored in all group matches
If two or more teams are still tied on the basis of the first three criteria, the ranking will be determined as follows:

Greatest number of points obtained in the group matches between the teams concerned
Goal difference resulting from the group matches between the teams concerned
Greatest number of goals scored in all group matches between the teams concerned
Highest team conduct score relating to yellow and red cards obtained (yellow card = -1 point, indirect red card = -3 points, direct red card = -4 points, yellow card and direct red card = -5 points)
Drawing of lots

Third-placed teams will be ranked as follows:

Greatest number of points obtained in all group matches
Goal difference in all group matches
Greatest number of goals scored in all group matches
Highest team conduct score relating to yellow and red cards obtained
Drawing of lots
In the knockout stages, if a match is tied at the end of regulation, two fifteen-minute periods of extra time will be played. If the score is still tied, there will be a penalty-kick shootout.
Opened in 2011, Estadio San Juan del Bicentenario will host all three of the USA's group stage matches. The venue also hosted three matches during the 2011 Copa America and Argentina's home World Cup qualifying match vs. Brazil in the run-up to Qatar 2022.
The 2023 FIFA U-20 World Cup was originally scheduled to be held in Indonesia, but was moved to Argentina in April.