U.S. U-20 Men's National Team tops NY Red Bulls II in friendly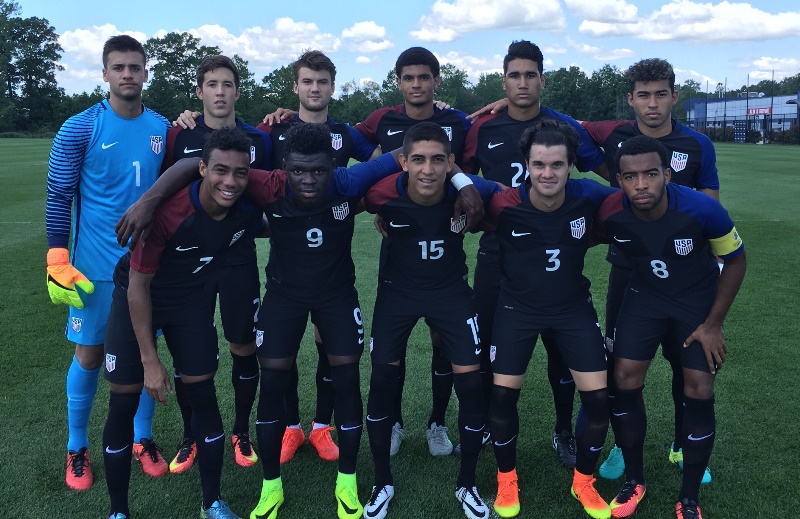 CHICAGO (Via U.S. Soccer) – The U.S. Under-20 Men's National Team defeated New York Red Bulls II 4-3 in the final seconds of the team's second club friendly during its training camp in Basking Ridge, New Jersey.
The Red Bulls took control early in the match with an opening goal by Anatole Abang in the 10th minute and Dan Metzger scoring the Red Bulls' second in the 14th minute.
The USA countered, earning two goals a minute apart, as Emmanuel Sabbi scored on his own in the 36th minute and Jonathan Lewis equalized off a JT Marcinkowski assist, closing the first half with a draw.
+Read: U.S. U-18 Men's National Team set for Czech Republic tournament
The Red Bulls opened the second half with a 46th minute goal from Stefano Bonomo. Nearly 20 minutes later, Sebastian Elney equalized thanks to an assist from Lewis.
Just moments before the final whistle blew, the USA took the lead as Jeremy Kelly scored in second half stoppage time off a Yosef Samuel assist to give the U.S. the dramatic victory.
-U.S. Under-20 Men's National Team Match Report-
Match: U.S. Under-20 Men's National Team vs. New York Red Bulls II
Date: August 7, 2016
Competition: Club Friendly
Venue: New York Red Bull Training Facility; Whippany, NJ
Kickoff: 12 p.m. ET
Attendance: 150
Weather: 84 degrees, clear
Scoring Summary:   1      2      F
USA                               2      2      4
NYRB                             2      1      3
NYRB – Anatole Abang (Justin Bilyeu)                                     10th minute
NYRB – Dan Metzger                                                                      14
USA – Emmanuel Sabbi                                                                 36
USA – Jonathan Lewis (JT Marcinkowski)                              37
NYRB – Stefano Bonomo                                                              46
USA – Sebastian Elney (Jonathan Lewis)                                                67
USA – Jeremy Kelly (Yosef Samuel)                                         90+1
Lineups:
USA: 1-JT Marcinkowski; 2-Aaron Herrera (4-Chad Poarch, 78), 5-Miles Robinson, 24-Robert Castellanos, 3-Marcello Borges; 8-Eryk Williamson (18-Cameron Lindley, 70), 6-Danny Acosta (16-Jeremiah Gutjahr, 55), 15-Jonathan Suarez (10-Jackson Yueill, 83); 11-Coy Craft (19-Sebastian Elney, 45), 9-Emmanuel Sabbi (14-Yosef Samuel, 66), 7-Jonthan Lewis (17-Jeremy Kelly, 78)
Substitutions not used: 22-Leo Lopez
Head coach: Tab Ramos
NYRB: 74-Rafael Diaz (64-Xavier Kennedy, 81); 17-Zachary Carroll; Trial Player (39-Timothy Schmoll, 45); 33-Aaron Long, 20-Justin Bilyeu (77-Junior Flemmings, 63); 80- Devon Williams, 36-Dan Metzger (29-Stefano Bonomo, 45), 88-Vincent Bezecourt; Trial Player , 9-Anatole Abang (21-Brandon Allen, 45), Trial Player (45-Zoumana Simpara, 45)
Subs not used: None
Head coach: John Wolyniec
Stats Summary: USA / NYRB
Shots: 7 / 12
Shots on Goal: 5 / 5
Saves: 2 / 1
Corner Kicks: 3 / 4
Fouls: 11 / 18
Offside: 1 / 4
Misconduct Summary:
NYRB – Zachary Carroll (caution)                               28th minute
USA – Yosef Samuel (caution)                                    86
Man of the Match: Jonathan Lewis