U.S. U-20 Men's National Team defeats NY Cosmos 2-0 in friendly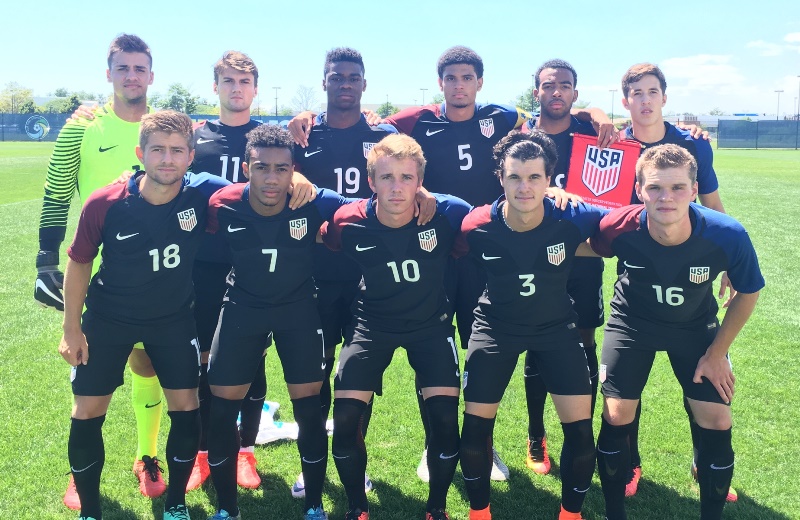 CHICAGO (Via U.S. Soccer) – The U.S. Under-20 Men's National Team defeated North American Soccer League's New York Cosmos 2-0 during its training camp in Basking Ridge, New Jersey.
Neither team was able to get on the board in the first 45 minutes, but the U-20's took control of the game moments into the second half as Jeremiah Gutjahr tallied thanks to a Jonathan Suarez assist. Nearly 20 minutes later, Suarez tallied one of his own with no assistance in the 67th minute to add the final goal of the match.
+Read: Brawl ensues in U.S. U19 Men's National Team vs. Bahrain match
The USA will face New York Red Bulls II on Aug. 7 at 12 p.m. ET at the Red Bull's training facility.
-U.S. Under-20 Men's National Team Match Report-
Match: U.S. Under-20 Men's National Team vs. New York Cosmos
Date: Aug. 3, 2016
Competition: Club Friendly
Venue: New York Cosmos Training Facility; Uniondale, NY
Kickoff: 2 p.m. ET
Attendance: 100
Weather: 81 degrees, clear
Scoring Summary:   1      2      F
USA                                      0      2      2
NYC                                      0      0      0
USA – Jeremiah Gutjahr (Jonathan Suarez)                          46th minute
USA – Jonathan Suarez                                                                         67
Lineups:
USA: 1-JT Marcinkowski; 2-Aaron Herrera (4-Chad Poarch, 69), 5-Miles Robinson (capt.), 16-Jeremiah Gutjahr, 3-Marcello Borges; 8-Eryk Williamson (24-Robert Castellanos, 64), 18-Cameron Lindley (6-Danny Acosta, 44), 10-Jackson Yueill (15-Jonathan Suarez, 45); 11-Coy Craft (14-Yosef Samuel, 69), 19-Sebastian Elney (17-Jeremy Kelly, 72), 7-Jonthan Lewis (9-Emmanuel Sabbi, 64)
Substitutions Not Used: 22-Leo Lopez
Head coach: Tab Ramos
NYC: 1-Jimmy Maurer (24-Brian Holt, 33 (12-Kyle Zobeck, 61)); 28-Jimmy Mulligan (7-Yasmani Duk, 61), 23-Jimmy Ockford, 4-Carlos Mendes (David Ochieng, 45), 17-Ayoza Garcia Perez (29-Alexis Velala, 33); 14-Daniel Szetela (15-Ruben Bover, 61); 16-Adam Moffat (13-Sebastian Ignacio Guenzatti Varela, 45), 77-Lucky Mkosana (8-, 45), 21-David Diosa (11-Andres Alexander Flores Mejia, 45), 18-Juan Arango (26-Eric Calvillo, 33), 25-Jairo Arrieta (5-, 61)
Substitutions Not Used: N/A
Head coach: Gio Savarese
Stats Summary: USA / NYC
Shots: 11 / 7
Shots on Goal: 7 / 3
Saves: 3 / 5
Corner Kicks: 7 / 1
Fouls: 12 / 4
Offside: 2 / 1
Misconduct Summary:
N/A
Man the Match: Jeremiah Gutjahr