U.S. U-19 WNT heads to final 2015 training camp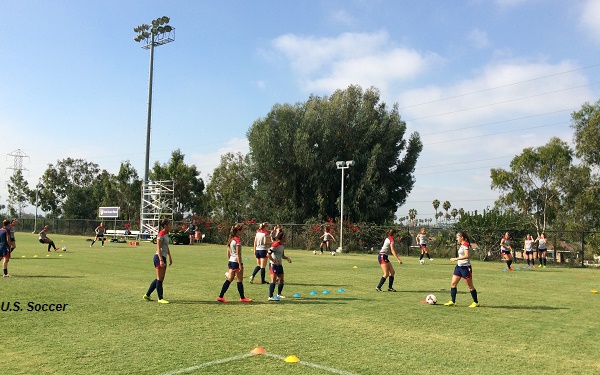 CHICAGO (Via U.S. Soccer) – The U.S. Under-19 Women's National Team will hold its fourth and final training camp of the year when it comes together from Oct. 3-10 at the U.S. Soccer National Training Center in Carson, California.
The U-19 WNT is finishing its first year of programing since 2004 when the age group switched to Under-20s as FIFA's world championship moved from a U-19 competition that was staged in 2002 and 2004 to the U-20 Women's World Cup which has been held every two years since 2006.
+Read: U.S. U-20 WNT defeats Honduras 5-0 in international friendly
All the players in this age group are eligible for the team that will attempt to qualify for the 2016 FIFA U-20 Women's World Cup to be held in Papua New Guinea.
Of the 24 players called up, 15 were born in 1997, and eight were born in 1998. Jan. 1, 1996, is the age cutoff for the next U-20 Women's World Cup. Jitka Klimkova, one of the USA's Women's Development Coaches, will run the camp and has also called up Gabby Seiler from the University of Florida as an overage player to do some evaluation for possible inclusion in upcoming U-23 Women's National Team events.
U.S. U-19 WNT Roster by Position:
GOALKEEPERS (3): Jordyn Bloomer (FC Wisconsin Eclipse; Hartland, Wis.), Lauren Rood (Crossfire Premier; Camas, Wash.) Brittany Wilson (Real Colorado; Littleton, Colo.)
DEFENDERS (8): Malia Berkely (Michigan Hawks; Liberty Township, Ohio), Brooke Bingham (NC Fusion; Jefferson, N.C.), Holly Daugirda (Utah Avalanche; Salt Lake City, Utah), Taylor Hallmon (Concorde Fire; Panama City, Fla.), Gabby Seiler (University of Florida; Peachtree City, Ga.), Mackenzie Smith (Empire United SA; Bath, N.Y.), Amanda Visco (PDA-Arsenal; Manalapan, N.J.), Natalie Winters (Michigan Hawks; Plymouth, Mich.)
MIDFIELDERS (6): Grace Bahr (Internationals SC; Broadview Heights, Ohio), Alyssa Baumbick (Internationals SC; Avon Lake, Ohio), Angeline Daly (Jacksonville FC; Ponte Vedra Beach Fla.), Cadie Higginson (Albion Hurricanes FC; New Orleans, La.), Julia Lenhardt (Dallas Sting; Frisco, Texas), Christina Trickett (Internationals SC; Independence, Ohio)
FORWARDS (7): Jenna Bike (Connecticut FC; Trumbull, Conn.), Sydney Brackett (FC Stars; Hollis, N.H.), Mia Corbin (Crossfire; Maple Valley, Wash.), Stefani Doyle (Dallas Sting; Lewisville, Texas), Cyera Hintzen (Dallas Sting; Plano, Texas), Malia Lyken (Cook Inlet Soccer Club; Anchorage, Alaska), Katie Pingel (So Cal Blues SC; Torrance, Calif.)