U.S. U-18 Women's National Team plays England to 0-0 draw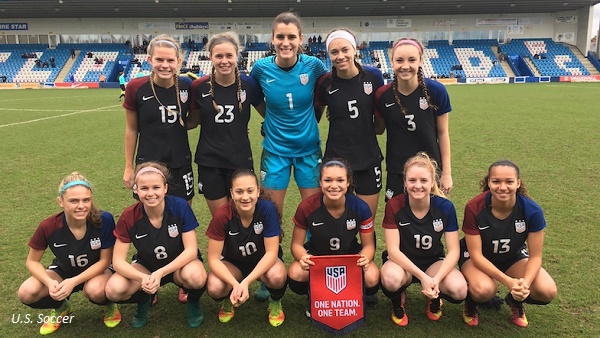 CHICAGO (Via U.S. Soccer) – The U.S. Under-18 Women's National Team drew 0-0 with the hosts to finish its trip to England with a 2-0-1 record.
The USA also defeated England, 3-1, on Feb. 19 and downed Norway 5-0 on Feb. 21. Sophia Smith scored five goals over the two matches and Summer Yates had two. All the matches featured 40-minute halves.
This group of players is at the start of a two-year cycle as U-18s before transitioning to U-20s in 2019, and will form the core of the group that will eventually attempt to qualify for the 2020 FIFA U-20 Women's World Cup.
The U-18 WNT will come together next for a domestic training camp in April.
+READ: Sophia Smith hat trick paces U.S. U-18 WNT in 5-0 win over Norway
-U.S. U-18 Women's National Team Match Report-
Match: U-18 Women's National Team vs. England
Date: Saturday, Feb. 25, 2017
Competition: Friendly Tournament
Venue: New Bucks Head Stadium; Wellington, England
Attendance: 250
Weather: 41 degrees; rainy
Scoring Summary:   1          2          F
USA                             0          0          0
ENG                            0          0          0
Lineups:
USA: 1-Hensley Hancuff; 5-Maycee Bell, 3-Brianna Martinez, 23-Shae Holmes, 15-Sarah Piper, 16-Natalie Viggiano (6-Maddie Vergura, 70), 8-Cori Dyke (7-Jenna Nighswonger, 55), 10-Summer Yates, 13-Rachel Jones (11-Emily Vatne, 70), 19-Alexa Spaanstra, 9-Sophia Smith (capt.)
Subs Not Used: 4-Maddie Desiano, 14-Cassie Hiatt, 18-Kali Trevithick 21-Olivia Wingate, 22-Meagan McClelland, 24-Ashylnn Serepca
Head Coach: April Heinrichs
ENG: 1-Hannah Hampton; 3-Poppy Pattinson, 4-Aimee Palmer, 5-Esme Morgan, 6-Shannon Cooke, 8-Miri Taylor (16-Beth O'Donnell, 78), 9-Nicole Douglas, 11-Lauren Hemp (capt), 15-Grace Neville, 17-Emily Syme, 19-Gabby Ravenscroft (18-Hana Lalani, 78)
Subs Not Used: 2-Katherine Turner, 10-Amy Rodgers, 13-Lucy Thomas, 14-Olivia Smith, 19-Gabby Ravenscroft, 20-Sophia Pharoah, 21-Mia Cinque, 22-Emily Ramsey
Head Coach: John Griffiths
Stats Summary: USA / ENG
Shots: 12 / 8
Shots on Goal: 7 / 6
Saves: 6 / 7
Corner Kicks: 6 / 1
Fouls: 3 / 4
Offside: 1 / 2
Misconduct Summary:
None
Officials: Lee Hible
Referee: Thomas Cooke
Assistant Referee 1: Carl Henry
Assistant Referee 2: David Constable