U.S. U-18 Women's National Team set for International Cup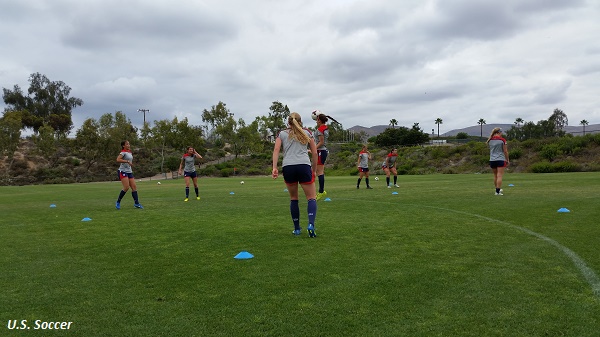 CHICAGO (Via U.S. Soccer) – The U.S. Under-18 Women's National Team will travel to Northern Ireland from October 13-24 to participate in the 2016 Women's International Cup.
The Under-19 competition features mostly players born in 1998 and 1999. The USA opens the tournament against England on Tuesday, October 18, at the Ballymena Showgrounds in Ballymena at 2 p.m. local time. The USA will then face France at Noon local time on Thursday, Oct. 20, at Mourneview Park in Lurgan before finishing against the hosts on Sunday, Oct. 2, at 4:30 p.m. local time at the National Football Stadium at Windsor Park in Belfast.
U.S. Soccer Women's Technical Director April Heinrichs has named 20 players to the roster for the tournament, eight born in 1999 with the remainder born in 1998. As the majority of players in the U.S. U-18 WNT player pool are currently competing in their freshman seasons of college soccer, this roster is made up almost entirely of players currently playing youth club.
+Read: Girls' DA adds four clubs, announces Regional Divisions
U.S. U-18 WNT Roster by Position
GOALKEEPERS (2): Brooke Heinsohn (New England FC; Norfolk, Mass.), Mandy McGlynn (Virginia Tech; Jacksonville, Fla.)
DEFENDERS (6): Kerry Abello (Eclipse Select; Batavia, Ill.), Sydney Dawson (Internationals SC; Akron, Ohio), Julie Doyle (San Diego Surf; Laguna Nigel, Calif.), Joanna Harbor (Eastside FC; Bellevue, Wash.), Mia Palmer (Crossfire; Portland, Ore.), Karlie Paschall (Tennessee Soccer Club; Brentwood, Tenn.)
MIDFIELDERS (6): Haley Berg (Solar; Celina, Texas), Sam Coffey (New York SC; Sleepy Hollow, N.Y.), Arlie Jones (San Diego Surf; Las Vegas, Nev.), Shea Moyer (FC Revolution; Wyomissing, Penn.), Viviana Villacorta (Beach FC; Lawndale, Calif.), Sofia Weiner (Colorado Rush; Evergreen, Colo.)
FORWARDS (6): Amirah Ali (PDA; Voorhees, N.J.), Belle Briede (Tophat SC; Alpharetta, Ga.), Kirsten Davis (St. Louis Gallagher; Chesterfield, Mo.), Mireya Grey (Crossfire; Seattle, Wash.), Tara McKeown (San Diego Surf; Newbury Park, Calif.), Kelsey Turnbow (SC Del Sol; Scottsdale, Ariz.)