U.S. U-18 Women's National Team draws England U-19s 2-2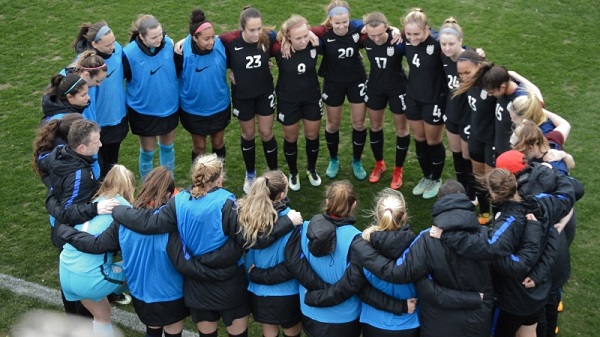 LA MANGA, Spain (Via U.S. Soccer) – The U.S. Under-18 Women's National Team drew 2-2 with the England U-19 WNT today in the first of three matches in Spain at the Women's U-19 La Manga 12 Nations Tournament.
England scored first, tallying in just the second minute, but 2016 U-17 Women's World Cup veteran Alexa Spaanstra pulled the USA even in the 20th minute off a set piece.
Jenna Nighswonger served the ball from just outside the penalty box on the left side and her cross found Spaanstra alone in the middle. Her first-time curler stuck in the left side of the net.
+READ: Girls Development Academy East Conference Recap | March 3-4, 2018
The USA took the lead less than two minutes into the second half when Hannah Betfort won a 50/50 ball about 15 yards from the net and finished into the upper-left corner with a powerful shot. England scored its equalizer in the 63rd minute.
The USA will next face Netherlands on March 4 and finish against Norway on March 6. The other countries coming to the competition – teams the USA will not play – are Denmark, France, Italy, Scotland, Sweden, Iceland, the Czech Republic and Switzerland.
The friendly competition is for players born on or after January 1, 1999, and U.S. U-18 WNT head coach Jaime Frias brought a 22-player roster featuring eight players born in 1999 and 14 born in 2000. The roster is a mixture of collegiate and youth club players with six already enrolled in college.
+READ: U.S. U-20 Women's National Team defeats France 1-0 in friendly
– U.S. U-18 Women's National Team Match Report –
Match: United States U-18 Women's National Team vs. England U-19 Women's National Team
Date: March 2, 2018
Competition: Women's U-19 La Manga 12 Nations Tournament
Venue: Field A – La Manga Sports Complex; La Manga, Spain
Weather: 57 degrees, overcast, windy
Attendance: 100
Scoring Summary:           1             2             F
USA                                      1             1             2
ENG                                     1             1             2
ENG – Lauren Hemp                                                                    2nd minute
USA – Alexa Spaanstra (Jenna Nighswonger)         20
USA – Hannah Betfort                                                 47
ENG – Hannah Cain                                                                     63
Lineups:
USA: 1-Claudia Dickey; 15-Madelyn Desiano, 23-Emily Smith, 4-Sydney Dawson, 18-Anna Heilferty; 17-Emily Gray (10-Allyson Schlegel, 72), 20-Coriana Dyke (7-Maliah Morris, 82), 11-Jenna Nighswonger (8-Sydney Zandi, 66); 24-Alexa Spaanstra, 9-Loren Sefcik (25-Hannah Betfort, 46), 13-Rachel Jones (capt.) (21-Summer Yates, 66)
Subs not used: 3-Brianna Martinez, 5-Ella Shamburger, 6-Giovanna DeMarco, 14-Hannah Cardenas, 16-Maycee Bell, 22-Meagan McClelland
Head Coach: Jaime Frias
ENG: 13-Katie Startup; 2-Flo Allen (3-Poppy Pattinson, 71), 4-Connie Scofield, 6-Esme Morgan, 7-Isabella Sibley (17-Hannah Cain, 46), 8-Rebecca Rayner (15-Amy Rodgers, 65), 9-Hollie Olding, 11-Jessica Ngunga, 12-Lois Joel, 16-Lauren Hemp, 20-Shania Hayles (19-Bridget Galloway, 65)
Subs not used:  1-Emily Ramsey, 5-Olivia Smith, 18-Georgia Eaton-Collins
Head Coach: Rehanne Skinner
Stats Summary: USA / ENG
Shots: 3 / 6
Shots on Goal: 3 / 4
Saves: 4 / 1
Corner Kicks: 1 / 1
Fouls: 5 / 3
Offside: 1 / 3
Misconduct Summary:
USA – Anna Heilferty (caution)                                  81st minute
Officials:
Referee: Emilie Dokset
Assistant Referee 1: Elisabeth Thoresen
Assistant Referee 2: Linda Andersen