U.S. U-18 Women's National Team defeats France 3-1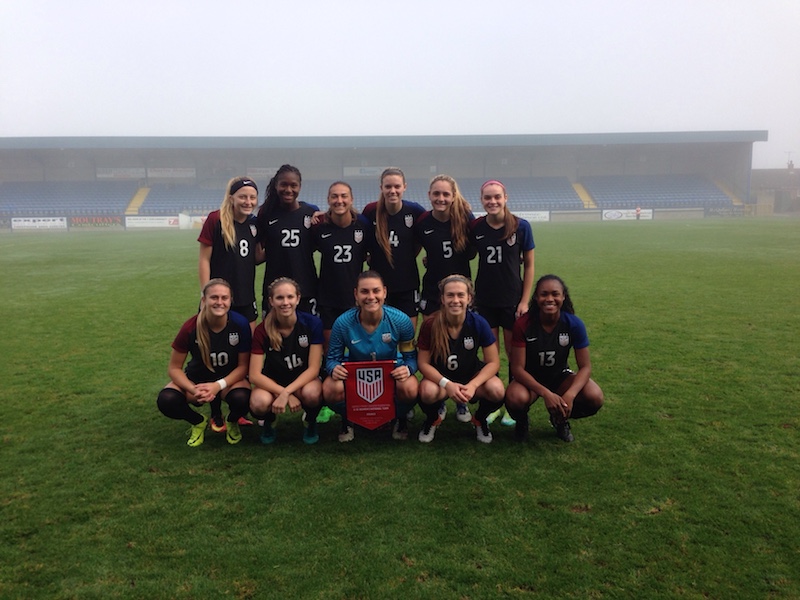 LURGAN, Northern Ireland (Via U.S. Soccer) – The U.S. U-18 Women's National Team defeated the France Under-19 WNT by a 3-1 score after coming back from conceding an early goal. Kelsey Turnbow scored twice and halftime substitute Belle Briede added a clincher.
The USA fell to the England Under-19 WNT 2-1 in its first match on Oct. 18 at the Women's International Cup and will finish the Under-19 competition — which features mostly players born in 1998 and 1999 — against Northern Ireland on Sunday, Oct. 2, at 9:30 p.m. ET (4:30 p.m. local) at the National Football Stadium at Windsor Park in Belfast.
All the matches can be watched live via a video stream at: http://www.irishfa.com/watchlive.
France scored in just the sixth minute as Cloe Bodain crossed from the right wing and the ball was deflected into the net by Ines Boutaleb.
The USA equalized five minutes later as Turnbow stole the ball and dribbled past several defenders before finishing. The game-winner came in the 22nd minute after Arlie Jones received the ball about 30 yards from the goal and played a through ball between the center back and right back to Turnbow who took a couple touches and before scoring from 12 yards out.
+Read: U.S. U-18 Women's National Team falls 2-1 to England
The USA added the insurance goal in the 53rd minute after the ball was cleared out of the USA half. As a France defender tried to send the ball back into the USA's half, Briede took the ball off her and stormed in on goal. The goalkeeper closed her down, but she was able to finish from eight yards out for the final margin.
France won the UEFA U-19 Women's Championship last July, defeating Spain, 2-1.
U.S. Soccer Women's Technical Director April Heinrichs named 20 players to the roster for the tournament, eight born in 1999 with the remainder born in 1998. As the majority of players in the U.S. U-18 WNT player pool are currently competing in their freshman seasons of college soccer, this roster is made up almost entirely of players currently playing youth club.
U.S. Under-18 Women's National Team Match Report
Match: U.S. Under-18 WNT vs. France Under-19 WNT
Date: October 20, 2016
Competition: Women's International Cup
Venue: Mourneview Park; Lurgan, Northern Ireland
Weather: 55 degrees, foggy then sunny
Scoring Summary:   1          2          F
USA                             2          1          3
FRA                             1          0          1
FRA – Ines Boutaleb (Cloe Bodain)                            6th minute
USA – Kelsey Turnbow                                              11
USA – Kelsey Turnbow (Arlie Jones)              22
USA – Belle Briede                                                      53
Lineups:
USA: 1-Brooke Heinsohn (capt.); 4-Julie Doyle, 5-Sydney Dawson, 6-Sam Coffey, 8-Haley Berg (24- Kirsten Davis, 66), 10-Arlie Jones (20-Sofia Weiner, 75), 13-Mireya Grey (19-Viviana Villacorta, 66), 14-Kelsey Turnbow (18-Shea Moyer, 84), 23-Karlie Paschall, 25-Amirah Ali (9-Belle Briede, 46), 21-Joanna Harber (16-Tara McKeown, 46)
Subs not used: 15-Mia Palmer, 22-Mandy McGlynn
Head Coach: April Heinrichs
FRA: 1-Camille Pecharman; 4-Andrea Prette, 6-Doriane Pau (15-Elise Bonet, 63), 8-Julie Thibaud (capt.) (10-Christy Gavory, 63), 9-Catherine Karadjov, 12-Chloe Lefevre, 13-Julie Piga, 14-Oceane Rogon, 17-Cloe Bodain, 19-Oceane Closset (11-Agathe Ollivier, 63), 20-Ines Boutaleb
Subs not used: 2-Pauline Dechilly, 5-Elisa De Almeida, 7-Emelyne Laurent, 16-Hillary Damman
Head Coach: Eyquem Gilles
Statistical Summary: USA / FRA
Shots: 9 / 11
Shots on Goal: 7 / 7
Saves: 6 / 4
Corner Kicks: 1 / 4
Fouls: 7 / 7
Offside: 3 / 3
Misconduct Summary:
None
Officials:
Referee: Angelika Soeder (GER)
Asst. Referee 1: Sina Diekmann (GER)
Asst. Referee 2: Rachel Greer (Smith) (NIR)
4th Official: Bridin McDermott (NIR)