U.S. U-18 Women's National Team defeats Australia U-19s 2-1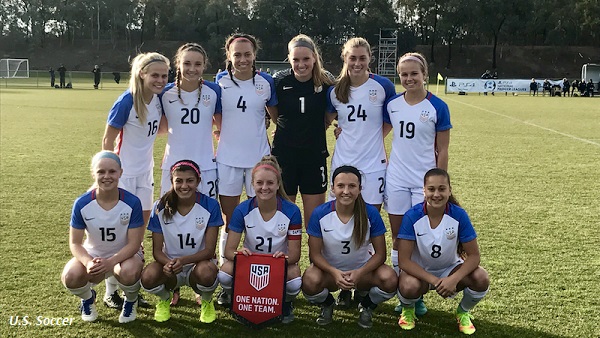 CANBERRA, Australia (Via U.S. Soccer) – The U.S. Under-18 Women's National Team came from behind to defeat the Australia U-19 WNT by a 2-1 score in the first of two games between the sides. The second match will take place on July 12, also in Canberra, as the USA concludes its trip Down Under.
Forward Rachel Jones scored both goals for the USA, including the dramatic game-winner in the 88th minute.
Australia scored five minutes before halftime on a cross from the left wing that was finished by Rachel Lowe, who sent her first-time shot low into the left corner.
It took the USA until the 76th minute to produce an equalizer as a corner kick from Emina Ekic found the head of Taryn Torres, who sent the ball to the feet of Sydney Dawson, who was positioned at the back post. Dawson then sent a first-time a pass to Jones who finished it with her a first touch from close range.
On the winning goal, midfielder Jenna Nighswonger forced a turnover and then fed Jones on a breakaway. She dribbled at net and was one-on-one with the goalkeeper before finishing into the left corner to earn the win. The goals were the first for Jones at the U-18 level.
This group of U.S. players is in the middle of the first year of a two-year cycle as U-18s before transitioning to U-20s in 2019, and will form the core of the group that will eventually attempt to qualify for the 2020 FIFA U-20 Women's World Cup.
– U.S. U-18 Women's National Team Match Report –
Match: United States U-18 WNT vs. Australia U-19 WNT
Date: July 10, 2017
Competition: International Friendly
Venue: Australian Institute of Sport; Canberra, Australia
Weather: 50 degrees
Scoring Summary:   1          2          F
USA                              0          2          2
AUS                              1          0          1
AUS – Rachel Lowe                                                    40th minute
USA – Rachel Jones (Sydney Dawson)                    76
USA – Rachel Jones (Jenna Nighswonger)              88
Lineups:
USA: 1-Claudia Dickey; 20-Brianna Martinez, 4-Maycee Bell (5-Sydney Dawson, 46), 14-Madelyn Desiano, 3-Kerry Abello (23-Shae Holmes, 60), 19-Coriana Dyke (2-Jenna Nighswonger, 67),16-Taryn Torres, 8-Summer Yates, 21-Alexa Spaanstra (capt.), 24-Jordan Brewster (Rachel Jones, 46), 15-Aleigh Gambone (13-Emina Ekic, 67)
Subs not used: 1-Hensley Hancuff, 6-Natalie Winters, 10-Sydney Zandi, 18-Sarah Piper
Head Coach: Jaime Frias
AUS: 1-Jada Mathyssen-Whyman; 2-Ellie Carpenter, 3-Clare Hunt, 4-Remy Siemsen (14-Mackenzie Hawkesby, 60), 5-Rachel Lowe (13-Annabel Martin, 73), 7-Princess Ibini, 8-Clare Wheeler (20-Ashleigh Lefevre, 46), 10-Alex Chidiac, 17-Nickoletta Flannery (16-Melina Ayers, 46), 19-Grace Maher (11-Kaitlyn Torpey, 60), 22-Amy Sayer
Subs not used: 12-Sheridan Rainey, 16-Annalee Grove, 6-Teigen Collister, 9-Karly Roestbakken, 15-Melinda Barbieri, 21-Hannah Bourke, 23-Alyssa Rose
Head Coach: Gary Van Egmond
Stats Summary: USA / AUS
Shots: 18 / 11
Shots on Goal: 6 / 8
Saves: 7 / 4
Corner Kicks: 5 / 6
Fouls: 4 / 14
Offside: 6 / 4
Misconduct Summary:
AUS – Clare Hunt (caution)                80th minute
Officials:
Referee: Kate Jacewicz (AUS)
Asst. Referee: Sarah Ho (AUS)
Asst. Referee: Avrol Beecham (AUS)
4th Official: Luke Withell (AUS)