U.S. U-18 Men's National Team sweeps Costa Rica in two-game set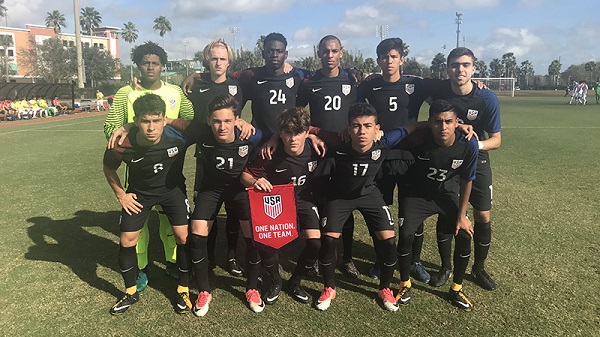 U.S. National Team Roster Pools
U-15 | U-16 | U-17 | U-18 | U-19 | U-20 | MNT
ORLANDO, Fla. (Via U.S. Soccer) –The U.S. Under-18 Men's National utilized goals from Roberto Hategan, Stefan Stojanovic and Ulysses Llanez to defeat Costa Rica 3-0, and sweep a two-game series in the team's second match of 2018.
The USA defeated Los Ticos 2-1 on Feb. 9 behind goals from Indiana Vassilev and Konrad De La Fuente.
The U-18 MNT first got on the board in the 35th minute when Nelson Martinez played in a cross from the right wing that found Roberto Hategan. After taking a touch, the Sacramento Republic product, turned and jolted the ball into the right corner.
+READ: Over 1,000 Development Academy players commit on Signing Day
Four minutes later, the USA capitalized on a well-facilitated series of passes with its second goal, building up from the midfield stripe. After switching the attack from left to right, Martinez was played through into the box. From there, he squared a pass for Stefan Stojanovic, who drilled the ball into the net from five yards out.
Check out the ball movement leading up to goal number ✌️ from @SockersChicago forward Stefan Stojanovic! pic.twitter.com/PFVk9ICrR9

— U.S. Soccer YNT (@USYNT) February 11, 2018
Keeping control for the remainder of the game, the USA sealed the win in the 89th minute as Taylor Booth fed Ulysses Llanez along the left side. The LA Galaxy Academy forward dribbled inside and around one defender and proceeded to send a curling blast to the top right corner from the top of the penalty box.
"Overall, I was very pleased with the progress of the group during this camp," U-18 MNT head coach Omid Namazi said. "These two games against Costa Rica gave us a chance to see two different lineups play. I felt we put two good games together. The first game's score could have been 4-1 or 5-1, so the final score was not indicative of how the play went. In the second game, we started out really well, getting out on top of them with a two-goal lead, and then from there we rode it out. Overall, I was pleased. This camp was really about this core group getting familiar with each other's tendencies and play."
Up next for Namazi and the U-18 MNT will be a domestic camp in June, where the team will ramp up preparations for the 2018 Václav Ježek Tournament, in the Czech Republic where the current crop of U-18 MNT players will look to duplicate the crowd the 2016 team won there.
Namazi called up 24 players for this camp and matches, with nearly each player getting at least one start. Twenty of the players have ties to the U.S. Soccer Development Academy.
– U.S. Under-18 Men's National Team Match Report –

Match: U.S. U-18 Men's National Team vs. Costa Rica
Date: Feb. 11, 2018
Competition: International Friendly
Venue: UCF Soccer and Track Stadium; Orlando, Fla.
Kickoff: 10 a.m. ET
Attendance: 150
Weather: 78 degrees; partly cloudy
Scoring Summary:             1               2               F
USA                                     2               1               3
CRC                                     0               0               0
USA – Roberto Hategan (Nelson Martinez)                35th minute
USA – Stefan Stojanovic (Nelson Martinez)               39
USA – Ulysses Llanez (Taylor Booth)                         89
Lineups:
USA: 12-Kris Shakes; 17-Nelson Martinez, 24-Owen Otasowie, 5-Leonardo Sepulveda (capt.), 23- David Mendoza; 16-Aidan Morris (6-Taylor Booth, 64), 8-Marcelo Palomino (10-Indiana Vassilev, 58), 13-Thomas Roberts (15-Cameron Duke, 64); 21-Roberto Hategan (9-Konrad De La Fuente, 46), 19-Stefan Stojanovic (11-Ulysses Llanez, 64), 20-Bryan Reynolds (7-Jalen Hawkins, 58)
Substitutes not used: 1-David Ochoa, 2-Ian Hoffmann, 3-Stuart Ritchie, 4-Julian Araujo, 14-Jose Rivas, 18-Nico Benalcazar, 22-Jacob Schick
Head coach: Omid Namazi
CRC: 1-Anthony Walker Cruz; 2-Alexander Roman Bermudez, 12-Felipe Rojas Vargas, 4-Dylan Davila Brenes, 5-Emmanuel Coronado Salas (14-Sergio Cespedes Davy, 46); 6-Rashir Parkins Harris, 3-Daniel Chacon Salas, 16-Daniel Gutierrez Montero (11-Freed Cedeno Alvarado, 67); 7-Geancarlo Castro Gonzalez (8-Roan Wilson Gordon, 46), 9-Julen Cordero Gonzalez (17-Aaron Suarez Zuniga, 85), 10-Jose Rodriguezz Santamaria
Substitutes not used: 13-Matthew Bolanos Garcia, 15-Maikel Gonzales Chaves, 18-George Barrett Savage
Head coach: Hugo Marcelo Herrera
Stats Summary: USA / CRC
Shots: 11 / 5
Shots on Goal: 6 / 3
Saves: 3 / 3
Corner Kicks: 9 / 4
Fouls: 9 / 17
Offside: 1 / 3
Misconduct Summary:
USA – Aidan Morris (caution)                                        20th minute
USA – Roberto Hategan (caution)                                   26
CRC – Alexander Roman Bermudez (caution)         50
CRC – Julen Cordero Gonzalez (caution)                    71
USA – Owen Otasowie (caution)                                      79
USA – Julian Araujo (caution)                                            79
CRC – Freed Cedeno Alvarado (sent off)                      79
Officials: 
Referee: Jasmine Peralta (USA)
Assistant Referee 1: Natalie Simon (USA)
Assistant Referee 2: Anya Voigt (USA)
Fourth Official: Haris Besic (USA)