U.S. U-18 Men's National Team defeats Chivas 4-0 in friendly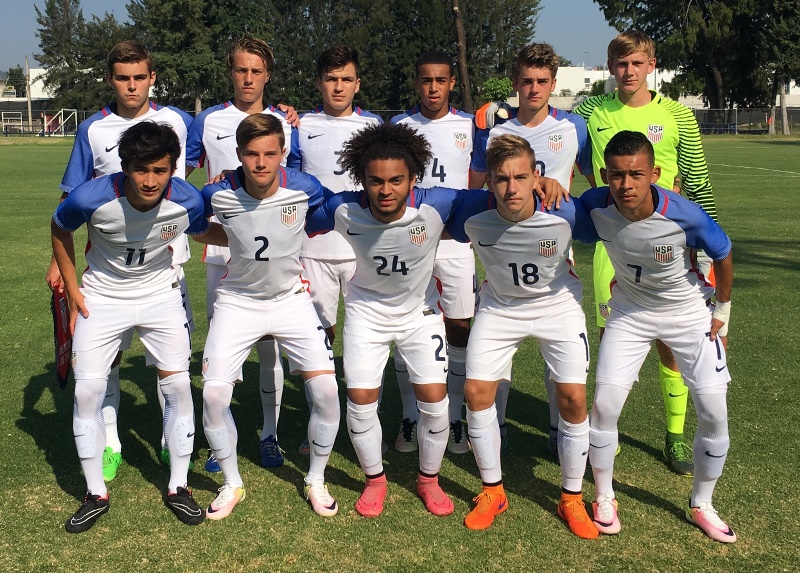 GUADALAJARA, Mexico (Via U.S. Soccer) – The U.S. Under-18 Men's National Team defeated Chivas 4-0 in its first training camp friendly.
With the U.S. controlling the game, the first goal came in the 26th minute after a foul just outside the top of the 18-yard box awarded the USA a free kick. USA midfielder Ernesto Espinoza blasted the ball past the goal keeper into the upper-90 on the right side, to make the scoreline 1-0 at halftime.
In the 66th minute, the USA was awarded a penalty kick as a player was taken down inside the box. Forward Nick Taitague stepped up and easily converted the penalty kick to up the USA lead, 2-0.
With 10 minutes remaining, U.S. forward Justin Rennicks drove down the left hand side of the field, crossing the ball toward the middle of the 18-yard box, where it deflected off a Chivas player, resulting in an own goal to bring the scoreline to 3-0. Taitague then earned a brace, with the help of Arda Bulut, as he drilled the ball past the Chivas goalkeeper in the final seconds of the match.
The U.S. U-18s will face Universidad de Guadalajara on June 2 in its second of three training camp friendlies in Mexico.
– U.S. Under-18 Men's National Team Match Report –
Match: U.S. Under-18 Men's National Team vs. Chivas
Date: May 31, 2016
Competition: Friendly
Venue: Club Deportivo; Guadalajara S.A DE S.V
Kickoff: 11 a.m. ET (10 a.m. Local)
Weather: 82 degrees
Scoring Summary:           1              2              F
USA                                       1              3              4
Chivas                                   0              0              0
USA – Ernesto Espinoza                                                26th minute
USA – Nick Taitague (Penalty Kick)           66
USA – #186 (own goal)                                  80
USA – Nick Taitague (Arda Bulut)              90
Lineups:
USA: 1-Brady Scott; 5-Carson Vom Steeg (capt.), 3-Angel Uribe, 2-Aristotle Zarris, 4-Tyler Adams (Raul Aguilera, 87); 24-Daniel Jones, 7-Ernesto Espinoza (Andrew Paoli, 61), 18-Paxton Pomykal (Brandon Servania, 81), 16-Griffin Dorsey (Shaft Brewer, 68); 11-Nicholas Taitague, 10-Justin Rennicks (Arda Bulut, 82)
Subs not used: 9-Paolo Belloni, 12-Eric Lopez, 13-Aedan Stanley, 14-Kyle Gruno, 17-Jose Carranza, 20-Matthew Real, 22-Cameron Douglas, 23-Jonathan Filipe
Head coach: Omid Namazi
Chivas: 401; 186, 192, 215, 209, 208, 207, 205, 184, 183,
Subs not used: 188, 189, 181, 187, 188, 189
Head coach: n/a
Stats Summary: USA/Chivas
Shots: 18 / 10
SOG: 9 / 6
Saves: 6 / 5
Corner Kicks: 6 / 2
Fouls: 7 / 10
Offside: 6 / 2
Misconduct Summary:
Chivas – 183 (caution)                                     43rd minute
Note: Game was played with two 45 minute halves with unlimited substitutions.