U.S. U-17s ready for rugged World Cup group, says Williams: "Our goal is to win"
On Monday, the U.S. U-17 Men's National Team arrived in Santiago, Chile ahead of this year's FIFA U-17 World Cup, which kicks off on Saturday with a match between the U.S. and reigning U-17 world champions Nigeria at the Estadio Nacional Julio Martínez Prádanos (Telemundo, 4 p.m. ET).
U-17 National Team coach Richie Williams believes that this cycle of players is special and expectations within the camp are high despite a difficult slate of group games. Still, Williams says that he and the rest of his staff have urged patience, only with a caveat.
+READ: U.S. U-17 Men's National Team roster named for World Cup in Chile
"For us, we've spoken to the players [about] taking one game at a time, not looking ahead," Williams told the media in a conference call on Friday. "Our first goal, like anybody here is that they have to get out of the group.
"That's the only way you're going to move forward is getting out of the group and again taking it one game at a time. We want to come out and we want to play well. We want to compete. We want to go leave it out on the field … We talk to the players and say if they try to do things the right way, things that we've worked on the last two years, we're going to get positive results."
Despite not qualifying for the World Cup in 2013, the U-17 National Team has advanced out of the group stage of every World Cup tournament it has played in since 2003. So expectations for this team and this particular group of players are much higher than simply advancing from the group.
"Our goal is to come here and win the World Cup," said Williams. "If any team says anything different, they shouldn't be here."
Williams first took over the U-17 program at the beginning of 2012 and coached the team that failed to qualify for the 2013 tournament. When asked if he felt that this World Cup was a referendum on his tenure with the U-17s, Williams demurred.
+READ: Red Bulls Academy product Tyler Adams ready to lead U.S. U-17s on rugged World Cup mission
"I mean, we qualified this time around," he said. "Those things happen. We happen to lose one game to Honduras and unfortunately were not able to qualify. Honduras is a good team. The qualifying's not easy and we played well for the most part and Honduras played a great game and were able to advance. That's a whole different cycle."
Still, the amount of pressure on Williams and the U-17s is high. Williams has brought with him a roster full of talented players, many of whom are already professionals who have featured in first-team matches for their clubs. Anything less than a knockout round appearance would be a massive disappointment for this group.
Faced with the weight of such expectations, Williams and his side will need to remain focused ahead of Saturday's match and Nigeria is not an opponent that the team is taking lightly.
"We were able to get a hold of some matches that Nigeria played in qualifying and in some other tournaments, so we were able to scout them, which has been very helpful," Williams said.
+READ: U-17 World Cup: Can U.S. wunderkind Haji Wright finally tap his massive potential?
"[Nigeria is] a very talented team and they have a great history in the U-17 World Cup and [are] four time winners … so we'll have our hands full," he added. "They're a good team. They're talented. We have to be prepared and ready to go and we're excited to have the opportunity to play the defending champions."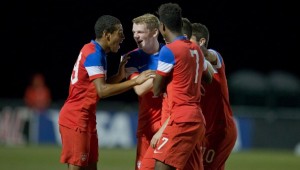 The U-17s will follow up the Nigeria match with a game against Croatia on Tuesday and a game against hosts Chile on Friday to round out group-stage play.
To win those games, the U.S. will have to score goals, something they've showed themselves to be more than capable of doing over the past two years of this cycle. Players like Haji Wright, Christian Pulisic and Josh Perez, among others, have all demonstrated the ability to put the ball in the net. But can they do it under the bright lights against the toughest competition in the world?
"They have to understand that when they have opportunities at this level that they have to put them away, and they have to do better with it. And they have for the most part in this cycle [shown] that they're capable of doing that," Williams stated.
+READ: FC Dallas' "creative, composed" Alejandro Zendejas brings pro experience to U.S. U-17s
"We have confidence in them. We're going to make sure that they're confident going into the game and they're aggressive and they're creating and scoring goals for us."
If the U.S. fails to get a result against the Nigerians, they'll face an uphill battle against two quality opponents in Croatia and Chile.
The pressure on the players, which Williams said comes in large part from the media – "They had to deal with pressure that you guys put on, a lot of expectations on that group because they had such a successful two years and basically it didn't go as planned," he said – will only increase. But Williams says that he isn't worried.
"We have three games in the group [and] we're going to take it one game at a time. We plan on having a good game against Nigeria [tomorrow] and then moving on to the next one."