U.S. U-17 Women's National Team shuts out England 2-0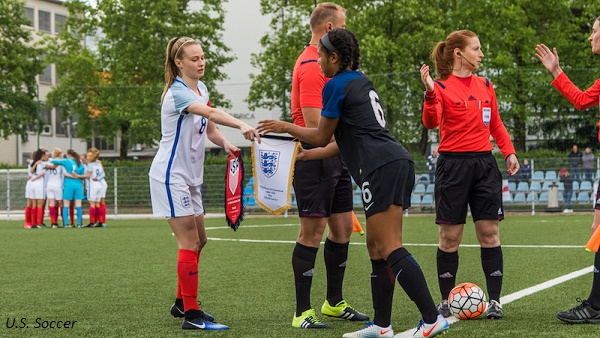 NOVA GORICA, Slovenia (Via U.S. Soccer) – The U.S. Under-17 Women's National Team defeated England 2-0 in its third and final group game at the Torneo Femminile Delle Nazioni as Payton Linnehan and Jordan Canniff scored first half goals.
The USA came into the match needing a win to guarantee first place in the group and a berth to the title game, but as it turned out, a tie would have been enough to clinch the top spot as Mexico tied Slovenia, 1-1, in the other Group B match The USA left nothing to chance, scoring twice in a six-minute span near the end of the first half in a game that was moved to an artificial turf field on the Italy-Slovenia border due to heavy rains the day before.
In the 30th minute, Astrid Wheeler lofted a chipped pass over the England defense from about 35 yards out, and Linnehan ran the ball down into the right side of the goal box. The ball almost bounced out of bounds, but Linnehan powered her shot into the roof of the net at the right post from an almost impossible angle almost flush on the end line.
+READ: U.S. U-17 Women's National Team defeats Mexico 4-0
The USA doubled the lead in the 35th minute when Caniff was taken down in the penalty area and converted the penalty kick herself for her second goal of the tournament and fourth of her U-17 international career.
All the group games consisted of 35-minute halves, but the championship game will be 40-minute halves. In that championship game to be played in Gradisca, Italy, the USA will face the hosts, who won Group A with one win and two ties. Italy scored just two goals in its three group games but allowed just one, and it was good enough for a spot in the title match.
In the other placement matches on April 29, Mexico will play Belgium for third place, Germany will play England for fifth and Slovenia will play France for seventh.
The Torneo delle Nazioni has been held for boys' teams for the past 14 years (including this one), but this is just the second time it has been held for women's teams. The year's competition is for players born in 2001 or later. The U.S. roster features 18 players born in 2001, which is the age cut-off year for the next FIFA U-17 Women's World Cup, taking place in Uruguay.
FINAL Group B Standings
| | | | | | | | | |
| --- | --- | --- | --- | --- | --- | --- | --- | --- |
| Team | GP | W | L | T | Pts. | GF | GA | GD |
| USA | 3 | 2 | 0 | 1 | 7 | 7 | 1 | +6 |
| MEX | 3 | 1 | 1 | 1 | 4 | 3 | 6 | -3 |
| ENG | 3 | 1 | 2 | 0 | 3 | 2 | 4 | -2 |
| SVN | 3 | 0 | 1 | 2 | 2 | 2 | 3 | -1 |
FINAL Group B Results
April 25
USA 1, Slovenia 1
Mexico 2, England 1
April 26
USA 4, Mexico 0
England 1, Slovenia 0
April 28
USA 2, England 0
Slovenia 1, Mexico 1
FINAL Group A Standings
| | | | | | | | | |
| --- | --- | --- | --- | --- | --- | --- | --- | --- |
| Team | GP | W | L | T | Pts. | GF | GA | GD |
| ITA | 3 | 1 | 0 | 2 | 5 | 2 | 1 | +1 |
| BEL | 3 | 1 | 1 | 1 | 4 | 3 | 3 | 0 |
| GER | 3 | 1 | 1 | 1 | 4 | 3 | 3 | 0 |
| FRA | 3 | 0 | 1 | 2 | 2 | 1 | 2 | -1 |
FINAL Group A Results
April 24
Italy 0, France 0
April 25
Germany 2, Belgium 1
April 26
Italy 1, Germany 0
Belgium 1, France 0
April 28
Italy 1, Belgium 1
France 1, Germany 1
U.S. Under-17 Women's National Team Match Report
Match: U.S. Under-17 WNT vs. England U-17 WNT
Date: April 28, 2017
Competition: Torneo Femminile Delle Nazioni
Venue: Nova Gorica Stadium; Nova Gorica, Slovenia
Attendance: 70
Weather: 60 degrees; rainy
Scoring Summary:   1          2          F
USA                             2          0          2
ENG                            0          0          0
USA –  Payton Linnehan (Astrid Wheeler)                  30th minute
USA – Jordan Canniff                                                35
Lineups:
USA: 12-Lindsey Romig (1-Ruth Jones, 61), 3-Kate Wiesner (5-Leah Scarpelli, 61), 6-Kennedy Wesley (capt.), 4-Tori Hansen, 2-Makenna Morris, 18-Payton Linnehan, (16-Kalyssa Van Zanten, 36), 11-Croix Bethune (19-Madison Mercado, 46), 8-Astrid Wheeler, 17-Talia DellaPeruta (13-Sunshine Fontes, 36), 10-Mia Fishel (15-Maya Doms, 56), 9-Jordan Canniff
Subs not used: 7-Samantha Meza, 14-Lia Godfrey, 20-Hollyn Torres
Head Coach: Mark Carr
ENG: 1-Francesca Bentley; 4-Aimee Everett, 5-Naomi Hartley (10-Jessica Park, 36), 6-Abbie Roberts, 7-Olivia Smith, 8-Molly Pike (capt.), 9-Ebony Salmon, 11-Lauren James, 12-Asmita Ale, 16-Jesse Woolley (15-Emma Brown, 36), 19-Kayla Rendell
Subs not used: 2-Shauna Vassel; 3-Phoebe Williams, 13-Frances Stenson, 14-Paris McKenzie, 17-Simran Jhamat, 18-Ava Kuyken, 22- Kayla Rendell
Head Coach: Scott Ralfe
Statistical Summary: USA / ENG
Shots: 10 / 4
Shots on Goal: 6 / 3
Saves: 3 / 4
Corner Kicks: 9 / 2
Fouls: 5 / 6
Offside: 2 / 1
Misconduct Summary:
None