U.S. U-17 Women's National Team set for trip to Italy, Slovenia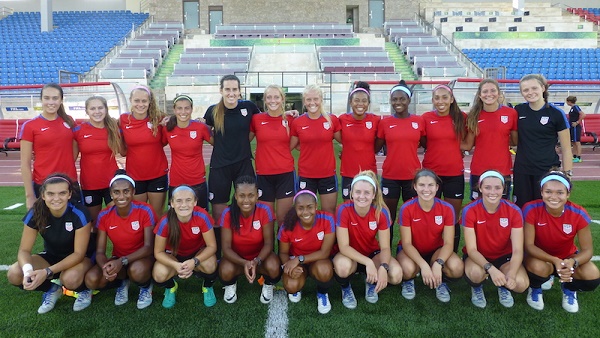 CHICAGO (Via U.S. Soccer) – The U.S. Under-17 Women's National Team will kick off its new cycle with a trip to Italy and Slovenia from April 19-30 to participate in the 2nd Torneo Femminile Delle Nazioni. The tournament has been held for boys' teams for the past 14 years (including this one), but this is just the second time it has been held for women's teams.
The year's competition is for players born in 2001 or later and features two groups of four teams each, with the USA in Group B along with Slovenia, England and Mexico. Group A features Italy, France, Germany and Belgium.
The USA opens against Slovenia on Tuesday, April 25 at the Sportni Park Ajdovscina in Ajdovscina, Slovenia, which is just 18 miles past the northeast border of Italy. The USA will then face Mexico on Wednesday, April 26 at ASD Fiumicello in Fiumicello, Italy and finishes group play against England on Friday, April 28 at ND Adria Miren in Miren, Slovenia, which is located just over the border with Italy.
After group play, each team will play a placement game on Saturday, April 29, with the group winners playing for the championship, the second-place finishers playing for third, the third-place finishers playing for fifth and the fourth-place finishers playing for seventh.
The tournament is being staged at 15 different venues, nine in Italy and six in Slovenia.
The U.S. Under-16 Girls' National Team attended this tournament last year in the inaugural edition of the competition and lost to the Italy U-16 GNT, 1-0, defeated the Iran U-17 WNT, 6-0, and tied the Mexico U-17 WNT, 1-1.
Included in the roster are four players taking part in their second U-17 WNT cycle in forwards Jordan Canniff and Lia Godfrey and defenders Kennedy Wesley and Kate Wiesner. All four were on the U.S. team that played at the 2016 FIFA U-17 Women's World Cup in Jordan.
The U.S. roster features 18 players born in 2001, which is the age cut-off year for the next FIFA U-17 Women's World Cup, taking place in Uruguay. The two players born in 2002 are Talia DellaPueruta and Makenna Morris. The two goalkeepers on the roster – Ruth Jones and Lindsey Romig – are 5-foot-11 and 6-foot, respectively.
U.S. U-17 Women's National Team Roster by Position

GOALKEEPERS (2): Ruth Jones (Charlotte SA; Charlotte, N.C.), Lindsey Romig (Richmond United; Midlothian, Va.)
DEFENDERS (6): Sunshine Fontes (Honolulu Bulls SC; Wahiawa, Hawaii), Tori Hansen (CASL; Raleigh, N.C.), Makenna Morris (Bethesda SC; Germantown, Md.), Leah Scarpelli (PDA; Brick, N.J.), Kennedy Wesley (SoCal Blues; Rossmoor, Calif.), Kate Wiesner (Slammers FC; Monrovia, Calif.)
MIDFIELDERS (6): Croix Bethune (Concorde Fire SC; Alpharetta, Ga.), Maya Doms (Davis Legacy; Davis, Calif.), Mia Fishel (San Diego Surf; San Diego, Calif.), Madison Mercado (San Diego Surf; San Diego, Calif.), Hollyn Torres (FC Dallas; Frisco, Texas), Astrid Wheeler (Concorde Fire SC; Atlanta, Ga.)
FORWARDS (7): Jordan Canniff (Richmond United; California, Md.), Talia DellaPeruta (Tophat SC; Cumming, Ga.), Lia Godfrey (JFC Storm; Fleming Island, Fla.), Payton Linnehan (FC Stars of Mass; Douglas, Mass.), Samantha Meza (Dallas Kicks; Dallas, Texas), Kalyssa Van Zanten (Eclipse Select SC; Buffalo Grove, Ill.)