U.S. U-17 Women's National Team roster named for Michigan camp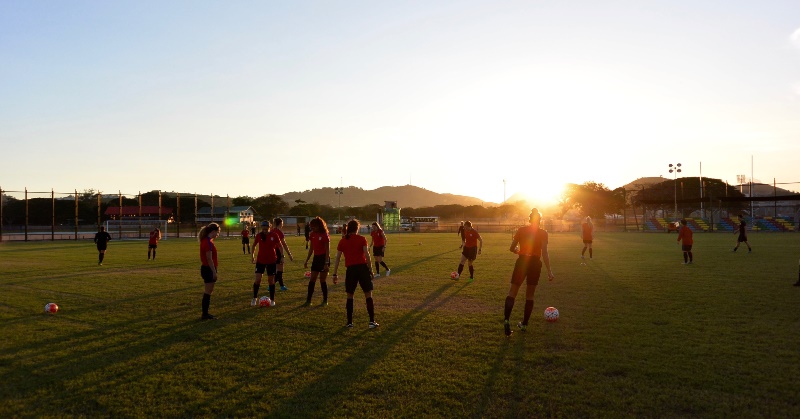 CHICAGO (Via U.S. Soccer) – The U.S. Under-17 Women's National Team will come together from Aug. 1-13 at a training camp in Michigan that will be highlighted by two matches against the Brazil Under-17 WNT as preparations for the 2016 FIFA U-17 Women's World Cup continue.
The USA will take on fellow U-17 Women's World Cup qualifier Brazil on Tuesday, Aug. 9 at DeMartin Soccer Stadium on the campus of Michigan State in East Lansing with a kickoff at 6 p.m. ET.
The teams will play again on Friday, Aug. 12 at Van Andel Soccer Stadium on the campus of Hope College in Holland, Mich. Kickoff is 7 p.m. ET. Admission to both matches is free.
+NCAA Women's Soccer Commitment Announcements: July 2016
The matches will be among the final chances to evaluate the players before Snow chooses the final roster for the 2016 FIFA U-17 Women's World Cup.
U.S. U-17 Women's National Team Roster by Position
GOALKEEPERS (5): Hillary Beall (So Cal Blues; Laguna Beach, Calif.), Zoe Clevely (Irvine Strikers; Huntington Beach, Calif.), Laurel Ivory (West Florida Flames; Surfside, Fla.), Meagan McClelland (PDA; Kearny, N.J.), Katie Meyer (Real So Cal; Newbury Park, Calif.)
DEFENDERS (10): Kerry Abello (Benet Academy; Aurora, Ill.), Sierra Enge (Carlsbad Elite; Cardiff, Calif.), Naomi Girma (Central Valley Crossfire; San Jose, Calif.), Shea Holland (PDA; Toms River, N.J.), Kiara Pickett (Eagles; Santa Barbara, Calif.), Isabel Rodriguez (Michigan Hawks; Canton, Mich.), Karina Rodriguez (So Cal Blues; Torrance, Calif.) Emily Smith (De Anza Force; Los Gatos, Calif.), Kennedy Wesley (So Cal Blues; Rossmoor, Calif.), Kate Wiesner (Slammers FC; Monrovia, Calif.)
MIDFIELDERS (5): Jaelin Howell (Real Colorado; Windsor, Colo.), Brianna Pinto (CASL; Durham, N.C.), Frankie Tagliaferri (PDA; Colts Neck, N.J.), Taryn Torres (FC Dallas; Frisco, Texas), Sydney Zandi (Penn Fusion; West Chester, Penn.)
FORWARDS (8): Jordan Canniff (Richmond United; California, Md.), Lia Godfrey (JFC Storm; Fleming Island, Fla.), Rachel Jones (Tophat SC; Lawrenceville, Ga.), Civana Kuhlmann (Colorado Rush; Littleton, Colo.), Adrienne Richardson (Minnesota Thunder Academy; Oakdale, Minn.), Ashley Sanchez (So Cal Blues; Monrovia, Calif.), Sophia Smith (Real Colorado; Windsor, Colo.), Alexa Spaanstra (Michigan Hawks; Brighton, Mich.)
"The decisions that we will have to make to finalize our roster will be exceptionally difficult and that is why playing these two international games is so vitally important," Snow said. "The state of Michigan has a rich soccer tradition and we were ecstatic when we found out that we would be able to bring these two international games there. These games offer us one of the last opportunities to assess our players and our team so we are hoping to simulate a World Cup environment as much as possible. We will be playing in two first class facilities and the hope is that we can work to together with the soccer communities in Michigan to showcase the growth of women's soccer at the youth level."
Snow has called up 28 players for the camp, which includes all 20 players who were on the squad that in mid-March won the CONCACAF U-17 Women's Championship played in Grenada while earning a berth to the upcoming World Cup.
Midfielder Ashley Sanchez returns to the U-17's after playing with the U.S. U-20 WNT since qualifying. Sanchez won the Golden Ball as the best player at the CONCACAF qualifying tournament after scoring five goals in Grenada, including the first in the 2-1 victory against Mexico in the championship game.
"We are extremely excited to bring our U-17 Women's National Team to Michigan," said Snow, who hails from Kalamazoo, Mich., and who played college soccer at Indiana. "The opportunity to be together for two weeks during some of the final preparations before the Women's World Cup this fall is critical. We will be capping a long and rigorous evaluation process and the players that have matriculated their way here deserve a ton of credit. The depth of this player pool has been extraordinary, so the fact that they are even in the conversation for a final roster spot at this point in time is something that these players should be extremely proud of."
Brazil was drawn into Group C at the 2016 FIFA Under-17 Women's World Cup in Jordan along with Nigeria, England and Korea DPR. The USA was drawn into Group D with Paraguay, Ghana and Japan. The USA and Brazil could potentially meet in the knockout rounds in Jordan should both advance out of the group.
The U.S. plays its first Group D match against Paraguay on Oct. 1 at Prince Mohammed International Stadium in Al Zarqa (4 p.m. local / 9 a.m. ET) before facing Ghana on Oct. 4 at King Abdullah II International Stadium in Amman (4 p.m. local / 9 a.m. ET). The USA will finish group play on Oct. 8 against Japan at Amman International Stadium (7 p.m. local / Noon ET).
The players on the roster come from three birth years with 16 being born in 1999, which is the age-cut for participation in this fall's World Cup. Eight players were born in 2000 and four were born in 2001, including three who were on the qualifying squad: defenders Kennedy Wesley and Kate Wiesner and forward Jordan Canniff.
The U-17's are undefeated in 10 international games this year.