U.S. U-17 Women's National Team plays Korea Republic to 4-4 draw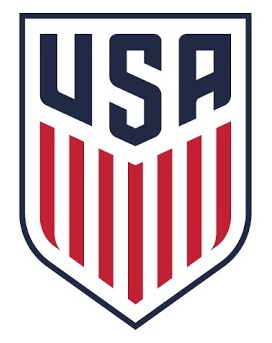 PAJU, Korea Republic (Via U.S. Soccer) – The U.S. Under-17 Women's National Team played a wild back-and-forth contest in the first of two matches against its counterpart from the Korea Republic, ending in a 4-4 draw that saw both teams score twice in each half. The teams will play again on August 21.
"It was an incredible experience for our players to play a talented South Korea team that finished second in Asian qualifying and has qualified for the U-17 World Cup," U.S. head coach Mark Carr said. "We wanted this type of game to learn about ourselves and it was an experience that we can't replicate in our home environments."
The home team scored first in just the 7th minute on a shot from outside the penalty box, but midfielder Maya Doms equalized three minutes later. Forward Payton Linnehan crossed from the end line and the ball was deflected by forward Mia Fontana. It fell to Doms, who struck a low, first-time shot into the net. It was Doms' 10th international goal in 22 caps. Her most recent score before this one was the game-winner in the USA's 3-2 victory against Mexico in the title game of the 2018 Concacaf Women's U-17 Championship.
The USA took the lead in the 24th minute as forward Astrid Wheeler slotted a through ball to defender Makenna Morris and she took a few touches to glide past the back line before rolling her shot inside the near post. It was the third international goal for Morris in 16 U-17 caps.
+READ: U.S. U-15 Girls National Team wins CONCACAF Championship
The Koreans tied the game in the 36th minute on another shot from distance and the teams headed into the break tied 2-2.
The USA got the first goal of the second half as Doms played a pass to forward Trinity Rodman, who let it roll across her body before powering home a left-footed shot from 22 yards out. It was Rodman's first international goal at the U-17 level in her first cap.
Korea tied it again, tallying in the 73rd minute, a shot was deflected by a U.S. defender and bounced to Kim Bo-Min, who finished with first-time volley past U.S. goalkeeper Lindsey Romig. Forward Sunshine Fontes put the USA up 4-3 with a goal in the 73rdminute, receiving a pass off a quick restart and flicking it around a defender. She then accelerated past a few more defenders and rolled her shot into the net from six yards out. Korea tied the game in the final minute of regulation time to earn the draw.
"We wanted to work on some things today in attack and we checked a lot of the boxes," said Carr. "Scoring four goals on a very good South Korea team is no easy feat, so I feel really happy about that. On the defensive side, we still have a lot of work to do. Obviously, we are in the process of building a new defensive unit. With the loss Kennedy Wesley and Kate Wiesner (to serious knee injuries) and with (goalkeeper) Angelina Anderson unavailable as she was coming back from the U-20 World Cup, it will take a bit of time to identify those players who can help us accomplish our goals."
The goal for Fontes was her 19th international in her 25th cap, moving her into a tie for second place with Summer Green on the USA's U-17 WNT all-time scoring list. Ashley Sanchez tops that list with 21 U-17 goals.
"We have to work on the training field so we can all be cohesively reading the same thing," Carr said. "We learned a few things today, so we are excited about our second game against South Korea and will look to work to improve in that match."
Both teams have qualified for the 2018 FIFA U-17 Women's World Cup that will be held in Uruguay in November. The USA will begin its World Cup on Nov. 14 against Cameroon and will face 2016 FIFA U-17 Women's World Cup champion Korea DPR on Nov. 17 before finishing group play against Germany on Nov. 21.
The USA's first two games will be played at Estadio Alberto Suppici in Colonia del Sacramento and the Germany match will take place at Estadio Charrúa in the capital of Montevideo. The third tournament venue is Estadio Domingo Burgueño Miguel in Maldonado. All three venues are on the southwest coast of Uruguay.
South Korea was drawn into Group D with Spain, Canada and Colombia. South Korea finished second to North Korea in the 2017 AFC U-16 Women's Championship to earn its berth to Uruguay.
The cut-off date for players to be eligible for the U-17 Women's World Cup are those born on or after Jan. 1, 2001. For this roster, Carr chose 17 players born in 2001 but also included five players born in 2002 and two 15-year-olds born in 2003.
The 16 teams that will participate in the sixth FIFA U-17 Women's World Cup are host Uruguay, Brazil and Colombia from South America, the USA, Mexico and Canada from Concacaf, Ghana, Cameroon and South Africa from Africa, Korea Republic, Korea DPR and Japan from Asia, Finland, Germany and Spain from Europe, and New Zealand from Oceania.
The 73rd minute of the match featured a substitute of twins, as Samantha Agresti earned her first U-17 cap when she came on for her sister Michaela.
– U.S. U-17 Women's National Team Match Report –
Match: U.S. U-17 Women's National Team vs. Korea Republic U-17 WNT
Date: August 18, 2018
Competition: International Friendly
Venue: Paju National Football Center; Paju, Korea Republic
Weather: 87 degrees
Scoring Summary:    1          2          F
USA                             2          2          4
KOR                            2          2          4
KOR – Cho Mi-Jin                                           7th minute
USA – Maya Doms (Payton Linnehan)          10
USA – Makenna Morris (Astrid Wheeler)       24
KOR – Kim Ji-Mi                                             36
USA – Trinity Rodman (Samar Guidry)          58
KOR – Kim Bo-Min                                         73
USA – Sunshine Fontes (Trinity Byars)         77
KOR – Hyun Seul-Ki                                       90
Lineups:
USA: 1-Lindsey Romig; 3-Samar Guidry (4-Talia DellaPeruta, 70),19-Michaela Agresti (21-Samantha Agresti, 73), 23-Tori Hansen, 2-Makenna Morris; 16- Astrid Wheeler, 17- Alexis Missimo, 11-Maya Doms (5-Mia Fishel, 75), 14-Payton Linnehan (Sunshine Fontes, 65); 8-Trinity Byars, 18-Mia Fontana (9-Trinity Rodman, 46)
Subs not used: 1-Mia Justus, 7-Smith Hunter, 10-Isabella D'Aquila, 12-Halle Mackiewicz, 13-Sophia Jones, 15-Natalia Staude, 20- Emily Mathews, 24-Sam Meza
Head Coach: Mark Carr
KOR: Kim Su-Jeong (Kang Ji-Yeon, 46); Kim Min-Ji, Ko Min-Jeong, Lee Ye-Jin (Lee Soo-ln, 50), Kim Ji-Mi, Cheon Ga-Ram (Kang Ji-Eun, 80); Ahn Se-Bin (Hwang Hye-Min, 61), Cho Ha-Neul (Jo Ye-Song, 88), Hyun Seul-Ki; Cho Mi-Jin; Kwak Ro-Young (Kim Bo-Min, 64)
Subs not used: Jeoun So-Eun, Jo Ar-A, Noh Hye-Yeon, Lee Seo-Yeon, Lee Ye-Sol, Choi Wooh-Yeon, Kim Bit-Na, Lee Se-Ran, Lee Eun-Yeong, Sea Hyun-Min, Jang Yu-Been
Head Coach: Hur Jung-Jae
Stats Summary: USA / KOR
Shots: 11 / 12
Shots on Goal: 7 / 8
Saves: 5/ 4
Corner Kicks: 5 / 4
Fouls: 12 / 15
Offside: 2 / 4
Misconduct Summary:
USA – Trinity Rodman (caution)         60th minute
USA – Samar Guidry (caution)           68
USA – Michaela Agresti (caution)      90+1
KOR – Ji-Mi Kim                                 n/a
KOR – Min-Ji Kim                               n/a