U.S. U-17 WNT shuts out Haiti 1-0 to sweep two-game set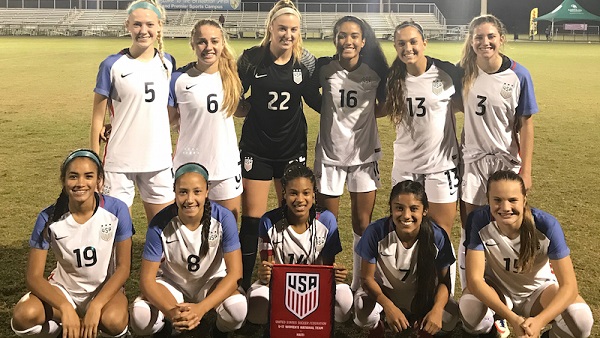 LAKEWOOD RANCH, Fla. (Via U.S. Soccer) – The U.S. Under-17 Women's National Team defeated its counterparts from Haiti 1-0 in the second of two friendly matches between the teams. The game was played at the Premier Sports Campus and concluded the USA's programming for 2017.
The U-17s went 9-1-3 this year, playing tournaments in Slovenia/Italy and China while also defeating England in two August games in Portland, Oregon by a 12-3 aggregate score. The team traveled to Mexico City in mid-November for two matches against the Mexico U-17 WNT, tying 1-1 and winning 4-0. The U-17s have lost just one of 13 international games this year, that loss coming in a wild back-and-forth 5-4 setback against China in Weifang in July.
After beating Haiti 5-0 on Dec.13 in the first match, the USA struggled to finish on Friday night, but did get one goal before the game was 120 seconds old.
+READ: U.S. U-17 Women's National Team defeats Haiti 5-0 in friendly
Natalia Staude sent a driven diagonal pass from her right back position towards a group of U.S. players positioned at the top of the penalty box. Forward Croix Bethune brought the ball under control and with great composure, finished low past the goalkeeper for her fourth international goal.
"It's always difficult to play an opponent for a second time in three days," said U.S. head coach Mark Carr. "We had a lot of the ball, but lacked the final product in moments. Tonight, Haiti made it very difficult for us and we know this is how it will be at World Cup qualifying. There are no guarantees."
+NCAA Women's Soccer Commitment Announcements: December 2017
Both the USA and Haiti are preparing for the 2018 CONCACAF Women's Under-17 Championship, to be held from April 19-29 in Nicaragua. That tournament will qualify three teams to the 2018 FIFA U-17 Women's World Cup in Uruguay.
"It's good to finish out the year with two wins and two shutouts," said Carr. "Overall, I am so proud of what this U-17 group accomplished in 2017. Not only in terms of results, but more in how they have progressed and improved individually and collectively."
The U.S. team will get back together in January as it continues to prepare for World Cup qualifying.
U.S. Under-17 Women's National Team Match Report
Match: United States U-17 Women's National Team vs. Haitian U-17 Women's National Team
Date: December 15, 2017
Competition: International Friendly
Venue: Premier Sports Campus Stadium; Lakewood Ranch, FL
Kickoff: 7:30 p.m. ET
Weather: 62 degrees, humid
Scoring Summary:   1          2          F
USA                             1          0          1
HAI                              0          0          0
USA – Croix Bethune                          2nd minute
Lineups:
USA: 22-Lindsey Romig (1-Halle Mackiewicz, 46), 3-Kate Wiesner, 5-Tori Hansen, 15-Natalia Staude, 16-Smith Hunter (4-Talia Dellaperuta, 54), 19-Kalyssa Van Zanten (11-Payton Linnehan, 73), 14-Croix Bethune (capt.), 6-Astrid Wheeler, 8-May Doms (10-Mia Fishel, 46), 7-Samantha Meza (17-MacKenzee Vance, 77), 13-Isabella D'Aquila (23-Enzi Broussard, 73)
Subs not used: 2-Makenna Morris, 9-Jordan Canniff, 12-Angelina Anderson, 18-Sunshine Fontes, 20-Sophia Jones, 21-Samantha Kroeger, 24-Ariella Pitty, 25-Bria Schrotenboer
Head Coach: Mark Carr
HAI: 1-Madeline Fleuriot, 2-Dougenie Tabitha, 3-Nancy Lindor, 4-Ruthny Mathurin, 6-Angeline Gustave (7-Abaina Louis, 89), 8-Dieunica Jean Baptiste (16-Isabelle Bernier, 63), 10-Daelle Melchie Dumornay (capt), 13-Rachelle Caremus, 14-Bethina Petit Frere (9-Samantha Dumont, 77), 15-Danielle Etienne (11-Elisabeth Brivil, 77), 20-Flero-Dina Surpris
Subs not used: 5-Estericove Joseph, 12-Edjenie Joseph, 17-Beurnengy Adrien, 18-Maille Jean Baptiste, 19-Milan Pierre Jerome
Head Coach: Fiorda Charles
Stats Summary: USA / HAI
Shots: 13 / 3
Shots on Goal: 12 / 1
Saves: 1 / 11
Corner Kicks: 5 / 0
Fouls: 8 / 7
Offside: 7 / 0
Misconduct Summary:
USA – Kate Wiesner (caution)                                    58th minute
HAI – Flero-Dina Surpris (caution)                             72