U.S. U-17, U-18 Women's National Teams set for training camp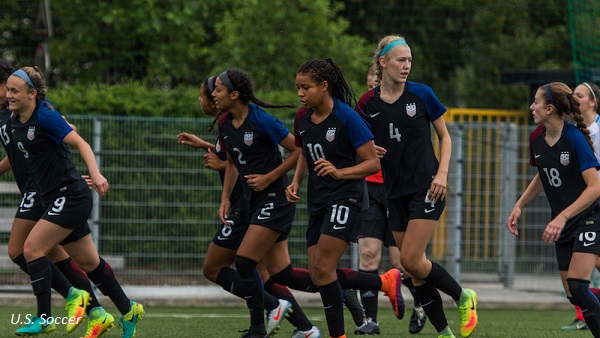 CHICAGO (Via U.S. Soccer) – The U.S. Under-17 Women's National Team and the U.S. Under-18 Women's National Team will hold concurrent training camps at the Elite Athlete Training Center in Chula Vista, Calif., from Oct. 21-28.
U.S. U-18 WNT head coach Jaime Frias has named 28 players for his camp, with 22 players born in 2000 and six in 1999. U.S. U-17 WNT head coach Mark Carr has also called up 28 players, 25 born in 2001 and three born in 2002.
The U-17s have been quite active this year as they prepare for the FIFA U-17 Women's World Cup in 2018. The squad has played tournaments in Slovenia/Italy and China, while defeating England in two August games in Portland, Oregon by a 12-3 aggregate score. The U-17s have lost just one of nine international games this year, a wild back-and-forth 5-4 setback against China in Weifang this July.
+READ: USSDA Girls East Conference Recap – October 7-8, 2017
Three players – defender Kate Wiesner, midfielder Astrid Wheeler and forward Jordan Canniff — who recently traveled with the U.S. U-19 WNT to China to gain some increased international experience against U-20 Women's National Teams, return to their age group for this camp. Wiesner, Canniff and defender Kennedy Wesley all played at the 2016 FIFA U-17 Women's World Cup in Jordan.
This group of U-17 players is gearing up for their attempt to qualify for the 2018 FIFA U-17 Women's World Cup that will be staged in Uruguay. The age cutoff for that tournament is players born on or after January 1, 2001. The top three teams at next year's CONCACAF U-17 Championship will qualify for the World Cup.
U.S. U-17 Women's National Team Roster by Position
GOALKEEPERS (4): Angelina Anderson (Mustang SC; Danville, Calif.) Ruth Jones (Charlotte SA; Charlotte, N.C.), Maciah Lipsey (Michigan Hawks; Southfield, Mich.) Cayla White (Washington Spirit; Arlington, Va.)
DEFENDERS (9): Michela Agresti (FC Stars of Mass.; Swampscott, Mass.), Talia DellaPeruta (Tophat SC; Cumming, Ga.), Tori Hansen (NC Courage Academy; Raleigh, N.C.), Smith Hunter (Seattle Reign Academy; Seattle, Wash.) Makenna Morris (Bethesda SC; Germantown, Md.), Brecken Mozingo (Celtic Storm; Sandy, Utah), Natalia Staude (Tophat SC; Atlanta, Ga.), Kennedy Wesley (So Cal Blues; Rossmoor, Calif.), Kate Wiesner (Slammers FC; Monrovia, Calif.)
MIDFIELDERS (6): Hannah Bebar (Eclipse Select; Naperville, Ill.), Croix Bethune (Concorde Fire SC; Alpharetta, Ga.), Maya Doms (Davis Legacy; Davis, Calif.), Mia Fishel (San Diego Surf; San Diego, Calif.), Sophia Jones (San Jose Earthquakes; Menlo Park, Calif.), Astrid Wheeler (Concorde Fire SC; Atlanta, Ga.)
FORWARDS (9): Ainsley Ahmadian (Eclipse Select; Naperville, Ill.), Jordan Canniff (Washington Spirit; California, Md.), Isabella D'Aquila (So Cal Blues; Mission Viejo, Calif.), Sunshine Fontes (Hawaii Rush; Wahiawa, Hawaii), Lia Godfrey (United Soccer Alliance; Fleming Island, Fla.), Payton Linnehan (FC Stars of Mass.; Douglas, Mass.), Samantha Meza (Solar; Dallas, Texas), Diana Ordonez (FC Dallas; Proper, Texas), Kalyssa Van Zanten (Eclipse Select; Buffalo Grove, Ill.)
+NCAA Women's Soccer Commitment Announcements: September 2017
U.S. U-18 Women's National Team Roster by Position

GOALKEEPERS (4): Katherine Asman (Tophat SC; Roswell, Ga.), Claudia Dickey (CSA; Charlotte, N.C.), Samantha Estrada (Houston Dash; The Woodlands, Texas), Hensley Hancuff (Oklahoma FC; Edmond, Okla.)
DEFENDERS (8): Claire Constant (McLean Youth Soccer; Alexandria, Va.), Chai Cortez (Maui United SC; Kahului, Hawaii), Sydney Dawson (Internationals SC; Akron, Ohio), Naomi Girma (California Thorns; San Jose, Calif.), Shea Holmes (Real Colorado; Highlands Ranch, Colo.), Brianna Martinez (New Mexico Rush; Albuquerque, N.M.), Ella Shamburger (Tophat SC; Atlanta, Ga.), Hailey Stodden (Colorado Rush; Broomfield, Colo.)
MIDFIELDERS (8): Brianna Atterbury (Sereno; Gilbert, Ariz.), Cori Dyke (Colorado Rush; Littleton Colo.), Laura Fuentes (Palo Alto SC; Newark, Calif.), Emily Gray (Penn Fusion; Sewell, N.J.), Jenna Nighswonger (Slammers SC; Huntington Beach, Calif.), Allison Schlegel (Real Colorado; Parker, Colo.), Summer Yates (Pac NW; Pasco, Wash.), Sakura Yoshida (Reign Academy; Redmond, Wash.)
FORWARDS (8): Jordan Brewster (Internationals SC; North Canton, Ohio), Rachel Dorwart (Penn Fusion; Mechanicsburg, Penn.), Aleigh Gambone (McLean Youth Soccer; Clifton, Va.), Rachel Jones (Tophat SC; Lawrenceville, Ga.), Anna Podojil (Ohio Elite; Cincinnati, Ohio); Loren Sefcik (Internationals SC; Medina, Ohio), Ashlynn Serepca (Carolina Rapids; Cornelius, N.C.), Alexa Spaanstra (Michigan Hawks; Brighton, Mich.)