U.S. U-17 Men's National Team Spring Residency roster announced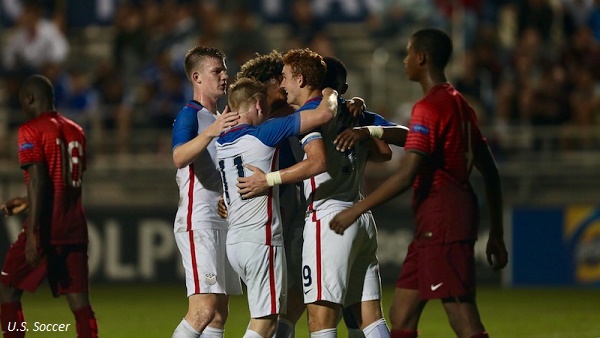 BRADENTON, Fla. (Via U.S. Soccer) – U.S. Under-17 Men's National Team head coach John Hackworth has named a 32-player roster for the 2017 Spring Semester of the U.S. Soccer Residency Program in Bradenton, Florida.
The 2017 Spring Semester roster features 28 players who were in Residency last fall. Out of those 28 returning players, 14 were members of the roster that claimed the 2016 Nike Friendlies title in early December. The group also includes 29 players currently registered with Development Academy clubs and 30 in all with ties to the Academy.
Incoming players include center backs Ethan Bartlow and Tyler Shaver, midfielder Grayson Barber, and goalkeeper David Ochoa. While new to the Residency program, these players are no strangers to the U-17 MNT.
+READ: U.S. U-20 MNT roster named for camp ahead of CONCACAF Championship
"These were strategic additions based on what we felt we needed on the depth chart at each position," Hackworth said. "They've earned that invite through their performances in the Development Academy and their opportunities with us last fall. We're excited to have them and see if they can push for a spot on that qualifying roster."
Notable departures from the 2016 fall semester roster include midfielders Chris Goslin and Chris Durkin, who were signed by MLS clubs Atlanta United and D.C. United, respectively, as homegrown players.
Hackworth noted that, "Those two players are no longer in Residency because they are trying to make their first teams in preseason. They play in MLS clubs, they're pros and they've made that next step in their career.  We'll bring them back in with us for certain events and obviously try to include them in our qualifying roster, but right now, they are onto bigger and better things."
+READ: Jefferson Cup 2017 Championship Division Preview – U-16 Boys
The U-17 MNT now looks ahead to an eventful year, with the U-17 World Cup qualifying tournament set to take place from April 14-May 8 in Panama. While the main objective of the Residency Program continues to be player development, the emphasis will shift to building a team that is capable of qualifying for the World Cup.
"Our feeling is that we've balanced our roster, in particular by adding two quality center backs that can compete for those starting positions and roster spots. This is the group that we want to train and prepare for the base of our qualifying roster."
Roster by Position

GOALKEEPERS (4): Alexander Budnik (Sockers FC; Arlington Heights, Ill.), Justin Garces (Kendall SC; Miami, Fla.), Quantrell Jones (Baltimore Celtic; Baltimore, Md.), David Ochoa (Real Salt Lake AZ; Casa Grande, AZ.)
DEFENDERS (11): Carlos Asensio (Atlanta United; Roswell, Ga.), Ethan Bartlow (Crossfire Premier; Woodinville, Wash.), Christopher Gloster (New York Red Bulls; Montclair, N.J.), Jaylin Lindsey (Sporting Kansas City; Charlotte, N.C.), Carlo Ritaccio (BW Gottschee; Westbury, N.Y.), James Sands (New York City FC; Rye, N.Y.), Tyler Shaver (Beachside SC; Greenwich, Conn.), Nicholas Slonina (Chicago Fire; Addison, Ill.), Arturo Vasquez (FC Golden State; Mira Loma, Calif.), Chandler Vaughn (D.C. United; Woodbridge, Va.), Tristan Weber (Unattached; San Clemente, Calif.)
MIDFIELDERS (9): George Acosta (Weston FC; Hollywood, Fla.), Isaac Angking (New England Revolution; Providence, R.I.), Grayson Barber (Sporting Kansas City; Blythewood, S.C.), Taylor Booth (Real Salt Lake AZ; Eden, Utah), Blaine Ferri (Solar Chelsea SC; Southlake, Texas), Marcelo Palomino (Houston Dynamo; Houston, Texas), Indiana Vassilev (IMG Academy; Savannah, Ga.), Adrian Villegas (Portland Timbers; Hood River, Ore.), Akil Watts (IMG Academy; Fort Wayne, Ind.)
FORWARDS (8): Ayo Akinola (Toronto FC; Brampton, Ont.), Matthew Hundley (Real Colorado; Littleton, Colo.), Zyen Jones (Atlanta United; Clarkston, Ga.), Alejandro Pereira (Orlando City SC; Oviedo, Fla.), Bryan Reynolds Jr. (FC Dallas; Little Elm, Texas), William Sands (New York City FC; Rye, N.Y.), Joshua Sargent (Scott Gallagher Missouri; O'Fallen, Mo.), Tonny Temple (IMG Academy; Millville, Pa.)