U.S. U-17 Men's National Team downs Jamaica 3-0 in friendly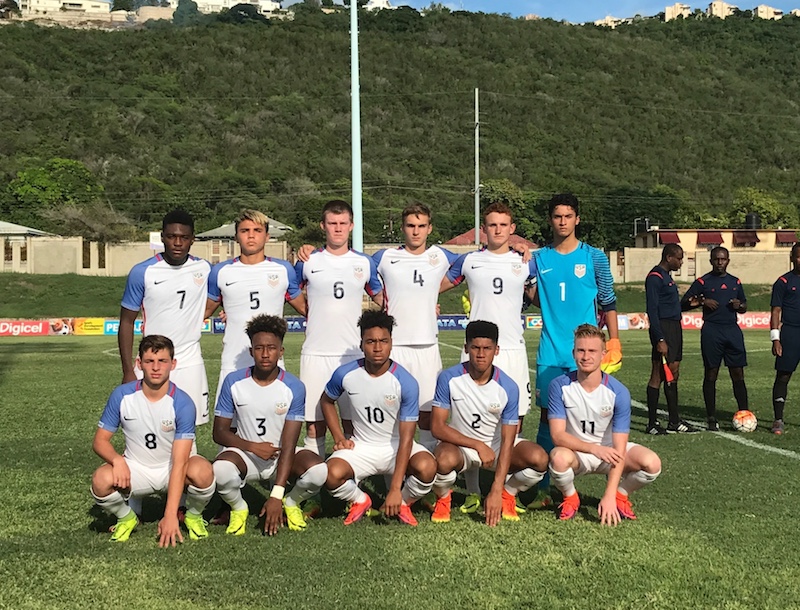 KINGSTON, Jamaica (Via U.S. Soccer) – The U.S. Under-17 Men's National Team cruised past Jamaica's U-17 National Team with a 3-0 victory in the first of two friendlies scheduled during their training camp in Kingston.
The match was business as usual for the U-17 MNT. Andrew Carleton connected with Ayo Akinola, who had no trouble finishing to give the USA a 1-0 lead in the 21st minute. Captain Josh Sargent joined the party just ten minutes later, finding the back of the net with an assist from midfielder Blaine Ferri.
+Read: U.S. Soccer Development Academy East Conference Recap – Week 9
With a 2-0 U.S. lead, the second half was much quieter than the first. However, Tonny Temple found the back of the net in the 90th minute, just three minutes after he came on as a substitute for Sargent. Christopher Durkin claimed the assist for Temple's goal, which secured the 3-0 victory for the U.S.
The U-17 MNT and Jamaica will square off once again on Nov. 6 at 3 p.m. ET.
-U.S. U-17 Men's National Team Match Report-
Match: U.S. U-17 Men's National Team vs. Jamaica
Date: Nov. 2, 2016
Competition: International Friendly
Venue: National Stadium East; Kingston, Jamaica
Kickoff: 4 p.m. ET
Weather: 85 degrees
Scoring Summary:      1          2          F
USA                             2          1          3
JAM                             0          0          0
USA – Ayomide Akinola (Andrew Carleton)                   21st minute
USA – Joshua Sargent (Blaine Ferri)                            31
USA – Tonny Temple (Christopher Durkin)                     90
Lineups:
USA: 1-Justin Garces; 3-Christopher Gloster, 5-Arturo Vasquez, 4-James Sands, 2-Jaylin Lindsey; 6-Christopher Durkin, 8-Blaine Ferri (15-Rayshaun McGann, 74), 10-Isaac Angking (20-George Acosta, 46); 7-Ayomide Akinola (17-Bryan Reynolds Jr., 74), 9-Joshua Sargent (Capt.) (23-Tonny Temple, 87), 11-Andrew Carleton (21-Zyen Jones, 83)
Subs Not Used: 12-Carlos Joaquin Dos Santos, 13-Chandler Vaughn, 14-Carlo Ritaccio, 16-Carlos Asensio, 18-Adrian Villegas, 19-Ethan Bartlow
Head Coach: John Hackworth
JAM: 1-Daniel Russell; 19-Calwayne Allen (22-Casseam Preisley, 46), 6-Nickache Murray (Capt.), 5-Jamai Topey, 12-Kimani Gibbons; 10-Renato Campbell, 16-Blake White (4-Shaquille Smith, 78), 18-Trayvon Reid (8-Coby Atkinson, 46); 14-Nicque Daley (11-Brandon McGlashan, 60), 9-Raewin Senior, 7-Kaheem Parris (21-Tyrone Small, 71)
Subs Not Used: 2-Kendall Edwards, 3-Jake Walker, 13-Tajay Griffith, 15-Jordan Petrekin, 17-Jamari Morrison, 20-Chad Letts, 23-Jeadine White
Head Coach: Andrew Edwards
Misconduct Summary:
JAM – Renato Campbell (caution)         28th minute
USA – James Sands (caution)              37
JAM – Coby Atkinson (caution)             48
USA – Ayomide Akinola (caution)          52
Officials:
Referee: Valan Ledeister
Assistant Referee: Richard Washineton
Assistant Referee: Keeble Williams
Fourth Official: Karl Tyrell
Stats Summary: USA / JAM
Shots: 16 / 11
Shots on Goal: 8 / 4
Fouls: 9 / 9
Corners: 3 / 3
Offside: 1 / 0
Please Note: Match was 90 minutes on natural grass.