U.S. U-17 Men's National Team begins Nike International Friendlies title defense vs. Brazil today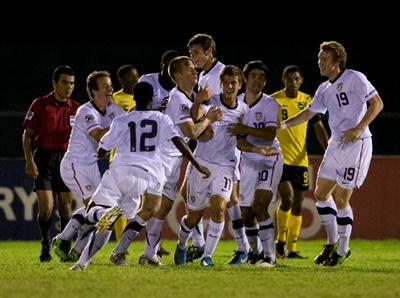 The U.S. Under-17 Men's National Team opens the 2012 Nike International Friendlies against Brazil at 5 p.m. ET on Wednesday, Nov. 28, at Premier Sports Campus in Lakewood Ranch, Fla.
"We're excited for the Nike Friendlies here at Lakewood Ranch," U-17 MNT head coach Richie Williams said. "We had success last year and the guys are looking forward to it. They've been together since January and we've had a lot of really good international tournaments that we've been to. So now it's nice to have one at home."
The USA won its first Nike International Friendlies title in 2011, capped off with a resounding 3-1 victory against Brazil in the team's final match of the round-robin style tournament. This year's event features a cohesive group on the defensive end as five of the eight returning players from last year's competition are manning the back line and goalkeeper positions.
"We think we have good players overall out of 32 [Residency players]," Williams said. "So there were some difficult decisions to make, which is a good thing to have. We think we have a really strong group that's going to be able to go out and play well and play against three really good teams."
The U.S. schedule includes Wednesday's matchup against 2011 runner-up Brazil, followed by Turkey on Friday, Nov. 30, and Portugal on Sunday, Dec. 2. All three matches are at 5 p.m. at Premier Sports Campus. Fans can follow updates online on Twitter @ussoccer_ynt.
"We've got a good mix of players from last year and new players this year, and I think we should do well Wednesday," said team captain and defender Shaquell Moore, a finalist for the 2012 U.S. Soccer Young Male Athlete of the Year award. "Everyone knows how good Brazil is. We know we can compete with anybody and we're hoping to get a result."
The format and strength of schedule ultimately will be strong preparation tools for a U.S. squad eying next April's 2013 CONCACAF U-17 Championship, which doubles as qualifying for the 2013 FIFA U-17 World Cup in October of next year.
"The Nike Friendlies are a great tournament because you have four of the best teams in the world to get ready for the World Cup qualifying," defender Conor Donovan said. "It's good that we take care of business against the best teams to help us get ready for qualifying. It prepares you mentally because you play three games in five days, and in qualifying you're going to have to play a game, have a day off and play a game. That can take a toll both mentally and on your body, so this will prepare us for next year for qualifying and hopefully the World Cup."
Donovan and Moore will likely feature at the center of the back line. Their roles are slightly different than one year ago as Donovan shifted to left-center back and Moore moved from outside back to right-center back. Moore serves as the team's captain and Donovan is the oldest player on the roster.
"We know our tendencies and understand each other a lot more," Donovan said. "We have good chemistry back there, which gives us an advantage because once we figure out what the opposing forwards are going to do, we know we can work to each other's strengths to shut them down and keep the zero on their goal."
2012 U.S. U-17 MNT Nike International Friendlies Roster By Position
GOALKEEPERS (2): Paul Christensen (Seattle Sounders; Woodinville, Wash.), Evan Louro (New York Red Bulls; South River, N.J.)
DEFENDERS (6): Jordan Cano (FC Dallas; Richardson, Texas), Conor Donovan (NC Alliance; Fuquay Varina, N.C.), Elijah Martin (Cal Odyssey; Fresno, Calif.), Shaquell Moore (Unattached; Powder Springs, Ga.), John Requejo Jr. (Real So Cal; Carpinteria, Calif.), Peter Schropp (Omaha FC; Omaha, Neb.)
MIDFIELDERS (7): Mukwelle Akale (Minnesota Thunder; Minneapolis, Minn.), Junior Flores (McLean Youth Soccer; Manassas Park, Va.), Emerson Hyndman (Fulham FC; Canton, Texas), Christopher Lema (New York Red Bulls; Ridgefield, N.J.), Cameron Lindley (Indiana Fire Academy; Carmel, Ind.), Rolando Muñoz (LA Galaxy; Rancho Cucamonga, Calif.), Ben Swanson (Crew Soccer Academy; Grove City, Ohio)
FORWARDS (5): Corey Baird (San Diego Surf; Escondido, Calif.), Sebastian Elney (Boca United; Lake Worth, Fla.), Rubio Rubin (Westside Metros; Beaverton, Ore.), Ahinga Selemani (CSA Wolves; Ann Arbor, Mich.), Alan Winn (Solar Chelsea FC; Garland, Texas)
2012 Brazil U-17 MNT Roster By Position
GOALKEEPERS (2): 1-Marcos, 9-Thiago
DEFENDERS (6): 2-Álef, 3-Lucas, 4-Lincoln, 6-Abner, 13-Raul, 14-Eriks
MIDFIELDERS (7): 5-Sávio, 7-Danilo, 8-Robert, 10-Indio, 11-Caio, 15-Gustavo Aguiar, 16-Boschilia
FORWARDS (3): 9-Kenedy, 17-Alisson, 18-Murilo