U.S. U-17 boys national team show more promise, inconsistency at IMG Cup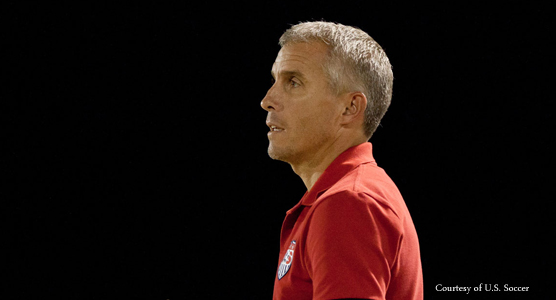 The U.S. Under-17 Men's National Team took mixed returns from their participation in the IMG Cup Boys Invitational in their Bradenton, Florida backyard over the past week, displaying more of the promise – and frustration – that their talented crop of players have become known for.
Drawn into the event's "Super Group," coach Richie Williams' side lost 1-0 to the U-18 side from Mexico's Deportivo Toluca FC in their opening match on Wednesday. One of the only on-site reports available from the event stated that the U-17s enjoyed more possession than their Mexican adversaries, but were undone by a corner-kick goal against the run of play that allowed Toluca to sit deep, absorb U.S. pressure and break out on the counterattack.
+READ: Tottenham U18s win IMG Cup Boys Invitational SuperGroup
On Thursday the U-17s played out a wild 3-3 draw with Baltimore Celtic's U-18s, as striker Keegan Kelly scored two goals against his home club. Those dropped points would prove costly as the U.S. edged Tottenham Hotspur's U-18 side 1-0 in their final group match, but still finished well back of the English squad in the standings.
U-17s star Christian Pulisic – a product of PA Classics widely reported to be headed for Germany giants Borussia Dortmund – scored the game's only goal, punishing a defender's slip in the first half to steal possession and race clear before beating Spurs goalkeeper Harry Voss.
But with Tottenham's commanding young center back Cameron Carter-Vickers – who technically could've suited up for either side, as he's dual-eligible for England and the U.S. and sounds slightly more likely to choose the latter – one of the best players on the field, such chances were few and far between for the home side.
That left them hanging on for dear life – apparently literally on a few occasions – as Spurs seized the initiative. Tempers flared in the late going after U.S. defender Hugo Arellano had to resort to some tugging and grabbing in an attempt to keep Spurs striker Ryan Loft in check, and the two eventually sparked a bench-clearing brawl that prompted the referee to call time on the match a few minutes early.
The roster sheet looked like this for the U-17s vs. Tottenham (via onsite coverage from SpursOdyssey.com):
STARTING LINEUP: W. Pulisic; Olosunde, Nelson, Velela, Arellano, Calvillo, Wright, Adams, Zendejas, C. Pulisic, Perez
SUBS: Lopez; Panchot, De Point, Dieterich, Gaines, Da Silva, Braima, Kelly, Taitague, Matzelevitch
SCORER: Pulisic, 10th
BOOKED: Perez 9th (foul), Calvillo 66th (foul), Pulisic 73rd (time wasting)
But Spurs' 6-1 and 2-0 wins over Celtic and Toluca, respectively, earned them first place and a championship final date with the top finisher in the Super Group's other four-team bracket, Black Rock FC, a team comprised of top players from New England prep schools. The U.S. U-17s ended up with a 1-1-1 record and a zero goal differential in group play, good for third place behind Toluca.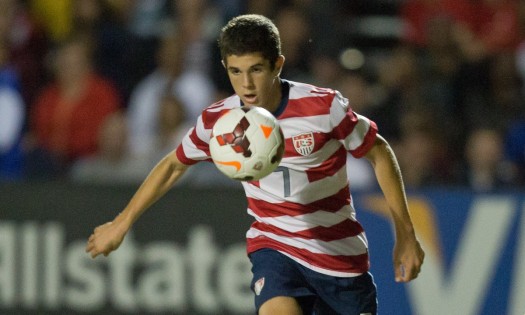 U.S. Soccer doesn't consider IMG Cup to be a "major" event and thus provided no coverage on its website, so putting these matches into context is difficult at the moment.
Some might view them as little more than scrimmages given that the tournament just happens to be taking place at the home of the U-17s' Bradenton Residency Program, though the players' excited reactions on social media, especially after the Tottenham win, suggest that the occasion was hardly meaningless.
So we're left with an impression much like the one left by this team's performances during the Nike International Friendlies at the start of the month, where Williams' group defeated England with assurance and scrapped out a comeback win over Australia before Brazil put them to the sword 4-1 in the event's title decider.
These U-17s are widely seen as one of the more talented crops to rise through the U.S. system in recent history, but at the moment they still appear to bear some of the same problematic qualities as their predecessors.
+READ: U.S U-17 men defeat England, Australia at Nike Friendlies, face Brazil for top spot
Exciting, but inconsistent. Short on depth beyond the first-choice lineup. Fiercely competitive and united by fighting spirit, but still learning the ruthlessness that enables the world's best to control matches. And of course: Courted by major European clubs, but forced to negotiate trying hurdles to pursue those opportunities across the pond.
With the players now on holiday vacation and CONCACAF's U-17 World Cup qualifying tournament set to open in Honduras in late February, Williams and his staff will need to hit the ground running next month if they are to fully unlock this squad's potential on the worldwide stage next year.