U.S. U-16 Girls National Team set for training camp in Germany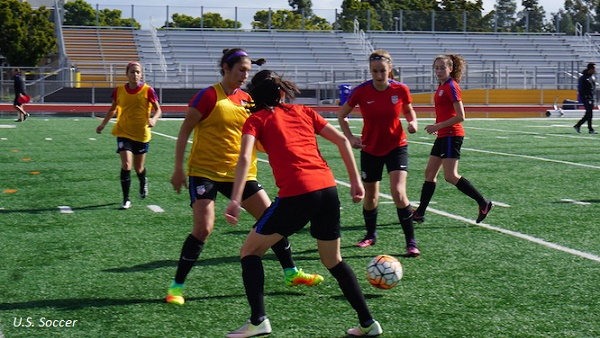 CHICAGO (Via U.S. Soccer) – The U.S. Under-16 Girls' National Team will travel to Germany from Sept. 6-15 for a training camp and two matches.
The USA will face its counterparts from Germany on September 12 and 14 at venues in and around Wildeshausen, which is located in the northern part of the country, southwest of Hamburg.
U.S. U-16 WNT head coach Kacey White will take 20 players to Europe with 17 born in 2002, two in 2003 and one in 2004. This is the second international trip of the year for the U-16 WNT which won three games and the tournament in Belgium last May.
This group of players moved up from the U-14 level last year and will spend two years as the U-16 GNT before moving on to the U-18s. These players are all age-eligible for the 2018 U-17 Women's World Cup, which has an age cut-off of players born on or after January 1, 2001, but will eventually be the core age group for the team that will attempt to qualify for the 2022 FIFA U-20 Women's World Cup.
U.S. U-16 GNT Roster by Position
GOALKEEPERS (2): Ryan Campbell (So Cal Blues; Dana Point, Calif.), Mia Justus (Sky Blue -PDA; North Brunswick, N.J.)
DEFENDERS (6): Kayla Colbert (Legends FC; Rancho Cucamonga, Calif.), Caroline Gray (Concorde Fire; Johns Creek, Ga.), Katherine Groff (NC Courage; Raleigh, N.C.), Samar Guidry (FC Dallas; McKinney, Texas), Makenna Morris (Bethesda SC; Germantown, Md.), Smith Hunter (Reign Academy; Seattle, Wash.)
MIDFIELDERS (7): Aislynn Crowder (Hawaii Rush; Mililani, Hawaii), Devi Dudley (La Roca Futbol Club; American Fork, Utah), Tatiana Fung (LAFC Slammers; Fullerton, Calif.), Maggie Graham (NTH Tophat; Atlanta, Ga.), Samantha Kroeger (World Class FC; West Milford, N.J.), Michaela Rosenbaum (Santa Rosa United; Santa Rosa, Calif.), Allyson Sentnor (South Shore Select; Hanson, Mass.)
FORWARDS (5): Michelle Cooper (Michigan Hawks; Canton, Mich.), Talia DellaPeruta (NTH Tophat; Cumming, Ga.), Dilary Heredia-Beltran (SPORTING Blue Valley; Overland Park, Kansas), Trinity Rodman (So Cal Blues; Newport Beach, Calif.), Reilyn Turner (So Cal Blues; Aliso Viejo, Calif.)