U.S. U-16 Boys National Team roster named for camp in Davis, Calif.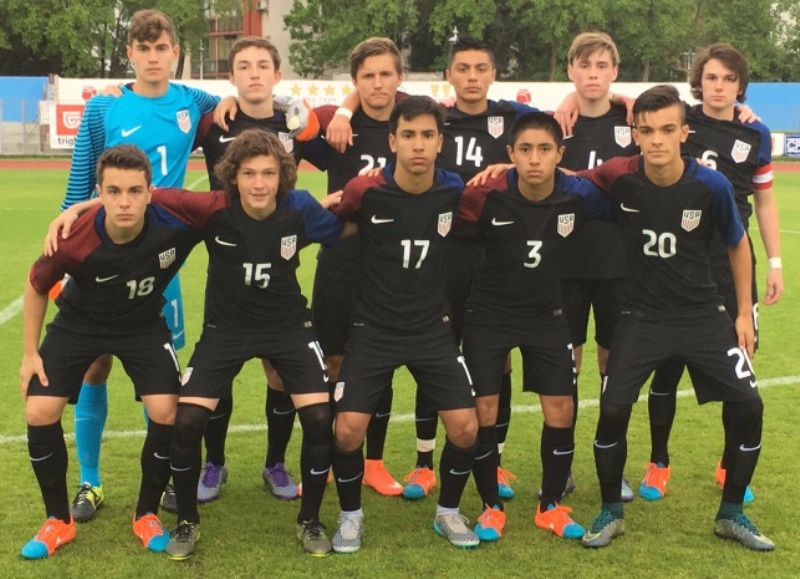 CHICAGO (Via U.S. Soccer) – U.S. Under-16 Boys' National Team head coach Shaun Tsakiris has called 36 players to a training camp near Sacramento, California that will run from Sept. 3-10 and include four matches against U-18 teams from Clovis Crossfire, Sacramento United and U.S. Soccer Development Academy clubs Juventus Sport Club and Sacramento Republic.
The U.S. U-16s will train for four days in Davis, California before their first doubleheader on Sept. 7 when the U.S. first takes on Juventus at 6 p.m. PT and then Sacramento Republic at 8 p.m. with both matches taking place at Bonney Field.
The U.S. U-16s' next match day is Sept. 10 when the team will face Clovis Crossfire at 3:30 p.m. PT before tackling Sacramento United at 5:30 with both games being held on the campus of UC Davis. All four games are free and open to the public.
The near entirety of the roster was born in 2001 with the exception of Giovanni Reyna, who was born in 2002. All but six of the players currently play with U.S. Soccer Development Academy clubs.
U.S. U-16 BNT Roster by Position

GOALKEEPERS (4): Nicolas Defreitas-Hansen (Weston FC; Southwest Ranches, Fla.), Osmar Chavero (Houston Dynamo; Rosharon, Texas); Michael Collodi (FC Dallas; Frisco, Texas), Cole McNally (Bethesda Olney; Mount Airy, Md.)
DEFENDERS (10): Edward Berumen (Modesto Ajax; Salida Calif.), Jackson Conway (Atlanta United; Marietta Ga.), Cameron Duke (Sporting KC; Olathe, Kan.), John Hilton (Unattached; Long Beach, Calif.), Julian Hinojosa (FC Dallas; Garland Tex.), Alexsi Morel (NYCFC; Huntington Station, N.Y.), Togo Nakamura (LA Galaxy; Torrance, Calif.), Eben Noverr (Colorado Rapids; Highlands Ranch, Colo.), Kevin Peraza (LA Premier; Montebello, Calif.), Leonardo Sepulveda (LA Galaxy; Corona, Calif.)
MIDFIELDERS (14): Marco Bla (Philadelpia Union; Darby, Penn.) Taylor Booth (RSL-Arizona; Eden Utah), Oscar Cervantes (LA Premier; Indio, Calif.), Azriel Gonzalez (Seattle Sounders, Renton, Wash.); Ulysses Llanez (LA Galaxy; Lynwood, Calif.), Adrian Munoz (FC Dallas; Richardson Tex.), Marcelo Palomino (Houston Dynamo; Houston Tex.), Veljko Petkovic (NYCFC; Ridgewood, N.Y.), Jose Rivas (Weston FC; Weston, Fla.), Thomas Roberts (FC Dallas; Frisco Tex.), Nicholas Slonina (Chicago Fire; Addison, Ill.), Heriberto Soto (Houston Dynamo; Houston, Texas), Indiana Vassilev (IMG Academy; Savannah, Ga.)
FORWARDS (8): Jalen Anderson (Oakwood SC; Hamden, Conn.), Jerry Ayon (El Camino Real; Salinas; Calif.), Johan Gomez (FC Dallas; Keller, Texas); Ben Ortiz (La Roca FC; Orem, Utah), Giovanni Reyna (NYCFC; Bedford Corners, N.Y.), Bryan Reynolds (FC Dallas; Little Elm, Tex.), Stefan Stojanovic (Sockers FC; Des Plaines, Ill.)