U.S. U-15 Girls National Team roster named for CONCACAF Championship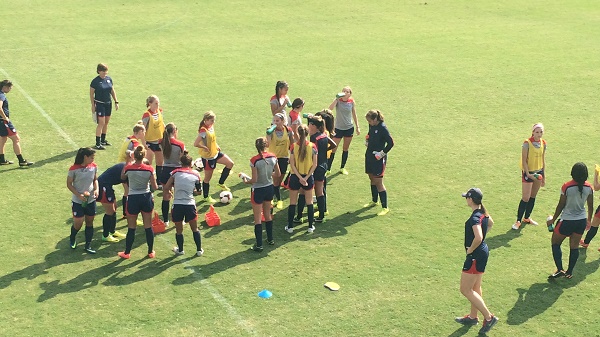 CHICAGO (Via U.S. Soccer) – U.S. Under-15 Girls' National Team head coach Mark Carr has named an 18-player roster that will participate in the 2016 CONCACAF U-15 Girls' Championship.
The USA will be competing in the tournament for the first time with the competition taking place from August 9-21 at the ESPN Wide World of Sports Complex at Disney in Orlando.
The tournament will be a capper of sorts for this two-year cycle of U-15 players before they move to the U-17's in 2017, although there will be two more events in the fall for this group, which features players born mostly in 2001.
+Read: NCAA Women's Soccer Commitment Announcements: July 2016
"I want to congratulate the whole pool of players that we've worked with through this cycle over the last 18 months," said Carr. "It was not easy to narrow down the roster to 18, and that's a credit to the depth in this age group. Moving forward, I know that the future is very bright for all of these players who are just starting their journey in our National Team programs."
Carr chose 16 players born in 2001 and two who were born in 2002. Four players on the roster hail from Georgia, while two each come from California, Hawaii, North Carolina, Virginia and Texas. Maryland, New Jersey and Illinois have one player each.
U.S. Under-15 Girls' National Team Roster – 2016 CONCACAF U-15 Championship
GOALKEEPERS (2): Ruthie Jones (Charlotte SA; Charlotte, N.C.), Lindsey Romig (Richmond United; Midlothian, Va.)
DEFENDERS (6): Talia DellaPeruta (Tophat SC; Cumming, Ga.), Tori Hansen (CASL; Raleigh, N.C.), D'awncey Jones-Black (Honolulu Bulls SC; Ewa Beach, Hawaii), Makenna Morris (Bethesda SC; Germantown, Md.), Leah Scarpelli (PDA; Brick, N.J.), Natalia Staude (Tophat SC; Atlanta, Ga.)
MIDFIELDERS (6): Croix Bethune (Concorde Fire; Alpharetta Ga.), Mia Fishel (San Diego Surf; San Diego, Calif.), Eleanor Glenn (Tophat SC; Avondale Estates, Ga.), Madison Mercado (San Diego Surf; San Diego, Calif.), Gabrielle Robinson (BRYC; Springfield, Va.), Hollyn Torres (FC Dallas; Frisco, Texas)
FORWARDS (4): Sunshine Fontes (Honolulu Bulls SC; Wahiawa, Hawaii), Payton Linnehan (FC Stars of Mass.; Douglas, Mass.), Samantha Meza (Dallas Kicks; Balch Springs, Texas), Kalyssa Van Zanten (Eclipse Select SC; Buffalo Grove, Ill.)
Twenty-two CONCACAF teams and one CONMEBOL team will participate in this year's tournament, designed to encourage development for youth players from across the confederation while promoting competition at the international level.
"I am very excited about the group of players we have selected to represent the USA at this tournament," said Carr. "It's a technical group that is very creative, unpredictable and exciting to watch. We have a good balance of different personalities that will complement each other and that will allow us to play an exciting brand of soccer. I am looking forward to seeing us improve and come together as the tournament progresses."
The young Americans were drawn into Group A where they will face Mexico, Trinidad & Tobago, Haiti and the Dominican Republic. All matches in the tournament will be 70 minutes with 35 minute halves.
The USA opens its tournament on Aug. 9 against Trinidad & Tobago (9 a.m. ET), before facing Mexico on Aug. 10 (9 a.m. ET), Haiti on Aug. 12 (11 a.m. ET), and the Dominican Republic on Aug. 13 (9 a.m. ET).
"It's going to be a very intensive event with little rest time in between games, so our goal will be to maximize our performances on the field and then quickly recover and focus on the next game," said Carr. "Because the games come quickly, it will require that every player be ready to help the team be successful."
The teams were divided into three groups of five and two groups of four. All group winners, including the second place teams from groups A, B and C, will advance to the quarterfinals on Aug. 17. Semifinals will take place on Aug. 19 with the winners advancing to the final set for Aug. 21.
The inaugural CONCACAF tournament for this age group took place in 2014 in the Cayman Islands with Canada defeating Haiti 4-1 in penalty kicks to take the title.
2016 CONCACAF U-15 GIRLS' CHAMPIONSHIP GROUPS
Group A: United States, Mexico, Trinidad & Tobago, Haiti, Dominican Republic
Group B: Canada, Costa Rica, Venezuela, Jamaica, El Salvador
Group C: Puerto Rico, Nicaragua, Santa Lucia, Grenada, St. Vincent & the Grenadines
Group D: Barbados, U.S. Virgin Islands, Curaҫao, Anguilla
Group E: Bermuda, Cayman Islands, Antigua & Barbuda, Bahamas