U.S. U-15 Boys National Team set for Torneo Delle Nazioni in Italy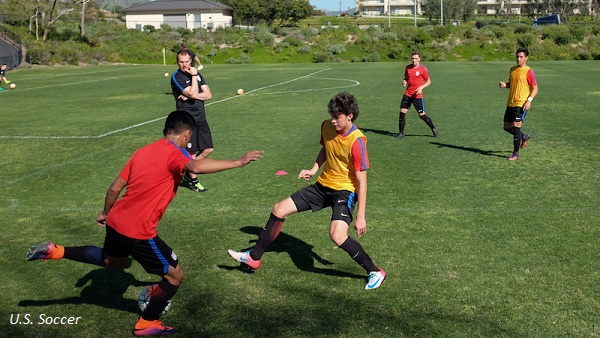 CHICAGO (Via U.S. Soccer) – U.S. Under-15 Boys' National Team head coach Dave Van Den Bergh has named a 20-player roster for the upcoming Torneo Delle Nazioni in Gradisca d'Isonzo, Italy, that runs from April 24-May 1.
The U.S. has been drawn into Group C and opens tournament play against Slovenia on Tuesday, April 25. The team then plays Russia on Wednesday, April 26 before concluding group play against England on Thursday, April 27.
The tournament fields two other four-team groups consisting of United Arab Emirates, Japan, Italy and Portugal in Group A, and Austria, Mexico, Malaysia and Croatia in Group B. The three group winners and best second-placed team of the three groups advance to the tournament semifinals where the Group A winner meets the Group B winner, and the Group C winner faces the best second-placed qualifier on April 29. The tournament final will be played on May 1.
+READ: USA downs Jamaica 5-0 to open CONCACAF U-17 Championship
The roster is comprised of a familiar group of players as 18 of the 20 participated in the U-15 BNT's most recent domestic training camp in Chula Vista, Calif. in March, while 17 of 20 participated in the team's first training camp of the year in January, also held at Chula Vista's Elite Athlete Training Center
FC Golden State forward Diego Lopez is the only player on the roster not to have taken part in either 2017 event.
All 20 players on the roster are currently registered with a U.S. Soccer Development Academy club. Out of the group of players, forward Alfonso Ocampo Chavez has spent the most time in the Development Academy, training with Merced Atlas Soccer Academy for three seasons before moving to his current club, Seattle Sounders FC Academy.
U.S. U-15 BNT SCHEDULE
April 25: U-15 BNT vs. Slovenia; Ajdovščina, Slovenia (11:30 a.m. ET)
April 26: U-15 BNT vs. Russia; Vipolze, Slovenia (11 a.m. ET)
April 27: U-15 BNT vs. England; Precenicco, Italy (11 a.m. ET)
April 29 – Torneo Delle Nazioni Semifinals
May 1 – Torneo Delle Nazioni Final
Roster by Position
GOALKEEPERS (2): Damian Las (Chicago Fire; Norridge, Ill.), Kashope Oladapo (Portland Timbers; Happy Valley, Ore.)
DEFENDERS (7): Axel Alejandre (FC United; Chicago, Ill.), Sebastian Anderson (Real Colorado; Highlands Ranch, Colo.), George Bello (Atlanta United; Douglasville, Ga.), Brandon Farmelo (Colorado Rapids; Denver, Colo.), Mason Judge (Chargers Soccer Club; Tampa, Fla.), Kenny Nielsen (Pateadores; Irvine, Calif.), Joseph Scally (NYCFC; Lake Grove, N.Y.)
MIDFIELDERS (5): Julian Anderson (Philadelphia Union; Ocean, N.J.), Josh Atencio (Seattle Sounders; Seattle, Wash.), Gilbert Fuentes (San Jose Earthquakes; Tracy, Calif.), Adam Saldana (Real So Cal; Panorama City, Calif.), Peter Stroud (NYRB; Chester, N.J.)
FORWARDS (6): Gianluca Busio (Sporting KC; Greensboro, N.C.), Julian Gaines (Lonestar Soccer Club; Austin, Texas), Diego Lopez (FC Golden State; Chino, Calif.), Daniel Mangarov (Atlanta United; Duluth, Ga.), Alfonso Ocampo Chavez (Seattle Sounders; Fresno, Calif.), Giovanni Reyna (NYCFC; Bedford, N.Y.)