U.S. U-15 Boys National Team set for second training camp of 2018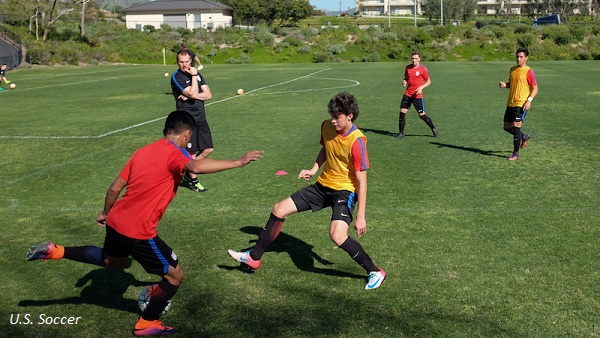 U.S. National Team Roster Pools
U-15 | U-16 | U-17 | U-18 | U-19 | U-20 | MNT
CHICAGO (Via U.S. Soccer) – The U.S. Under-15 Boys' National Team will hold its next training camp March 4-11 in Chula Vista, Calif. Head coach Dave van den Bergh has called up 36 players, all born in 2004 and will lead the side in matches against mixed birth year players from FC Golden State and Liga MX side Club Tijuana.
Of the 36 players called into camp, 32 are currently playing in the U.S. Soccer Development Academy.
Fourteen players are making their debut with the U-15 BNT this cycle, which also means that this is their first call up to a Youth National Team camp. Of the 27 clubs represented in the camp, MLS newcomer Los Angeles Football Club leads the way with three of its U-14 Academy players on the roster.
+READ: Richmond United names Sascha Görres as Boys DA director
Roster by Position
GOALKEEPERS (4): Damian Alguera (De Anza Force; San Jose, Calif.), Josh Nadison (Cedar Stars Academy – Bergen; Upper Montclair, N.J.), Mikah Seger (D.C. United; Indian Head, Md.), Gabriel Slonina (Chicago Fire; Addison, Ill.)
DEFENDERS (11): Noah Allen (Weston FC; Pembroke Pines, Fla.), Avery Miles (D.C. United; Washington D.C.), John Carlos Cortez (New York Red Bulls; Ridgewood, N.J.), Brandan Craig (Philadelphia Union; Philadelphia, Pa.), Cooper Flax (New York City FC; Dix Hills, N.Y.), Antonio Leone (Los Angeles Football Club; Long Beach, Calif.), Ryan Quintos (Sockers FC; Glen Ellyn, Ill.), Justin Reynolds (Chicago Fire; Chicago, Ill.), Levi Stephens (Internationals Soccer Club; Akron, Ohio), Devan Tanton (UE Cornella/ESP; Barcelona, Spain), Beau Yantz (Los Angeles Football Club; Redondo Beach, Calif.)
MIDFIELDERS (12): Juan Alvarez (Seattle Sounders FC; Tukwila, Wash.), Zack Booth (La Roca; Eden, Utah), Wyatt Borso (Sockers FC; Aurora, Ill.), Cesar Elizalde (FC Dallas; Little Elm, Texas), Kenan Hot (Players Development Academy; Lincroft, N.J.), Samuel Kolby (Atlanta United FC; Smyrna, Ga.), Brendan Lambe (North Carolina FC; Apex, N.C.), Nicolas Perez Guillen (Toluca/MEX; Guadalajara, Mexico), Dylan Presto (Los Angeles Football Club; Porter Ranch, Calif.), Rokus Pukstas (Oklahoma City Energy FC; Stillwater, Okla.), Allen Rodriguez (Indiana Fire Academy; Elkhart, Ind.), Evan Rotundo (San Diego Surf; La Mesa, Calif.)
FORWARDS (9): Austin Brummett (Seattle Sounders FC; Seattle, Wash.), Ben Burns (Pacific Northwest Soccer Club; Issaquah, Wash.), Osvaldo Cisneros (Sporting Kansas City; Parkville, Mo.), Daniel Gutierrez-Jaime (Oklahoma City Energy FC; Oklahoma City, Okla.), Rafael Jauregui (Sacramento Republic FC; Rancho Cordova, Calif.), Marvin Mariche Prudente (North Carolina FC; Raleigh, N.C.), Korede Osundina (Crossfire Premier; Redmond, Wash.), Aran Perez (Weston FC; Miami, Fla.), Favian Vazquez (FC Golden State; Corona Calif.)